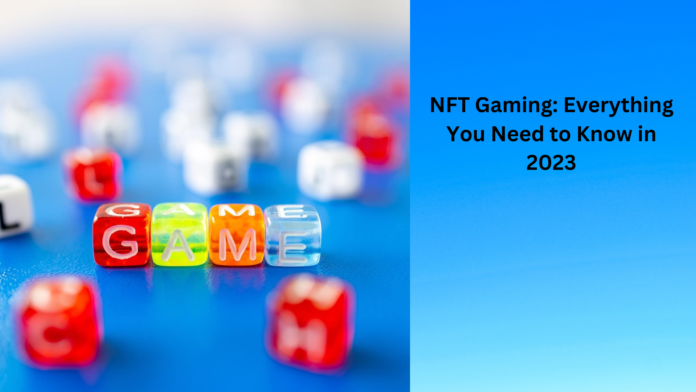 Non-fungible tokens, widely referred to as NFTs, are known for a new approach to monetising content. The concept brings a new approach, particularly for a mobile game development company. All the things that NFTs can do and promise are intriguing enough to captivate the attention of game developers. 
Gaming apps have been the most successful NFT implementation. The most important aspect of NFT game apps is that gamers can earn money by only playing the game. It is a sensational technology now, and hence if you want to focus on a new game development arena, there is no better time than now. 
Are you interested in NFT games?  Here we explain the basics and NFT game trends for 2023. 
Let's know what NFT is
NFT or non-fungible tokens are created to represent the unique value of different types of artistic or designer objects that cannot be swapped with money. NFTs representing an altogether different way to keep and monetise things like artworks, game assets, music numbers, or any special item has taken the world by storm. 
NFT is the backbone of all play-to-earn games, and their success inspires many game developers to embrace this technology. As for monetisation, people buy NFTs at a lower rate and make a profit by selling the same at a higher rate. To monetise, they also store NFTs. 
How do NFT games work?
NFT game apps rely on distributed database technology such as Blockchain, and these games mainly facilitate buying, selling and storing of NFTs against the game's design elements and unique assets. When playing an NFT game, the players can make collections of NFTs and later trade them for money. 
Unlike other games, NFTs help gamers create game asset collections to trade and make money. Thus NFT gives birth to play-to-earn game apps. The players can also trade these tokens through cryptocurrency exchanges as well. 
Keep the revenue generation scope on one side and consider the more intriguing part. It is the fun of making money just by playing a simple game. Helping players make money through playing NFTs offers a win-win situation for game players and app developers. On the other hand, NFTs also promise more scopes of creative excellence through game apps. 
What lies in the future of NFT games? 
NFT games took the gaming world by storm. Naturally, we can experience unprecedented growth of play-to-earn in the coming months. NFT games with more artistic and design infusions can also achieve higher maturity levels than earlier. More barriers and limitations of NFT games will be pushed to extinction.  Below, we will explain some of the most critical trends in NFT gaming apps. 
More games will embrace NFT 
NFTs are far from just a futuristic technology to create more wealth through games. NFTs are something that tech wizards bring to deliver an altogether different gaming experience. NFTs will be a credible revenue generation and monetisation option for many future games. We can soon see the PlayStation game apps embrace and thrive with NFTs. 
Already leading game development companies are tapping their toes in the door of NFT gaming, and soon we can experience a large-scale NFT adoption. Traditional console game development companies will soon jump on the crowded NFT vehicle. 
The beginning of Cryptocurrency gaming 
There was a time when games were about the standalone experience on handheld devices, and now even real-world sports have their virtual gaming avatar on our devices. This extreme virtualisation also changed game transactions, monetisation and even the game currencies. 
The real-world sports events and tournaments come with virtual versions where players can make connections of NFT-based collectables like game mementoes, jerseys, autographed balls, etc.
Play Earn (P2E) games will flood. 
We all conceive game apps as casual entertainment or pastime engagement that sometimes becomes addictive. We never could think of earning by playing a game app. But thanks to NFTs, this has now become a reality. Despite being a new trend, Play-to-Earn or P2E games will flood the game development market very soon. 
We have already come across too many instances where people made a fortune through P2E games that range across various sports. This market will expand, and more games will embrace the revenue model. As Spotify or YouTube offered millions of people to make money through content creation, NFTs will become a similar or even bigger success story. 
A win-win principle to bring smiles to everyone
How big are the NFTs for building engaging game apps we have already explained? But there is an ethical catch as well. NFTs, by offering long-term arming opportunities to players, easily stand apart from all other app types. Game tokens and monetisation through cryptocurrencies make NFTs so stand out technologically. 
This is another reason why NFT is the ideal technology to drive innovations and motivate game developers to embrace new gaming approaches. The revenue-sharing gaming ecosystem will only help push innovations to the next level for game developers. Thanks to NFT game apps, we can see a lot of new players pushing design and development intelligence for the game app market.
Wrapping Up 
NFT game apps have just started, and it is a long road ahead for these apps to thrive and add new trends to the game development market in the years to come. NFT's tremendous potential for the gaming industry has just started to unfold, and the journey has just begun with many promises.