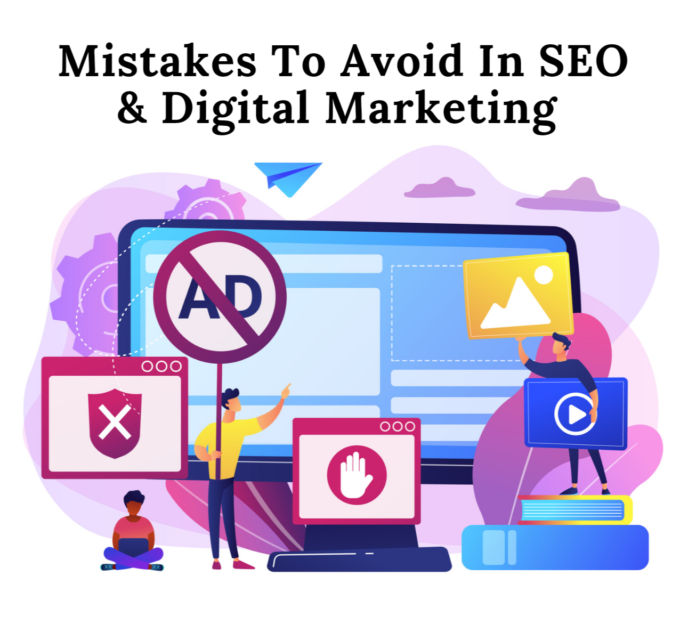 SEO is unique. Marketers must stay updated with SEO methods constantly evolving due to search engine developments. However, the simplest SEO mistake could prove costly for a brand's digital marketing strategy. However, it is not an easy task to always stay on top of the most successful optimization techniques. From shifting marketing conditions to changes in search engines, we will discuss some of the top SEO mistakes you must avoid.
Common SEO Mistakes to Avoid
Below are some common SEO mistakes to avoid.
Not being fully aware of your target audience
Not having an SEO-driven roadmap
Creating Content that does not match the brand's voice
Missing meta titles & descriptions as well as schema
Mistake 1: Not Knowing Your Target Audience
One of the essential principles of SEO is to understand and be aware of your target audience. That implies knowing and understanding your audience at the most granular level.
SEO today is perceived as the customer's voice. While many marketers believe that they are well aware of their audience, they often fall into the trap of not comprehending how the consumer behavior in their market. However, at the same time, consumers often expect real-time responses and results from businesses.
Historical data is employed to provide SEO great insights into the market statistics ranging from seasonal trends and marketers' methods to understanding their customers and buying habits. However, one of the most common mistakes in choosing the right keywords is overlooking the preference of search engines and users for long-tail keywords. Therefore, it is essential to understand which keywords the potential customers would use to refer to the brand.
Tips:
Understand the market where your consumers buy and explore the macro trends.
Employ historical and real-time data to understand how consumer behavior is changing.
Map the consumer intent to the SEO keyword selections and strategy.
Use Google keyword planning tools and vendor tools to discover consumer insights.
Mistake 2: Not Having an SEO Roadmap
There is no point in knowing about your target audience and then taking random action to maximize opportunity. Unfortunately, many organizations still struggle to build or execute an SEO strategy from large enterprises to small and medium-sized businesses.
However, building a solid SEO strategy and roadmap is vital for success. While many plans fail to create a sustainable and efficient strategy, they depend on multiple stakeholders – website, Content, PR, product, and engineering. There are also issues with ensuring that these strategies have executive buy-in and understand the importance of SEO.
If there is no roadmap in place – a blueprint for success – businesses need to create one now. Setting goals and establishing error-free workflows will help get the SEO action plan in place.
Tips: As part of your SEO roadmap:
Evaluate and understand your competitors' rankings, top keywords, content, and market performance.
Break down actions into tasks to set specified goals and key stakeholders.
Agree on components including Content, site updates, digital alignment, and SEO.
Explore tools and platforms to formulate the workflow and strategy.
Mistake 3: Creating content that does not Align with the Brand's Voice
One common pitfall on the SEO journey is creating content that is not actually about your audience. The problem is that businesses want to rank their particular keyword. However, they often fail to focus the text on the target topic.
Search engines like Google offer users the most relevant content for their search terms. Therefore, if the brand's content does not answer the user's needs, it will not rank well.
This mistake may often result in the following:
Trying to fit different topics in a single piece of content.
Creating low-quality content for the sake of including trending keywords.
Optimizing multiple keywords in a single article.
The primary goal of businesses should be to create content that corresponds to the questions and requirements of the target audience. It is, therefore, vital to creating content that ranks on Google.
Tips:
Ensure that the content and SEO strategies are aligned tightly as per the SEO strategy.
The content should answer the questions the consumers are searching for.
You can tweak the below-boxed sentence to something like this to include us as "Create multiple forms of content for different requirements – video, visuals, text or convert images to video."
Mistake 4: Missing Meta Titles & Descriptions as well as Context with Schema
Optimizing the content does not end with just including the target keyword in the articles. Title tags and meta descriptions also form an equally essential element of SEO. Skipping the meta tags and descriptions indicates a vast potential for the content. These optimizing factors are assessed by search engines when crawling the website. Creating content is significant, but without the tags, search engines may struggle to understand the context of the content. Another technical detail that content marketers can often forget is including image tags.
The alt tags of the visuals should also be included in the content, as they are another sign that helps decide how you target the articles.
Tips:
Write brief and unique meta title tags for every page.
Ensure that the included keywords match the intent.
Avoid title tags that are too long. Make the tags unique across all pages
In Conclusion
These are the top SEO mistakes you should avoid. The bottom line is while they are easy to avoid, it is advisable to be careful while implementing your SEO tactics and be quick to make the necessary fixes.
Author Bio:
Sudhir Bhushan is a Tech & Social enthusiast and Founder of Bhicoupons. He is also a Web Entrepreneur by Profession and loves to write about the latest trends in Social Media & SEO.