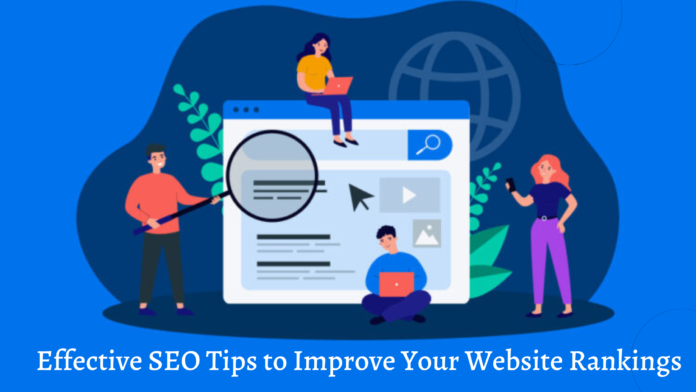 Every business wants to rank on the top of SERPs. But the everyday introduction of new ventures makes it challenging to stay competitive.
Do you know how a firm marks its presence on the internet? They design and develop a business website. However, the company only begins to perform well and make sales when these websites are optimized for higher rankings on SERPs.
Here, SEO comes as an effective and robust practice to improve the website's rankings on the search engines. Thus, boosting the relevant traffic and overall user experience.
Even the statistics show that the search engine accounts for 93% of the user experience. Simply defined, SEO is crucial for increasing the visibility of the website. As a result, there will be an increase in traffic, the potential for greater conversions, and company ROI.
Want to know how to implement SEO tactics for better and long-term business success?
You can count on dedicated SEO services for expert assistance. Besides, below are outlined the effective search engine optimization tips that can help you draw organic leads while staying competitive on the SERPs.
Top SEO Tips to Boost Website Rankings
Target Relevant Keywords
You probably already know that you should add keywords to pages that you want to rank.
If you do have basic SEO knowledge, you might be aware of the significance of keywords and their right integration. Of course, there would be some specific terms that users might search relevant to your offerings. Also, some of them might be having high search volume with low competition and target the location as the same as yours.
So, knowing all this accompanies the need to place the keywords correctly. For example,
Make sure the title tag of the page contains the focus keyword at least once.
It must appear within the first 100 words of the content.
Include in headings and subheadings
URLs can not be neglected
Embed keywords in the image alt texts and meta descriptions
Deliver information that is relevant to user searches, but put quality content first.
Prioritize Your Content for Featured Snippets
Without a doubt, content plays a significant role in making SEO efforts effective. When creating content, ensure it includes answers to audience queries. Here, targeting featured snippets comes as the most effective approach.
Do you know what featured snippets are?
These are the responses that are listed first in the Google SERPs. They are helpful, noticeable, and effective in bringing in organic traffic. The reason is they come before all the results.
Now comes how this approach works?
Look for the content you want to optimize and perform the relevant keyword research. Think about if you want to represent the content in the form of bullets or numbering.
Try targeting the desired SERP feature on the webpage using subheaders after that. Remember both the heading and subheadings make the page easily understandable or searchable. Thus, enhancing the site's ranking in the process.
Besides, keep the information concise and sentence length not exceeding 20 words.
Speed Up Website's Loading Speed
The user experience and website rankings are both impacted by page loading speed.
Simply said, visitors perceive a website to be unreliable if it takes a long time to load. Even the report of eConsultancy says 40% of visitors quit a site that does not load within 3 seconds.
Making the most of possibilities, creating targeted leads, and growing revenue is the necessity of every business. In this case, SEO efforts are favored because they significantly speed up the website's loading time.
Even Google prioritizes the site's better loading speed as one of the core ranking factors. This simply depicts your website failing to load well will result in losing your place at the top of SERPs. Regardless of how elegant the website design or informative the content is.
In addition, remove all the unnecessary widgets, sidebars, etc. that contribute to the slow loading speed of the site. Also, you can hire the best SEO company for better assistance.
Prioritize Social Media Integration
Undoubtedly, social media is an effective and essential ranking factor considered by Google for website rankings. But it does impact the efficacy of SEO too.
Several case studies say that likes, comments, and shares on social media influence rankings. Now, you might be thinking about how to get the most out of the social signals. Below are some pointers that you can follow.
Make the sharing buttons visible and add them to your post.
Produce informational content worth sharing on multiple social media channels.
Run a contest on social media to increase shares.
In simple terms, social media is always available at your convenience, so make the most out of it.
Build Backlinks from Highly-Authorized Sites
Inbound links are still popular and play a big role in search engine rankings. Naturally, an organic link profile results from combining no-follow and do-follow connections. This is what Google prefers to rank a website.
On the other hand, content marketing focuses on producing compelling, engaging, and high-quality information that can be shared on social media.
Therefore, creating helpful content and referring to authoritative content on other websites is advantageous regardless of the field in which you run your business. You can generate more organic traffic and carry out successful link building this way.
You can:
Connect with the publishers if you want to publish any authentic research or study you have gathered on your on-site content.
Register your website with the relevant directories. To increase your credibility, you can join networking groups, professional associations, and more.
Reach out to other websites with guest post proposals.
Do you run a product-based venture and are facing difficulties with creating backlinks? You can follow these tips shared above. In addition, you can hire an eCommerce SEO agency for help.
Create Relevant and Unique Meta Description for All Webpages
The most vital aspect that businesses neglect is creating meta descriptions relevant to the specific webpage. Thus, it influences the website rankings. It is the information that visitors notice when they are provided with the search results.
Usually, a search engine like Google and others simply hates duplicate content. It is way impossible to rank well on the SERPs by simply copying and pasting the information from other websites. Similarly, the irrelevant meta descriptions will negatively influence the user experience.
So, ensure keeping the meta descriptions different for all the webpages and communicate with the users. Fix if any redundant metas are using the suitable plugins.
Image Optimization is the Key
Simply put, images are necessary. Even in its search results, you can see that Google has devoted a whole area to pictures. Consequently, it illustrates how concerned the search engine is with the images.
Now, you need to understand how users search for a specific image. Of course, their search includes the use of keywords.
Because of this, it's necessary to use relevant keywords in the alt text. Keep in mind that the keywords must relate to the image. As a result, SEO is more effective and simply produces higher rankings.
Summing Up
So, these are some of the effective SEO that can help improve website rankings and build customer loyalty. In case your website has content that is no longer searched by the users, update it. This way, social media sharing, retaining backlinks, and other engagement metrics will work. In addition, do not neglect the significance of content in any aspect. Use both short and long-form keywords and phrases frequently searched by users on different social channels. Of all, ensure the website is responsive and mobile-friendly.
Simply put, you need to advance your SEO efforts to succeed. Here, the best is for you to hire professional SEO services with guaranteed results. The experts can better assist with updating the content consistently, ensuring the right keywords are incorporated, and information is authentic.