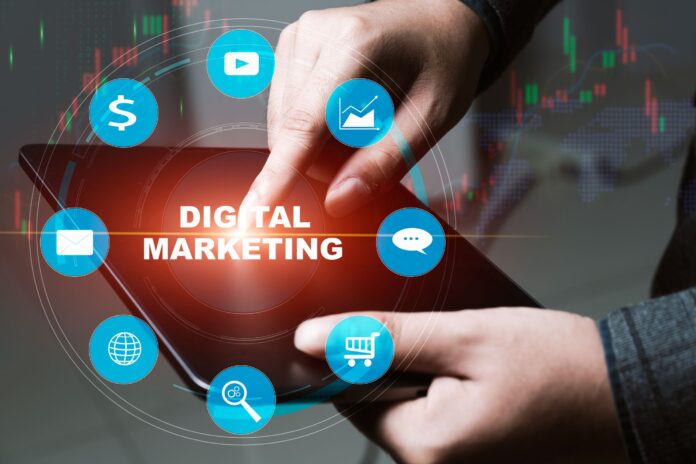 The use of digital marketing software is the most effective approach for boosting the success of online businesses in today's highly competitive industry. In this area, competition is fierce. It contributes to the company's online advertising efforts. It provides an effective method for marketing not only the product but also the services, which in turn adds to a rise in the company's profit. As more time passes, different adjustments are made to the tactic employed to bring new customers for the company on board.
Users are given the ability to direct sponsored traffic to their corporate websites, while advertisers are allowed to promote their wares on a variety of different pages. It helps develop fresh leads and establishes trust with the consumer, both of which are beneficial. Each of these advantages is beneficial in its own right. The marketing campaign will also be entirely under this digital marketing software's control. Utilizing Marketing Automation Software is yet another viable option for this. The following is a list of some of the most effective digital marketing software:
Google Analytics
Moz
OptinMonster
Marketo
Hootsuite
WebCEO
Yoast
Google Analytics
The well-known free web analytics service has a paid version, and Google Analytics is that product. It caters to large organizations and provides comprehensive performance measures, such as ROI analysis reports. An integrated dashboard gives users a holistic view of their behavior across all connected apps in one convenient location. Below, we will outline the primary role of this platform in interacting with websites and applications to identify compelling content.
Users can identify which other users may generate substantial revenue for their companies. Moreover, machine learning may analyze customer data to spot novel trends and patterns. Numerous features, including reporting and analytics, an activity dashboard, and data visualization, are built in. AdSense, AdMob, AdWords, and Display and Video 360 may all be integrated without hassle.
Moz
Among the many tools available to help businesses increase their online visibility, rankings, and traffic is Moz. The benefits of both are substantial. It helps people raise their website's standing in whichever search engine they want. It's also helpful to keep an eye on how competitors are faring on search engine results pages (SERPs), since this can provide insight into what sort of competitive advantages could be necessary to overtake them.
This program has a wide range of features, some of which are site audits, rank tracking, and backlink analysis. It enables weekly automated site checks for the clients. It zeroes in on the targeted keywords with the right amount of keyword volume and associated data. In addition, visitors can help owners fine-tune their sites by critiquing content from different pages and offering constructive criticism.
OptinMonster
OptinMonster is an online platform for digital marketing and lead creation. It offers inline forms, content locks, countdown timers, and a configurable lightbox popup that works with the platform. The software enables users to make and split-test several different opt-in forms for business use.
The primary goal of this system is to facilitate the process of collecting contacts for promotional purposes. It has many features, including segmenting campaigns, prospects, and leads. The primary advantage of this program is that it gives businesses access to numerous low-cost and high-efficiency lead generating and advertising channels. Two typical applications are in the realm of lead generation and marketing automation.
Marketo
Marketo is one of the largest and most well-established organizations in the marketing automation industry. It provides all of the tools that marketers want, including automation solutions for inbound marketing, lead management, social media marketing, sales management dashboards, and analytics. As a result, launching and managing marketing campaigns on Marketo's platform is incredibly simple. The business brought in a total of $58.4 million in sales in 2012 and was only just approved for listing on NASDAQ.
Hootsuite
One of the many valuable features of the platform Hootsuite, which is used for digital marketing and content management and is the industry leader in both areas, is the ability for users to pre-schedule their social network postings. In addition, users can arrange and schedule their postings across more than 30 different social networking sites. It substantially contributes to the firm's growth by directing the marketing team to all relevant influencers, which in turn helps the brand reach more people.
It can manage organic content on social media simultaneously as sponsored content at the same instant in time. When employing this platform, it is simple to retain a record of discussions that have taken place with clients. It finds widespread application in online activities such as link building, online analytics, and social networking. It provides basic functionality in addition to engagement, security, collaboration, and application development.
WebCEO
Users are assisted in producing leads by using WebCEO, a search engine optimization (SEO) tool and a digital marketing platform with all of its features. Thanks to this feature, customers can generate XML sitemaps and detect issues with searches carried out on desktop computers and mobile devices. Users of this platform will additionally have access to enhanced keyword recommendations when using this resource. It is helpful in a variety of areas, including site audits, link building, and market research, to name a few.
It assists users in monitoring the buzz online and maintaining track of the activities on social media platforms. Finding missing related pages and backlinks profiles is equally valuable as finding possibly dangerous websites when using this method. It comes with many useful features, such as integration with services provided by third parties, and activities dashboard, and branded content that can be personalized. You'll find its utilization in areas like landing pages, test automation, and marketing analytics, to name a few.
Yoast
Yoast is a digital marketing platform that is fully featured and gives search engine optimization (SEO) solutions to all enterprises. It also helps those organizations keep their search engines up to date with the most recent technological breakthroughs. It can fulfill all of the traditional standards for SEO, such as search terms, Meta descriptions, and titles. In addition to that, it makes it possible to configure the canonical URL and provide choices for redirecting and search engines.
When it comes to determining how easy it is to read a WordPress page, it is the best plug-in currently accessible. It ensures that the Classic Editors and the Gutenberg editor can seamlessly interact. Implementing this method is equally beneficial in terms of improving the material produced by users to improve their ranks in search engines. The WooCommerce SEO plug-in, the Video SEO plug-in, the Local SEO plug-in, and the News SEO plug-in are also easy to utilize with this tool.
Conclusion
This article delves into several varieties of digital marketing software, each of which makes a distinctive contribution to the expansion of businesses and is discussed in detail below. It helps draw in customers from a wide array of demographics to a company's product or service. Consumers are given the ability to transform the marketing information they have into a visual that can be shared in real-time on social media platforms. This article is helpful for all the audience who want to accelerate the growth of their companies, this article provides an overview of the digital marketing techniques that are now accessible that are the most effective.