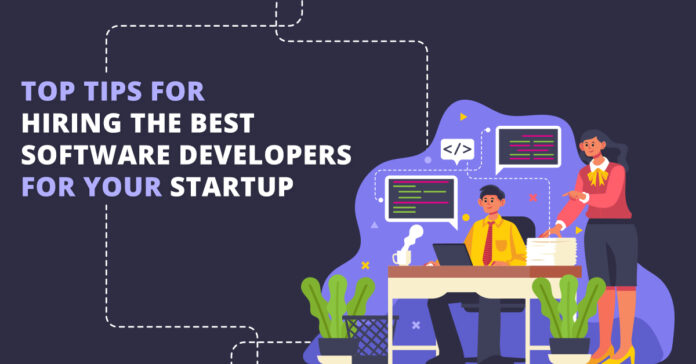 It's exhilarating and scary to go out on your own and start a business. You have a lot on your plate already, and you haven't even begun developing your product! One of the most important parts of the startup success puzzle is finding the right IT outsourcing partner for your project. Considering the fact that the IT outsourcing market touched the figure of $522 billion in 2021, you will get a lot of options to choose from.
If you're an entrepreneur who is struggling to make sense of all the information available online regarding how to find the top software development outsourcing company to hire the best software developers for your firm, this cheat sheet will help. You will learn the most critical factors to consider when choosing a technology partner.
How to select the right software developers for your startup?
Here are the top factors that you need to look at in order to hire the best software developers for your startup business.
Define what the product needs to do
Before you engage remote professionals to develop any code, you need to determine what problem your solution solves. For instance, whether or not it has an interactive user interface, and whether or not it needs to be user-friendly or fast. Only then can you recruit professionals.
Your objectives for the company will determine each of these details. It makes no difference if the software applications are web-based, mobile, cross-platform, or even desktop-based. All of these options are acceptable.
You will be able to create an effective hiring funnel only if you have a fundamental understanding of how your product functions. It will assist you in accelerating the process and making it more simple for you to hire the correct software developers from beginning to end.
Assess the type of software developers you will need
Make sure the project description includes all the skills and expertise that you seek, as well as any additional requirements that may come up while development.
The worst thing you can do is hire developers without any relevant skills and experience that you require to develop your product and then realize they aren't a good fit because of a lack of clarity in expectations.
If you are a non-technical business owner, then you should pay close attention to this section. In the realm of software development, there are specialists for each little segment in the software development life cycle process.
To simplify things, imagine engineers as sportspersons. We can all agree that a marathon runner is different from a 100-meter sprinter. Similarly, developers in categories, such as PHP, Clojure, or ReactJS, may share some common groundwork but devote themselves to other areas of expertise.
For instance, a Python programmer should not be enlisted to create a mobile app as Python is not used to build a mobile app; it is mainly used for web development.
Avoid fixed-price pricing
If you choose to pay a fixed price, your total cost could be higher. If you ask for a fixed price for your project, keep in mind that the developers will give you a quote that is up to 30% higher to cover their risks.
If you choose to pay by the hour, you will save money because you will know exactly what you are paying for ahead of time. The time and materials model also gives you more starting flexibility than other models, and you don't have to have new costing talks every time you want to make a change.
Also, costs tend to be high for new businesses, which makes it hard for them to hire a product development team based on a fixed-value model. Hence as a startup, it is wise to go with hourly pricing.
Check the previous work of the developers
Examine their standing on sites like Clutch and TopDevelopers.co see whether they have a LinkedIn page. Also, consider those clients they have successfully partnered with. To determine the software developer's expertise, call their previous clients and ask if they would recommend them.
If you lack a specialized technical supporter, contact an experienced software development company as a consultant to assist you in making the best decision.
Say no to freelance marketplaces
Freelancers do have a place in the world of software development, but their role is not the same as that of a dedicated developers working for a software company. A freelance marketplace is typically a chaotic area with prices that are often a race to the bottom, which has an effect on the product's quality. You might discover the cheapest freelance software developer but not the right person.
In addition, freelancers are known for making assurances that they are unable to follow. Leaving their clients in a worse financial position than before the freelancer began working for them.
Have a water-tight interviewing process
The next step is to research and practice evaluation methods that work well, as well as to get ready for the interview. Whiteboards have been a standard way to test a programmer's skills for a long time. But it has been shown that these are not good ways to figure out how skilled a software developer is. Instead, you need to look elsewhere.
You can do this in a number of ways. One is to give a potential software development partner a small project to work on as a test. For example, if you need someone to build a website, you could give them a test project to build certain components of the website.
Ask for a trial period
Always ask for a trial period before you outsource your software development. Now that you know where to look for software developers for your requirements, you can try to negotiate a trial period with the service provider you're interested in working with. It is reasonable to change course if it turns out that the development company providing you with dedicated software developers isn't a good fit.
If you need to switch out developers, a competent software development agency should be able to do so swiftly. When choosing a partner, whether it be a web, app, software, or remote developer, you should always try to negotiate a trial period into the contract.
Don't rush the decision
Sometimes in your startup journey, you could get the impression that there are never enough hours in the day to make decisions. Therefore, throughout the discussion with the potential software development partner, take a step back and look beyond the fundamental material that you have been provided with.
It is important to keep in mind that the key to your company's success will be its ability to assemble the right team to assist in the creation of the product. Hence never rush the decision and weigh your options thoroughly before awarding the project to software developers.
Conclusion
Finding the right software developers for your startup is not just about making sure they have the right skills and capabilities. It's also important to think about how much enthusiasm and value they'll offer to you. Finding and hiring talented software developers early on will pave the way for rapid expansion of your startup business.