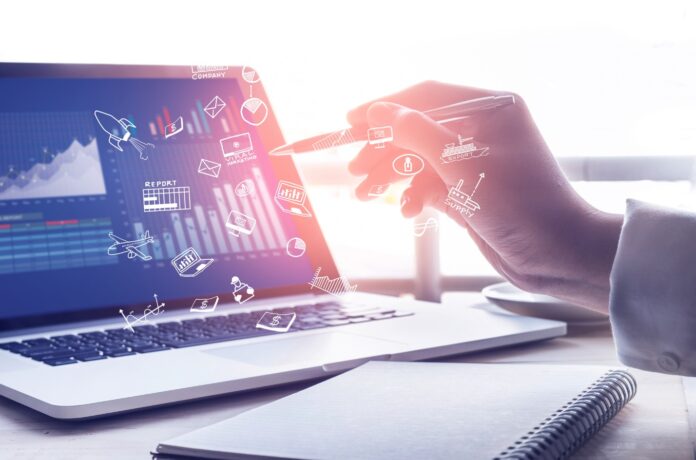 Digital marketing is one of the most powerful tools available to businesses today.  By harnessing the power of the internet, businesses can reach a global audience and connect with customers in new and innovative ways. Digital marketing accounts for 55% of the overall marketing. In 2021, total digital advertising spending was $436 billion, compared to $196 billion for traditional advertising. During the pandemic, a lot of ecommerce companies came into existence and flourished. However, post-pandemic, we have seen ecommerce marketplaces struggling to keep their market share intact. In that scenario, it is digital marketing that comes to the rescue and can help in saving a lot of ecommerce startups. Hence, it becomes essential for the new age professionals to learn it for building a successful career in digital marketing. One way to initiate the learning in this domain is through joining digital marketing courses, studying, and practicing more for becoming an expert.
Ecommerce marketing is a method of driving traffic to your online business, turning that traffic into paying customers, and sustaining those customers after they've made a purchase. A comprehensive ecommerce marketing plan includes both on-site and off-site marketing methods. A well-thought-out marketing plan may help you raise brand awareness, develop customer loyalty, and boost online sales.
Let us now understand what Digital Marketing is.. Digital marketing is the process of using digital channels to promote or market products and services to target audiences. Digital marketing uses a variety of digital channels such as search engines, social media, email, and other websites to connect with current and potential customers.
The ultimate goal of digital marketing is to convert potential customers into paying customers and to retain and grow the customer base. By using digital marketing techniques, businesses can reach a larger audience more easily and at a lower cost than traditional marketing methods.
Digital marketing is also known as data-driven marketing, internet marketing, or web marketing. One of the most popular and effective ways to use digital marketing is to drive ecommerce sales. By creating targeted online campaigns, businesses can reach a wider audience and boost sales conversions.
Here are some of the most effective ways to use digital marketing to drive ecommerce sales:
1. Create targeted online ads
There are a number of different ways to use digital marketing to drive Ecommerce sales. One of the most effective methods is to create targeted ads that are specifically designed to appeal to your target audience.
Creating targeted ads can be a bit of a process, but it's worth it to take the time to get it right. By targeting your ads to the right people, you'll be more likely to drive sales and grow your business. Here's a quick rundown of how to create targeted ads that will drive Ecommerce sales.
First, you'll need to identify your target audience. Who are you trying to reach with your ads? What are their needs and interests? Once you've identified your target audience, you'll need to create an ad copy that speaks to them. What will grab their attention and make them want to buy from you?
Creating targeted ads gives you the power to create a better browsing experience for your customers. Hence, more effective marketing and advertising for your brand. The data for targeted ads can be gathered through analytics, cookies, geotargeting, geofencing, profile data, and other methods.
Examples can be cosmetic brands targeting women interested in skincare products and makeup in their advertisements online. Another example can be a home decor company targeting people searching for the keyword "Home Decor range."
2. Use social media to promote ecommerce products and offers
Digital marketing is all about driving online sales, and social media is a powerful tool that you can use to reach your target audience. In addition, you can use social media ads to reach a larger audience and drive traffic to your Ecommerce site. When done correctly, social media can be a powerful tool to help you boost your Ecommerce sales. The number of global social media users is expected to reach around 3.43 billion in the year 2023 (Statista, 2020). Many companies use social media as a way to connect with their customers and create a community around their brand. But did you know that social media can also be a powerful tool for driving ecommerce sales?
By using social media to connect with potential customers and create interest in your products, you can increase traffic to your ecommerce store and drive sales. And with the help of digital marketing, you can create a social media strategy that will reach even more customers and help you boost your bottom line. The business can use Facebook ads, Instagram sponsored posts, Snapchat sponsored lenses, Twitter promoted tweets or Pinterest Promoted pins to drive sales.
For example, if you sell jewelry, you could post photos of customers wearing your products on Instagram. This can help to create a connection with your products and encourage customers to make a purchase. The business can use Facebook to create a post about the product or offer, and include an image or video to help grab attention. Be sure to include a link to your website so that customers can learn more and make a purchase.
3. Use email marketing to drive ecommerce sales
Sendinblue Email marketing can be a powerful tool to drive e-commerce sales.  You can use email to reach a wide audience with your marketing message, and you can target your message to specific segments of your audience to maximize its effectiveness. Email marketing can also be used to build relationships with customers and create loyalty. With a 15% conversion rate in 2020, email collection forms were the most successful in converting readers (State of Marketing Report, HubSpot, 2021)
To drive ecommerce sales with email marketing, start by building a list of customers and prospects. You can do this by collecting email addresses at point of sale, on your website, or through other methods. Once you have a list, start sending email campaigns that promote your products or services. Be sure to segment your list so that you are sending relevant messages to the right people, and use strong calls to action that encourage recipients to buy. You can also use email marketing to create loyalty programs that reward customers for their continued business.
For example, Sending a welcome email to new subscribers. When someone subscribes to the email list of businesses, they are sent a welcome email! This is a great opportunity to introduce the business. Usually, the businesses thank users for subscribing and give them a taste of what they can expect from your emails.
Generally, a link is included to the online store in the welcome email that encourages new subscribers to check it out. Sometimes, offers and discount codes are also added for their first purchase.
Just like that, businesses can also use Emails for reminding customers of the items they left in their carts or a post-purchase email from the online store to thank them for making a purchase.
4. Optimize your website for ecommerce conversions
There are a number of ways to optimize a business website for ecommerce conversions. Some of the most effective methods include:
Creating a strong value proposition
Offering a wide range of products and services
Creating a user-friendly website design
Offering competitive prices
Providing customer testimonials
Creating a sense of urgency
Offering free shipping
Creating a strong call to action
Optimizing the website can draw organic traffic that is more likely to convert.
For example, an online tour and travel company improves its website design and user experience by adding relevant and targeted content to the website. This is done to drive traffic to the website and sales ultimately.
Summing up
These are some of the ways digital marketing can be used to drive Ecommerce sales. The ways are not limited to this and there are multiple ways through which digital marketing can be used to support ecommerce. The foremost priority for this is to have complete knowledge and a set of digital marketing skills. Start learning by taking up a free basic SEO course on digital marketing and then master the other skills like social media marketing, email marketing, and more. After clearing your basics, search for some best digital marketing courses that provide you with hands-on experience with the perfectly crafted projects to make you successful digital marketing professionals.