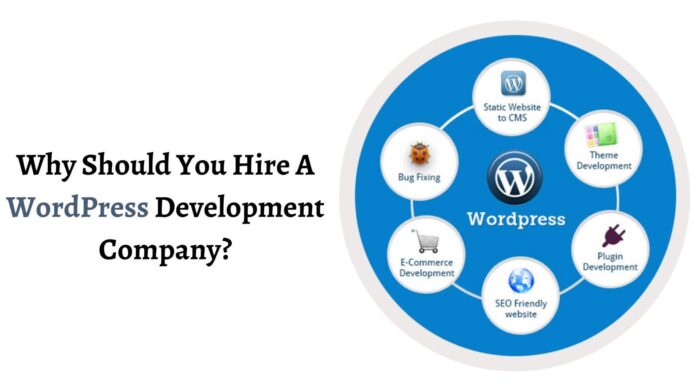 WordPress has been in the market for a long time, and no other CMS can match the benefits it offers to its users. Whether your aim is to build a simple blogging site or an enterprise-level complex website, you can effortlessly create the same with WordPress.
It is packed with plenty of features and offers a wide range of plugins and themes, allowing you to develop a unique website. For example, if your business demands an eCommerce website, you just need to install the WooCommerce plugin of WordPress, and you are good to go. 
You may wonder if hiring a professional is necessary for your WordPress project. The answer depends on your needs and budget. However, with the assistance of WordPress development services providers, you can build a complete website that serves its users as intended. This blog will cover the top reasons to hire a WordPress expert for your project. 
Top 7 Reasons to Partner with WordPress Development Company 
1. Tailored as per your Requirements
When you hire a professional, you can develop a website according to your business requirements. Using the wide variety of plugins, templates, and themes offered by WordPress, they will create a website as per your business requirements. Hence, you get a unique WordPress site developed keeping your business objectives in mind. 
2. Secure Site
Your website has a lot of confidential information; you cannot risk it by developing a website with poor security. WordPress understands the importance of this data, and to keep it protected, they release WordPress updates on a timely basis. When you hire WordPress developers, they write customized, clean, and error-free code, ensuring a secure backend for your website. 
3. Timely Completion
The development of a competitive website with advanced features and functionalities required time. With WordPress, professionals can easily write code and build a fully functional website in less time using plugins. They have prior experience and exposure in developing a market-ready website. Using the same, they will build a competitive website for your company in the stipulated time.
4. Abreast with Latest Functionalities
WordPress platform keeps on upgrading and updating its functionalities. As a business owner, you can't keep an eye on all of them. But a WordPress development company knows all the updates and has the skills to implement them in your project. Therefore, with the right experts, you can build a WordPress website embedded with the latest functionalities and features. 
5. High-Quality Work
A developer conducts thorough market research, business analysis, and competitive analysis to develop high-quality official websites. They integrate the latest features on the website and verify the outcomes to ensure that they fulfill the consumer's requirements while increasing ROI and sales. Development agencies end any form of quality compromise by assigning professionals. As a result, developers do high-quality work and provide a website with all the essential functionality.
6. SEO Friendly Website
When you seek assistance from a WordPress development company, it will create a website for you, keeping SEO parameters in mind. When your WordPress website is SEO friendly, only then will it be able to deliver an excellent user experience. 
Therefore, keeping Core Web Vitals in mind, experts will build an optimized website that offers a fast loading speed to users. Moreover, with the integration of plugins such as HubSpot, All in One SEO, Yoast SEO, etc. 
7. After-Deployment Support
After a project has been completed and launched, many claims no assistance is provided. A reputable WordPress development company ensures that such a situation does not arise and that its customers receive long-term support. The developer working on your project will provide the most effective services and always assist you in any difficult circumstance.
How to Look for the Best WordPress Development Company?
Various WordPress development services providers are available in the market, but it is challenging to find the most suitable one for your business. In order to ensure you choose the best company for your project, you must keep certain aspects in mind. Let's look at the factors that will help you find the best development company for your WordPress project.
Years of Experience
When you are looking for WordPress experts, check their years of experience. Find out whether they have to build WordPress websites in a similar niche like yours. Their expertise in WordPress development will help them better comprehend your project requirements. 
You can still give them a chance if they have vast experience in WordPress website development but are new to your industry. 
2. Portfolio Assessment
It is crucial to go through the WordPress developers' portfolios to understand their previous work. This way, you can check the work they have completed in the past. The website of WordPress development companies will include links to their company pages, official websites, screenshots, and details about their projects. As a result, you'll be able to determine whether their skills and experience are a good fit for you.
3. Soft Skills
You might think about how communication skills can be necessary. But actually, it is. When you hire WordPress developers, you must ensure they are open to communication. The communication gap or linguistic barriers can increase the project submission date.
Additionally, soft skills such as openness to feedback, problem-solving skills, etc., are also essential to avoid instances of misunderstanding and project delays. 
4. Focus on Value
Sometimes you find WordPress development companies ready to offer you services at a low cost. But that may sound too good to be true, as skills and experience come with a price. WordPress services providers with excellent industry exposure will charge for their expertise. Therefore, your priority should be the value that WordPress experts will add. 
5. Ratings and Reviews
You can use B2B sites such as Clutch, Goodfirms, etc., to know the company's reputation in the market. You will find the ratings and reviews from their previous clients, which will help you to make an informed decision. You can also check the company's official website, strength, headquarters location, developers' hourly rates, etc.
Wrapping It Up!!
The perks of hiring a WordPress development company are not restricted to the pointers mentioned above. With the right experts, you can build a competitive WordPress website and enhance your business's online presence. 
As WordPress is a widely used platform, you can get thousands of service providers from which you can choose. Hence, we have also discussed ways to find the best WordPress development company for your project. 
Author's Bio
Emily White works as a senior WordPress developer at the prestigious company CSSChopper. She has a keen interest in writing technical blogs and keeping herself updated with the latest tech advancements.