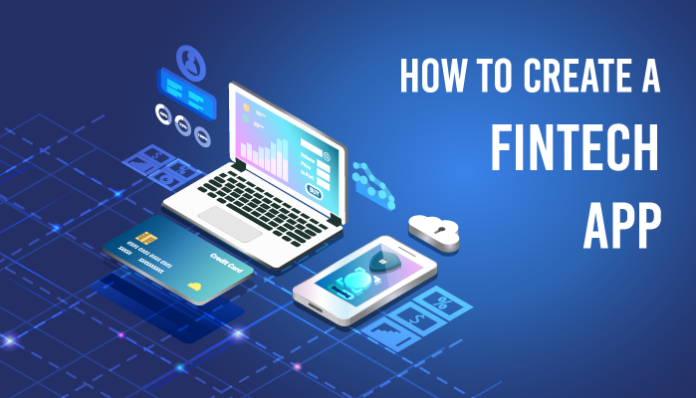 If you want to build fintech app. This blog is for you.
Fintech apps have changed the entire game of the finance industry. They have been using various technologies to fulfill the client's needs. It is the fastest-growing industry that offers convenience and high-level security that transform financial services.
The fintech market is expected to grow $191,840 million in 2025 at a CAGR of 10.2 % and $325,311 million in 2030 at CAGR of 11.1 %.  The increase in the popularity of fintech apps led to an increase in digital payments.
The security of consumer data is more concerning which affect the growth of the fintech market in the future. Alone in the USA 50% of banks and the rest 50% of credit unions believe that fintech partnerships are necessary.
Hence, fintech apps are helping to facilitate the growth of the finance industry.
If you are wondering how?
In this blog, we shall be discussing how to create fintech apps and everything related to fintech apps.
Let's dive in.
What are the features of fintech apps?
Before we discuss the prominent features of top Fintech apps, let's talk about what are fintech apps.
So Fintech apps are mobile apps that help in dealing with financial services. Fintech apps are popular nowadays; they have changed the game of traditional financial services.
Let's look at the features of fintech apps.
Simple interface and easy Navigation
The first and foremost important features of any fintech app are user- friendly interface. User-friendly features attract users to use that app for a long time.
Moreover, the fintech app makes it easier to navigate by including advanced AI technology tools that allow customers to use voice search.
This feature is great as it sends alerts about the offers that help clients to stay in touch. It is also helpful for promoting certain services.
Fintech app development company take care of all the small components of the fintech mobile app.
Peer-to-peer payments enable the transfer of cash from one customer account to another customer account.
Usually, P2P payments are free of charge and trustworthy, and safe.
Data breaches, hackers, and cyber theft are common nowadays. That's why security is the first aspect that comes to the users' minds whenever they use any fintech app.
Because of this, fintech apps provide high security with a safe sign-in option like biometrics, face recognition, and many more.
So, these are the prominent features of fintech apps. Now it's time to discuss how to create a Fintech App.
How to create a Fintech App?
If you are creating a fintech app you need to keep platform security in mind because it is the first and foremost important thing to do. And your goal must include providing a smart solution to your users.
Now it's time for you to build fintech app with the help of the steps mentioned below.
1.   Research
Before developing the fintech app you need to strengthen your game of research. It saves you a lot of time and money. You can write down the list of top fintech apps and analyze the app. This helps you in finding the idea and success possibilities of your app.
Moreover, the research will help you in identifying your competitors' faults which you'll not make in your Fintech development process.  Also, you'll identify the user demand.
2.  Choose a team
Without hiring a team of expert developers you cannot build a successful app. You can build an in-house team or contact outsourcing agencies for hiring a team of developers.
You'll require the following developer team.
·        UI/UX designer
·        Web/ Android developer
·        iOS developer
·        BA
·        Tester and DevOps engineers
Just make sure that you properly communicate with each member of the team so that you don't have to worry about the small task. So hire dedicated developer and start building your fintech mobile app.
3.  Define MVP
In this stage, you have to define the scope of your Minimum Viable Product by doing market research, having sessions with the development team, etc.
All you have to do is state the features and make sure to check it align with your ideas.
4.    Wisely choose your technology stack
There are various technologies used in the building of the Fintech app. You can choose your technology stack by keeping your app requirements in your mind.
You can choose cross-platform app development as it will work for both android and iOS. By this, you can save up to 60% of the total cost of development.
5.  Build API's
You should include basic functionalities like budgeting, bill tracking, etc. If you are a start-up you have built it from scratch.
Moreover, APIs are necessary for building smooth and fluent access across the website. For the development of API make sure that you use strong solutions like PostgreSQL, MongoDB, etc.
6.  Design UI/UX
Now ask your hired dedicated developers (UI/UX designers) to develop the front end of your website. Just ask them to not include unnecessary features in your app.
Expert UI/UX designers know the importance of design elements in the app. They know how to attract users through design fundamentals. So don't worry about this aspect of your app.
7.   Testing and Launching
Your team QA will analyze the app and remove bugs and errors, then your app is ready to launch officially.
Now before launching, launch a BETA version of your app. This will give you feedback and you can improve a lot of complications.
8.    Maintenance and Updating
Now after launching your app in the market you'll need to maintain it regularly. You have to update the app regularly to keep ahead of your competitors.
Cost of developing Fintech app
Several factors affect the overall cost of a fintech app. There is no exact number that can be given, but some factors like the geographical location of the developer, platform, features, and functionalities are a few things that can affect fintech app cost.
Cost defined by the app type

Banking app

$40,000-$70,000

Lending app

$30,000 to $50,000

Insurance app

$45,000 and $70,000

Investment app

$60,000 and $120,000

Consumer finance app

$50,000 to $300,000
Another factor is the location of the fintech app development company which directly affects the cost. Europe-based fintech company y will cost you around $200,000 to $600,000.
Similarly, in the USA it will cost around $600,000 to $800,000 which is high compared to other European and Asian countries. Now, you can estimate the average cost of developing a Fintech app which is $50,000 to $300,000.
However, a simple UI app with a single platform will cost between  $50,000 to $65,000. The amount will increase when you build the complex app.
Conclusion
Now by reading the above section, you'll get the idea of Fintech App Development Cost.
Fintech mobile app is the best solution for all your online financial operations. They are user friendly, highly secured and low maintenance. But for building a successful app you'll require the team of experts. That work hard for providing you the best fintech app in the competitive market.
Fintech apps are quite popular in current times. So if you have decided to launch your fintech app successfully. You can hire a Fintech app development company.
Author Bio- Jermaine Trotman is the co-founder of Nimble AppGenie, a market leading,  fintech app development company but not limited to that. Firm is renowned for it's eWallet, loan lending, and fintech app development solutions.