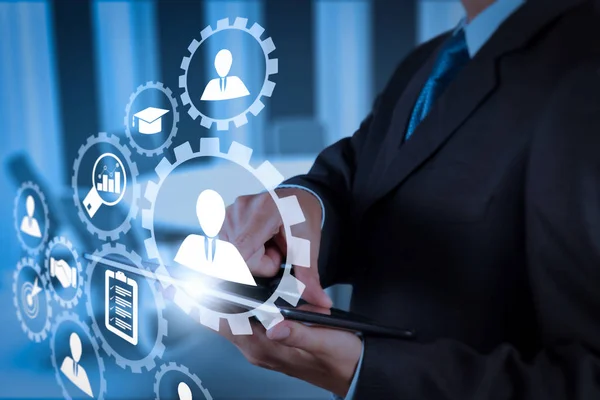 There are various Recruitment Agencies available to choose from. With so many recruitment agencies, it becomes difficult for a person to select the agency best suited for himself/herself and make a wise decision. There are various factors which should be considered while choosing a recruitment agency. This article will help you in selecting the right Recruitment Agency.
Why should you choose a Recruitment Agency?
You must be wondering why you should choose recruitment agencies. A company faces several recruitment challenges and a recruitment agency helps them in solve those recruitment challenges in the following ways –
The average amount of time a recruitment agency takes to fill a post is 42 days,  as per SHRM research. By working with recruiting firms, you can shorten the time it takes to find the talent your company needs. Your company may save time by using a recruiting agency in two ways.
First, the hiring process may take a while. You can save your workers time and money by using a recruiting agency. Second, it's possible that recruiting agencies have candidates in their talent pool who exactly fit the roles you have open. You'll be able to hire the top candidate much faster.
The main advantage of employing recruitment agencies is that the majority of them have experience in particular industries or job categories, thus they have a talent foundation at their disposal. They go above and above to locate candidates across various platforms and properly screen them thanks to their constant focus and expanded sourcing capability.
Through phone interviews, assessment tests, or other means, they make sure that only the right prospects for your company advance.
The main advantage of using a recruiting firm is the increased guarantee they offer regarding new hire retention. The majority of reputable employment agencies provide guaranteed times.
This suggests that they guarantee your recruit will work for your company for a specified period.
Identify and Hire Talent in High Demand Sectors
Due to the fierce competition for top talent, businesses routinely cooperate with recruiting agencies to help fill difficult-to-fill positions. Likely, the problem isn't a lack of time but rather intense competition for particular professions.
For senior positions or in-demand areas like technology, digital marketing, hotels, etc., this is especially true. With so many businesses competing for the best of the best, extraordinary talent is needed. Their collective industry experience helps them get better every time.
Steps to choose the right Recruitment Agency 
Here are 5 easy steps which will help you in choosing the right recruitment agency for your business –
Analyze your company's requirements to determine whether you require one or more job applicants. Establish the job position and the information and skills required.
You can use these insights to determine the type of recruitment agency you require and their area of competence. You'll comprehend the size, style, and kind of social network they ought to have. It's important to let the recruitment agency know your company's needs.
It would be excellent if you asked the following questions –
How long has the agency been in existence?

Who have you worked with till now?

How long does it typically take you to find a qualified jobseeker?

What steps do you take to hire people?
            These will give you a rough indication of how well they can meet your needs.
Treat recruitment agencies like job seekers
The ideal recruitment agency should be able to locate and contact a candidate who is a good fit for the open position. Treat them like job applicants and interview them to see if they can accomplish that.
Ask them questions that will help you determine whether they can fulfill their promises and meet your demands. Ask them, for example, if they have access to applicants who would be a good fit, how they choose job applications, and how long it will take them to discover the right talent.
Budget-friendly recruitment agencies are perfect for small businesses. Choose the employer that you can afford and who has a track record of successful hiring.
Avoid those who demand a fortune, make lofty promises, and have no data to back up their claims.
The charges charged by most recruitment companies differ depending on the position you're trying to fill. The following elements have to be considered –
Posts to be filled in a number

Industry in which position is to be filled

Position on the payroll employment status 

Employment status (full-time, part-time, etc.)

The expected salary for the job position 

Select the Right Type of Recruiting Agency
Make sure you select the proper kind of recruitment agency or you run the danger of wasting your money. For instance, use a staffing hiring agency if you require personnel for a brief period.
An executive recruitment service, on the other hand, might be a wise choice if you're looking to hire an executive. However, if you're searching for workers at different levels or specialists in a certain area, generic recruitment firms are the best option.
Evaluate the experience of the Recruitment Agency
Try to first determine what kind of employment firm you need. The best choice if you require a temporary or contract worker is a staffing agency. A standard recruitment firm is where you should look if you're hiring full-time workers.
You can limit a list of suitable recruitment agencies by doing this. You will be able to find highly qualified individuals who are real authorities in their fields by simplifying your company's needs and deciding which form of recruitment agency is appropriate for you.
Conclusion
All types of businesses can benefit from the correct recruitment firms, so you should start exploring others that can fulfill your organization's needs. You must evaluate the recruitment agencies before appointing them so that you do not waste your money on agencies that are not suitable for you. You should also do a background check on the agencies by finding testimonials and contacting their previous clients with the same size and type of companies as yours.
Author Bio
Human Resource India (HRI) is one of the recruitment agency. We have excellent skills in recruiting the right talent who can help you to achieve all the business goals.