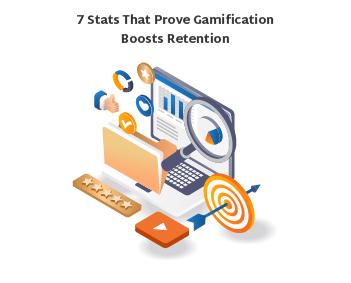 Games always enthrall people, irrespective of the aspects of their lives. People enjoy playing games in just about every part of their lives. By introducing gamification into the app experience, even apps that aren't vaguely associated with the mobile gaming sector can gain. By adding a taste of gaming to your app, you may leverage the power of gamification and motivate users to win.
1- The worldwide gamification industry is valued at 11.94b currently
The global gamification market was valued at $11.94 billion as of 2021, a $7.03 billion increase from 2016. For instance, the United States dominated the $2.72 billion North American gamification industry in 2019.
These numbers are anticipated to rise considerably during the next few years. Experts expect a nearly $20 billion increase in the global market's value, with North America dominating the sector.
2- 70% of 2000 global organizations use gamification in different ways.
More and more international firms are implementing gamification components in their workplaces as game-based learning increases employee engagement, productivity, and profitability. According to experts, up to 70% of the Global 2000 organizations (the top 2,000 worldwide corporations) currently embrace gamification.
According to recent data, 70 percent of American workers lack the necessary commitment to their jobs. While this is happening, businesses with engaged staff are 22% more lucrative, 21% more productive, and have 10% higher customer satisfaction rates. Gamification through reward points provides a route to success for many enterprises.
3- Gamification Stats by Employees
A mind-boggling 95% of employees like a work environment with gamification. Almost every employee polled stated that they enjoy certain aspects of gamification at work.In the meantime, gamification is something that many job searchers look for when looking for work. According to one study, 78% of respondents felt that gamification in recruiting would increase their desire for a firm or job.
4- 30% of the employees believe that learning through gamification keeps them engaged
Gamification raises levels of workplace engagement while increasing productivity for 90% of employees. According to a survey of 500 business professionals, 30% of those polled claimed that gamification increases employees' willingness to be involved at work.
A further finding from the same survey was that gamification motivates 27% of workers to be more productive at their workplace and aids up to 20% of people in maintaining attention and avoiding distractions.
5- Gamification Has Brought a 700% Boost in Retail in Customer Acquisitions
Due to gamification techniques such as badges in WooCommerce, retail commerce has gone to another level in the past few years. It has significantly helped organizations in luring and retaining clients. One study revealed that the retail sector keeps the most significant chunk of the global market for gamification. The retail industry is expected to grow further by up to 25% by 2025. Gamification has boosted client acquisitions by a mind-boggling 700%, while gamification tactics have also improved loyalty and engagement by up to 30% for Walgreens, eBay, and other brands.
Despite the gamification of retail's many benefits, most businesses aren't making the most of it. This is because it may be challenging to implement appropriately. Many businesses are under the impression that they must develop a mobile app specifically designed for gaming, which is a potentially expensive and time-consuming procedure. However, this doesn't need to be the case.
A report published by McKinsey revealed that 75 percent of consumers had tried various products during the extended off-workplace pandemic days. To live in a post-COVID world, 60% of the 75% of consumers want to introduce new brands.Since consumer behavior is rapidly changing, app owners and retailers must drive brand loyalty as much as possible.
6- Gamification Enhances Pupil Productivity by up to 50%
Gamification has introduced a positive change in the education sector with massive results. With 80% of staff in the USA finding it more effective than conventional training methods, pupils find it exciting and an integral element. Gamification can enhance student productivity by as much as 50%.
According to Zippia, an elementary school mathematics teacher, he came to know that gamification can have a massive impact on his pupils' performance. In one case study, math games increased average test scores by 34%, from 49 to 83 percent in four months.Due to the significantly improved results, it's a no-brainer that almost 75% of the USA's elementary school teachers use gamification in their curriculum.
7- About half of US workers are casual gamers outside the workplace.
Around 80 million people doing white-collar jobs in the USA play games. A survey revealed that 24% of all white-collar workers in the USA play casual video games at work. Moreover, around 35% of CEOs, CFOs, and other high-level executives play casual gaming at their workplaces.
65% of the workers who admitted doing casual gaming at work said they did it once a month, with 61% reporting they play games during their lunch hour or break times and 52% claiming they play during their official workday.