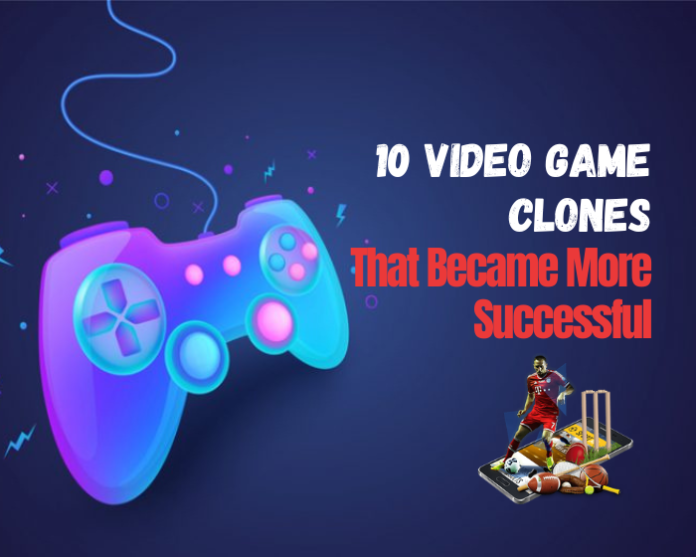 Are you looking for the top 10 video game clones that become more successful? If yes, then you are on the right page. Here, we are going to count the most popular clone games that have attracted players from all over the world and offer you a new way to entertain yourself. 
At present, if you are highly impressed by a popular game and want to make a game similar like that, then you have no need to develop your desired game from scratch because all you have to do is to get a video game clone provider and by taking help of that you will be able to introduce your game software without spending a lot and in minimum time. 
In short, game clones help you to build your game in an easy process and you have no need to invest too much time, effort, and money. Let's know the popular video game clones that have made a huge presence in the gaming world. Let's start.
Top 10 Video Game Clones That Became More Successful
Let's know the prominent video game clones that have made good hype in the gaming world and attracted a wide range of audiences by offering them innovative gameplay and adding some extra enchanting features and functions.
We hope all players have an idea about the Angry Birds game which is the most popular and successful game in the history of mobile gaming and was also a clone video game. It is just a clone of "Crush the Castle". This game was launched in 2009 and the aim of the game was to destroy the castle with the help of a catapult. Half a year later, Angry Birds was released. The gameplay is exactly the same as Crush the Castle. 
Angry Birds counts three billion downloads, two movies, and dozens of spin-offs. Now, you can imagine the possibilities of a clone video game.
Minecraft is another popular video game clone that became more successful later. After the success of Minecraft, many video game app development companies try to make a similar game. Minecraft is a clone of the Infiniminer game that was released in 2009 and after two years Minecraft was released.
Infiniminer was based on the sandbox-based game, where players have to find out valuable metals and by returning them to their base, they earn reward points. But, players were more interested in making the building aspects. So, this type of idea of Minecraft came to light. 
Pac-Man was also one of the popular video games of their own time and is also a clone. Ms. Pac-Man was the sequel to Pac-Man and is considered one of the clone video games. But, both games have too many differences and the clone has become more successful in comparison to the original one. 
You can assume the popularity of this game by the arcade title of 1981 which was earned by selling 1,15,000 cabinets. 
In 2009, the Farm Town game was launched which was a Facebook game in which you have to create and manage your farm. Here, you can plant more trees and can add more animals. Within a short span of time, it had become the talk of the town and after that, Zynga created a game and named it FarmVille and it has also attracted millions of users. 
FarmVille is the best example of a clone video game that has earned fame all over the world. 
In 2005, Guitar Hero was launched and it gave a feel like rock stars. To enjoy this game you don't require any special sets of skills, you just need a plastic guitar and a single console. It was also a clone video game that has made a huge presence all over the world and become a prominent clone video game. It was a copy of Guitar Freaks. 
Killer Instinct is another game in the list that is a clone of Mortal Kombat. This game has counted success as the best fighting game. But, this game has also added some innovative features like automatic combos, combo breaker moves, and ultra combos that added fun to its gameplay. Its gameplay was also competitive that's why it created its unique identity. 
South Park is also copied from the Stick of Truth. This game was full of a sense of humor and appreciated a lot by players. You can take an idea from this game that how you can also make a popular game by getting a clone script. If you have abilities to enrich a game idea with top-notch features, then you can also create a popular game. 
BoneCraft is a clone video game of World of WarCraft that is quite popular among players. It is a multiplayer game that has attracted a wide range of audience by offering immersive features but the original game idea was taken from the World of WarCraft game. This game has a popular tagline Somewhere in some galaxy. It is the best example of a fantasy MMORPG clone video game that has millions of downloads and plates still playing it. 
Qix game was so successful that its concept was followed and many clone games were developed like Perestroika Girls, Fantasia, Fantasy '95, and many others. In this, as a player, you have to create a sketch, and playing it is like Etch-A-Sketch. This game is full of entertainment and that's why it is liked by a huge audience and many companies made a clone game of it that was based on Qix.
Like Qix, the Tetris game was also the base of many successful games that were created by using the Tetris clone. Within a short time period, Tetris made a huge user base all around the world and it motivated many game companies to make clone video games. The Game Boy is also a clone video game of Tetris that sold more than 35 million copies of it. So, you can imagine the scope of clone video games. 
Final Word
Video game clones have become the popular medium to steppin-in the gaming industry and offer your own gaming platform without spending too much time and cost. You can also cover the huge user base of the existing popular video game because you directly or indirectly copy a game. To grab the opportunity of video game clones, you can also take the help of a video game development company that deals in clone services. We hope this article makes a full stop to your search by offering you the top 10 video game clones. 
Author bio – Lakshya Pareek is an experienced technical content writer with a knack for simplifying complex ideas. Adept in the latest trends and developments in the tech industry, having a passion for learning and sharing knowledge, they explore new technologies to break down their intricacies.