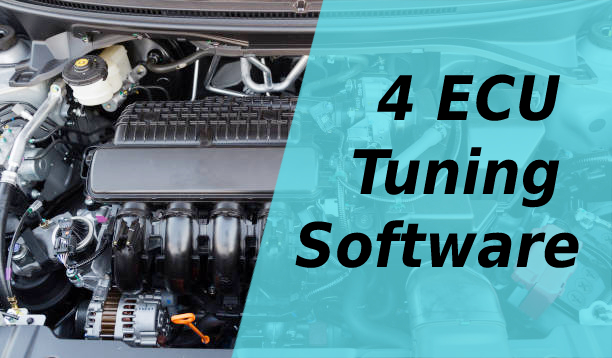 A tuning tool can significantly improve the performance of your vehicle. Enhanced driving comfort, increased engine efficiency, and increased power and torque are just a few of the benefits. However, deciding on the best option based on your expertise and requirements can be difficult.
We've compiled a list of the top five ECU tuning software available in no particular order in this article. This step-by-step guide will help you select the best ECU software for your needs.
1. MaxxECU MTune
The MaxxECU MTune tuning software is a user-friendly tool for advanced or basic tuning. MaxxECU features include nitrous, speed limiters, injector staging, CAN for OEM protocols, and built-in fault diagnostics, to name a few.
MaxxECU has an inbuilt live logger and can perform live tuning and local autotune. It employs a diverse set of settings. With a single click, the software gives you access to real-time data. Its ability to tune in both 2D and 3D is one of its distinguishing features. Most operations have shortcuts in this software, making mapping easier and more efficient.
PROS and CONS
PROS
It's easy to use
A superfast USB connection is available.
Options for a wide range of settings
Most operations have shortcuts.
Tuning in real-time
Local autotune via a database on the internet
Display modes include 2D and 3D.
Updates to the software are available for free.
CONS
Not all vehicles are compatible.
Overdiagnosis and troubleshooting, and tuning take precedence.
Only Windows 7 or 10 are supported.
2. TOAD Pro is a program 
Total OBD & ECU Auto Diagnostics (TOAD) is an acronym for Total OBD & ECU Auto Diagnostics. This is one of the best on-board diagnostic (OBD) software for vehicle diagnostics and reports generation. Toad works with nearly every vehicle on the market! Because it is compatible with both OBD1 and OBD2 vehicles.
The vehicle's information, real-time data from the ECU, and diagnostic trouble codes from the emission and transmission systems are all kept track of by this portable diagnostic programme. It comes with a database of over 15,000 code definitions built-in. This programme reads OBD2 codes and shows you where the problem started and how to fix it.
It can also read freeze-frame data, provide alerts, perform DPF and GR regeneration, sensor adaptation, optimise fuel efficiency, and perform actuator functions, among other things. TOAD Pro is a piece of software that
PROS and CONS
PROS
Both OBD2 software and ECU remapping are supported.
Allows data to be streamed in real-time.
Improve your fuel efficiency.
Multilingual support Extensive vehicle coverage
Allows data to be streamed in real-time.
System updates are available for the rest of your life.
One-year warranty with no risk
CONS
It is quite costly.
Only ELM327 adapters are compatible with the software.
Only work on windows
For DIY enthusiasts, it may be too difficult.
Only trouble codes from the engine and transmission systems are displayed.
3. EcuTek
The EcuTek software has a number of useful features that help the tuner achieve quick, accurate, and successful mapping. This software has a user-friendly interface that allows you to fine-tune your car to the desired performance level.
For BMW, Honda, Nissan, and Ford automobiles, EcuTek software is a popular ECU tuning software. Because all of the maps are based on OEM readings, there are no compatibility issues. After you've made changes to your engine, you can use this software to improve its performance.
PROS and CONS
PROS
Autos can be reprogrammed in under 30 seconds.
There are extensive map definitions available.
You can change the materials that have been pre-tuned using the software.
Map duplication and export are both possible.
All of the safety features of the changed parameters are retained.
CONS
Compatibility with other vehicles is limited.
Navigation can be difficult for inexperienced users,
But it is simple for experts.
4. Viezu K-Suite ECU Tuning Software for Automobiles
The Viezu K-Suite is a tuning and ECU remapping software that covers everything. This one-of-a-kind ECU tune software is created in-house by a highly-skilled technical team. Viezu's programming service gives you complete control over your vehicle tuning.
Two powerful car tuning programs are included in the software, which can be used to remap any ECU. Users will find using the software to be a simple and enjoyable experience. The software is compatible with a wide range of vehicles.
KESS and K-Tag are used by Viezu software. During the mapping process, this feature provides guidance and tuning recommendations. Viezu is your one-stop-shop for all of your ECU software needs, including fuel management, speed limiter relocation, and DPF removal. If your vehicle's ECU needs to be tuned for better performance,
PROS and CONS
PROS
It is simple to use.
Courses on training are included.
Update your car for free
For diesel engines, there has been a significant improvement in fuel economy.
With the help of 3D tuning,
KESS and K-Tag are part of a dependable support team.
For diesel engines, there has been a significant increase in power.
Compatible with both diesel and gasoline engines.
CONS
Advanced steps, especially KESS, can be challenging.
The software is only compatible with the Windows operating system.
Summary
If you are unsure about your skill set, choosing the right ECU programming software that is compatible with your vehicle can save you money and help you a lot. Choose the option that best meets your requirements and skill level.