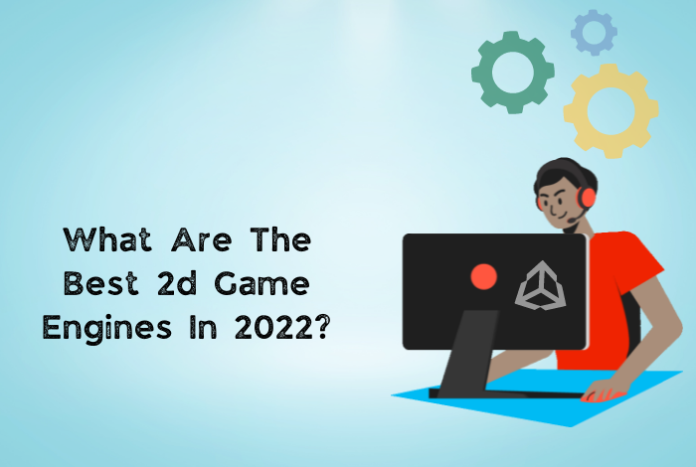 This article is totally dedicated to those who are looking for the best 2D game engines in 2022. At present, the game world has totally changed with advanced technology like Artificial intelligence and its results are really enchanting and entertaining. 
The latest technology and latest trends are redefining the gaming world and more people are prone to the game world due to its highly interactive features. 2D games are the most likely format of games because they are easy to play and their concept is really awesome. 2D game development companies are more sought out due to the demand for 2D games.
Game engines are a platform where you get free in-built plugins that enable game developers to develop advanced games. Here, you get accessories that make your game one step ahead of others. There are many game engines for developers but here, we are going to talk about a few of them that are highly proficient for you. 
There is always confusion about which game engine should be adopted by us so our game can make a big difference in the real world. It is always a big concern for beginners. 
If we follow the latest trends then we can predict that the game engine market engine will reach $5.5 billion by 2027.
What is a Game Engine?
A game engine is software that offers us a  platform to develop games. We can also refer to it as a game framework or game architecture. It makes our development process so easy that we are able to develop high-quality games with different formats and can simulate the latest technology like AI, AR, and VR in it. It has an advanced and rich-featured library of plug-ins that give a new look to your game and make them smarter than others.
Special in-built tools are there for specific tasks so you can achieve your goals in a better way. 
Top 5 2D Game Engines
So let's discuss the best 2D game engines that are defining the game experience to a new level. Here are some of the best 2D game engines in 2022 that should be chosen by you for your game development.
Unity launched in 2005 and since that, it has become a great choice for game developers and game development companies. With time, new updated versions like Unity Reflect are also available that help to create 2D and 3D games with advanced technologies like Artificial intelligence, augmented reality and virtual reality, and many more. It is the most popular engine and the best choice for 2D game development. Unity engine is my all time favourite engine.
The hollow knight and genshin impact is an example of unity games.
The Merit of Unity Game Engines:-
For beginners, it is totally free.

Suitable for all 2D and 3D games.

Excellent support for mobile games.

SDKs for AR, VR & AI are available.

Free assets at the store.

Unreal Engine
The Unreal engine is also counted as one of the top game engines for all 2D games. Gears 5 and Dragon quest XI are the best examples you can count. Unreal engines offer you the best graphics, lights, shaders, and much more. This engine is improving with time and a lot of new features are there to take your game to the next level. 
This engine is so advanced that if you have no prior knowledge of coding then also you can easily design your games. If you are focusing on VR (Virtual Reality) then this is the best engine for you.
     The Merit of Unreal Engine:-
Advanced Graphics.

Best for Virtual Reality (VR).

Visual blueprints for non-programmers.

Wide range of assets.

Godot
The Godot game engine was introduced in 2014. At present, it is widely recognized and its fame and demand are increasing. Due to open source and ease of use, you can easily design and develop your game. All kinds of 2D and 3D games with advanced features you can make in less effort. This engine offers you a smooth platform that makes all your work so easy and interesting. 
Gun-toting cats are the best example of Godot engines.
     The Merit of Godot Engine:-
Unique architecture to develop 2D and 3D games.

Create 2D and 3D games in an easy approach.

Free to use.

Open-source.

Defold
If you are focusing on only 2D games then this platform has several tools that can make your game app more advanced that will help you to attract gamers. It is best for both mobile and website games. Streamlined solutions are also here for the effective and engaging design of the game. This engine uses the Lua programming language that provides lightweight apps that suit all kinds of mobile. 
Potato jam is the best 2D game on this engine.
    The Merit of Defold Engine:-
Easy to use and learn.

Free and open source.

A large community to support.

GameMaker Studio 2
The Gamemaker studio 2 game engine was developed in 2017. If you are looking to develop your game for multiple platforms then this engine is the best for your game. With the help of a visual editor, it has become so easy to develop games. 
Hyper light drifter is the best example of this platform.
     The Merit of GameMaker Studio 2 Engine:-
Boon for beginners.

Supported by multiple platforms.

Drag and drop makes programming easy.
Things To Know Before Choosing A 2D Game Development Engine
When you are going to choose the best 2D game development engine to develop your app with your unique concept then you can choose from the above one according to your specifications. An engine must be ok to deliver software that must support all kinds of platforms. The design and development process should be easy so anyone can develop their best game. A game engine must have given the below features-
Compatible with all platforms.

Both 2D and 3D game development.

Drag and drop option must be to develop the game.

Easy to learn and use.

Should be economic.

Multiplayer support.

Secure and advanced.
Final words
This article is best for you if you are going to bring your game idea to the real world then a unique and advanced engine should be chosen for you that can make a difference in the 2D game world. Here, we have talked about the top five 2D game development engines that are the best among all engines. If you choose one of them and make your effort in the right direction then you will surely get your objective.
You should make the right choice while you are approaching a 2D game development company because an experienced and skilled team of professional developers can offer you perfect services. Both game engines and companies play a vital role in any 2D game development software.