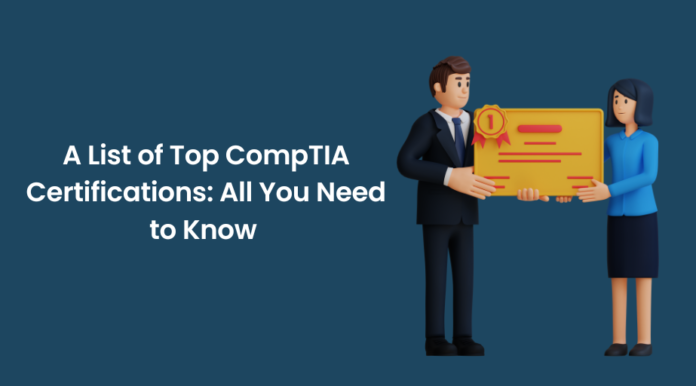 CompTIA is a non-profit, globally recognised trade association that offers a range of professional certifications for individuals in the information technology (IT) industry. CompTIA Certification is designed to validate the knowledge and skills of IT professionals and help them advance their careers.   
Top CompTIA certifications offer a variety of certifications at different levels, from entry-level, like the CompTIA A+, to advance, like the CompTIA Advanced Security Practitioner (CASP+). These certifications cover a wide range of topics, including networking, security, cloud computing, and project management.  
These certificates cover a wide range of subjects, such as project management, networking, and security. Additionally, CompTIA offers IT sector research, lobbying, and instructional materials. They collaborate with corporations, governmental organisations, and academic institutions to further the expansion of the IT sector and assist IT workers in keeping abreast of emerging trends and technologies. 
Table of Contents:  
What is a CompTIA?  

What is a CompTIA Certification?  

What are the various CompTIA Certifications?  

Best 5 CompTIA Certifications 

Benefits of CompTIA Certifications 
What is a CompTIA?  
The Computing Technology Industry Association (CompTIA), a non-profit trade association, grants professional qualifications within the IT sector. It has its American headquarters in Downers Grove, Illinois. The association awards vendor-neutral certifications in more than 120 countries.
What is a CompTIA certification?  
Vendor-independent certifications from CompTIA confirm that candidates have acquired a specified level of proficiency. The CompTIA Security+ Certification provides you with the necessary abilities to land a job in the IT industry. Additionally, your CV will be of significant value because the CompTIA Security+ Certification is generally respected in the sector. The price of CompTIA certification varies depending on the company. 
What are the various CompTIA certifications?  
Core 

Infrastructure 

Cybersecurity 

Additional Professional 
Core Certifications: CompTIA Core offers four certifications that are intended to help professionals develop their core foundational skills: IT Fundamentals+, CompTIA A+, CompTIA Network+, and CompTIA Security+. These are pre-career certifications that concentrate on the IT foundation framework, user support, and device connectivity, respectively. 
Infrastructure Certifications: Three infrastructure certifications were created to complement the Network+ certification: CompTIA Server+, which focused on server support and administration issues; CompTIA Cloud+, which covered hybrid clouds, virtual system administration, and deploying network storage resources; and CompTIA Linux+, which focused on Linux operating system administration and management. 
Cybersecurity Certifications: CompTIA offers three certifications in cybersecurity: the CompTIA CySA+ (Cyber Security Analyst, which is targeted at IT security behavioural analysts), the CompTIA CASP+ (CompTIA Advanced Security Practitioner), and the CompTIA PenTest+ (Penetration Testing, which is targeted at professionals who perform penetration and vulnerability testing). 
Additional Professional Certifications: These additional professional certifications, such as CompTIA Project+, CompTIA CTT+, and CompTIA Cloud Essentials, don't naturally fall into any of the aforementioned CompTIA career paths. 
The Best 5 CompTIA Certifications: 
CompTIA A+:

CompTIA A+ is an entry-level IT certification that has been the first step for many people pursuing profitable IT careers. For selecting people who concentrate on end-point management and technical support, the certification is recognised internationally. 
Skills learned: 
Network and hardware troubleshooting 

Mobile Technology 

Operations for Network Operating Systems 

Software security troubleshooting 

Utilising the cloud and virtualisation 
CompTIA Network+:

For IT professionals with less expertise, the CompTIA Network+ certification is recommended. A typical stepping stone to entering network administration is Network+. A significant advantage for any IT professional is networking knowledge, given that practically everything is networked. 
Skills learned: 
Infrastructure for IT 

Network Security  

3. Network Operations 

4. Tools and Network Troubleshooting 

5. Concepts of Networking 
CompTIA Security+:

The foundational cybersecurity knowledge needed by IT administrators and security specialists is validated by the CompTIA Security+ certification. Security administrators, systems administrators, network administrators, junior IT auditors, and penetration testers are among the common professions that may call for CompTIA Security+ certifications. 
Skills learned: 
Design and architecture 

Identity and Access Management 

Cryptography 
Risk Administration 

Tools and Technologies 

Threats, Attacks, and Vulnerabilities, number six 
CompTIA PenTest+:

The CompTIA PenTest+ certification is intended for professionals in cybersecurity who are at an intermediate level and are responsible for managing network vulnerabilities through penetration testing. To verify that candidates have the necessary skills and knowledge, the PenTest+ includes multiple-choice, performance-based, and hands-on questions. 
Skills learned: 
Attacks and abuse 

Penetration Testing Tools 

Information Gathering  

Vulnerability Identification 

Preparation and scoping 
Communication and Reporting 
CompTIA CASP+:

The CompTIA Advanced Security Practitioner certification, often known as CompTIA CASP+, teaches cybersecurity abilities. A candidate's advanced-level skills are evaluated by one of the most well-liked CompTIA certifications among IT security professionals. 
Skills learned: 
Risk analysis 

Managing risk and forecasting 
Enterprise security 

Technical Enterprise Security Integration 
Benefits of CompTIA Certifications 
Develop problem-solving abilities 

Depth of knowledge 
Global Business Credits and Accreditations 

Effective leadership and advocacy 

CompTIA Career Pathways 
Conclusion: 
The CompTIA Certifications can help applicants get a thorough understanding of the information technology industry. The numerous CompTIA certifications each have their own unique characteristics that can help open up excellent job opportunities, regardless of the candidate's technical or non-technical experience.