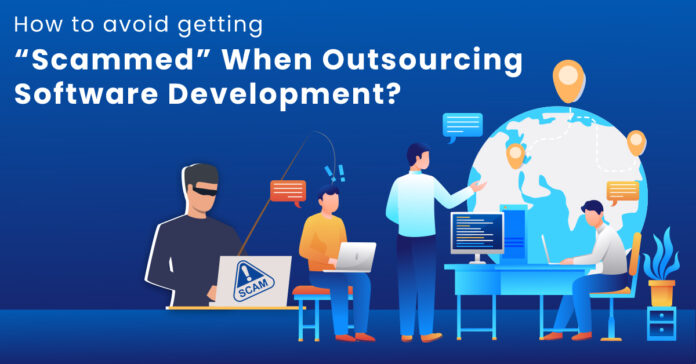 While you can search and get a list of highly renowned software development companies to outsource your project requirements, it is still your duty to assure that your hard-earned money does not go to waste and that your project is in safe hands.
Here we present you the best tips to avoid scams and fake commitments when you outsource software development projects to any offshore software development company.
All are number one!
When you search on the Internet about the best software development companies, you are flooded with hundreds of blogs, articles, and online directories providing you with the list of top software development agencies in every region of the world and even each city. Surprisingly, all the lists have different companies and all are claimed the top ones.
How to avoid it: choose the most reputed online directory such as TopDevelopers.co with genuine reach and stringent methodology to select companies as 'top.' Check the directory's reputation and experience.
Individuals as companies
One of the biggest scams observed in outsourcing software solution development is to get an offshore company that turns out to be an individual. Since your will be dealing with everything online, it is difficult to judge who operates the company because you will be relying on the website or web portal.
It is reported by many companies that they partnered with an offshore service provider and hired them for a huge project by paying a hefty amount but then it turned out to be a freelancing team with a fake website and fake presence.
How to avoid it: check the company's presence and ask them for their registration with the local government. Check whether they are a private or listed company and not individuals. Ask about the hierarchy and the number of employees they have and if possible, check their social media presence where they post extracurricular activities in their office premises.
Hyperbole by the sales team
Sales teams are the first ones whom you'll meet at a company. Now, sales teams have their own targets and, therefore, they are known to sell products by making tall promises initially. Later, the coordination and skirmishes between the sales team and production teams surface and it is often shocking.
How to avoid it: ask the sales team to give everything in writing. Written documents and emails are the proof of all the conversation including promises that you can later show and prove your point.
Multiple contact points
Even renowned software development outsourcing companies may face this problem and unknowingly create multiple points of contact for their clients. When you have more than one person to contact for your project, things will go haywire.
How to avoid it: ask the outsourcing company providing software development service to get you only one point of contact. The person should be capable, knowledgeable, and responsive. This way, you'll have easier communication and you can ask anything regarding process and development of your software product.
Software development agreements
One of the most crucial aspects while outsourcing software development to other destinations is a lack of agreements and understanding. You need to be thorough with legal documents because any escalation or unwanted consequences shall have reciprocal references to the agreements done in the initial stage.
Make sure that the company you partner with follows software development guidelines. And from your side, keeping an eye on NDA to owning the source code and copyrights along with ids and passwords are important aspects to be covered under software development agreements.
How to avoid it: carefully check all the details in software development agreements. You may hire a legal advisor for the same.
Suspicious projects and portfolios
There are offshore software development companies that claim to have worked with well-known multinational companies such as Microsoft, Meta, IBM, McDonald's, etc. They may also show the portfolios and case studies of the same; nevertheless, you may carefully need to check the project and work they have done for those giants. At times, a trivial task is magnified and exaggerated as a portfolio.
How to avoid it: you need to check the projects' current status. It may happen that offshore software development companies claim tall but then most of their projects are not functional or don't even exist.
Subpar skills and talent
When you outsource software development projects to offshore companies in other countries, you should conduct a litmus test for their developers and designers. You may ask them to perform a trivial task customized to your needs to gauge their talent and skills. They should be able to finish the task in time and with standard coding. The results or outcomes should be satisfactory.
How to avoid it: ask them that you want to screen and handpick the best talent on the floor. Ask for the resumes and select the top ones from the available resources.
Missing milestones and deliverables
Beforehand only, you need to set milestones and deliverables by talking and discussing with software development teams on the other side. Though it should be mentioned in software development agreements and contracts, it is important to recheck and reconfirm the milestones and deliverables.
There are enterprises that prefer paying the total amount of the project in parts as per the deliverables. It is a good idea because you never have to repent paying the full amount in advance and not getting deliverables as per the statements. It is also paramount to make sure that all the deliverables you get are thoroughly tested under powerful automated testing guidelines adapted by the software industry.
How to avoid it: mention everything in the documents, and keep repeating that they need to meet all the deadlines and deliverables as per that.
Missing project scope and objectives
Any software development would have a defined project scope and business objectives because such products are built to solve some purpose or address some concerns. Often, software development companies deliver a project that has more generalized features and they miss the specifications mentioned by you in your project scope documents or SOPs. On the other hand, they might have asked you for a hefty price as a customized software solution.
It is also observed that due to apathy or at times knowledge transfer, the deliverables get delayed and milestones are missed. You need to check the real cause and ask the company to explain it.
How to avoid it: stay in touch with your one-point contact in the software development company to know the whereabouts. You may maintain a progress or growth sheet at your end to check the progress personally. Periodically verify and match it with the real deliverables and timelines.
Bill padding
One of the most serious scam companies report is padding the bill. The amount decided while the contract was signed turns out to be different than the actual amount to be paid after the product is finished and they are to deliver it. There are incidents where the deliverables (final) are kept on hold because a certain amount is due by clients. On the other hand, clients are shocked because the final amount turns out to be much higher. The common reasons given are escalations, rework, and over-customization that went out of the project scope.
How to avoid it: fix the features and facilities that your software product would have. Any change you need should be transparent and ask them the charges of each change. Mention it in the current documents and get it approved by the software development partner.
Outsource your project! There is nothing to worry now
With these necessary steps, you can outsource software development to any software development company in any region or country. Your consciousness and alertness about planning everything beforehand only will save you money, time, and most importantly the project on which you have put your blood and sweat.