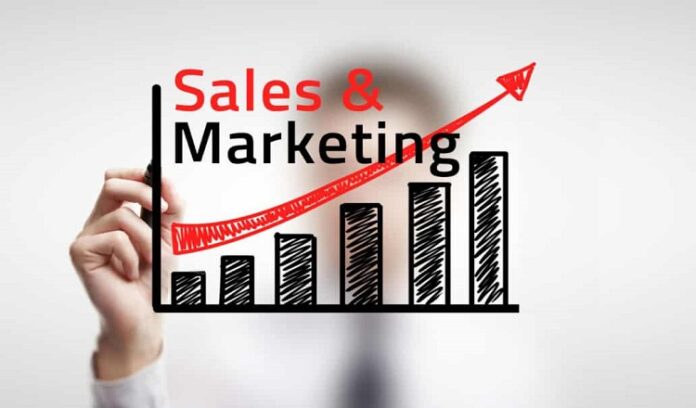 Everybody does sales to some degree. When applying for a sales position, you are selling your skills.
Even artists who squirm at the accusation of "selling out" must persuade supporters, critics, and their target audience to "purchase" the aesthetic foundation of their work.
Success (in and outside of business) ultimately hinges on how successfully you've marketed a product, service, brand, or concept.
There are very few occupations that provide the money potential that sales careers do, and many of them have endless earning potential.
In sales, you harvest what you sow; that is, your money is directly proportional to your work and performance. Depending on competence, employment in this business will expand by 12 to 15% by 2023.
Due to its exceptional dependability, effectiveness, and flexibility, the Sales and Marketing Course will be in high demand in 2022.
What are Sales and why should they be used?
Sales are the number of goods and items sold within a given period by a business or startup. Typically, a person or another business will express interest in the product or service you're providing. And they will be prepared to pay for it themselves.
And after the transaction is complete and the product is provided to the customer, a sale has been accomplished.
As we all know, a company's primary revenue source is its sales. Without it, a business will incur substantial losses. It is a generally recognized fact. It also contributes significantly to the company's market resistance.
Customers will only recognize your brand, goods, and services if you have a healthy volume of sales. Only if they observe the progress of your firm will they suggest your brand to their friends and family. And to everyone they believe would benefit from your product or service.
What is the role of sale?
When it comes to creating income, Sales is the most crucial department conceivable. Selling a product often involves more interpersonal and intimate engagement between individuals (via the sales team and the clients).
This indicates that sales are the ones that contact clients and ultimately persuade them to close the purchase. Thus, the sales function is the department most directly responsible for genuine human engagement with the customer.
In reality, it is directly accountable for making that incredible and lasting impression on the customer's mind.
Five Ways to Grow After Completing a Sales and Marketing Course
Show Empathy
After listening to your consumers, demonstrate empathy. Before attempting to offer a product, the most effective salespeople conduct an extensive study about the potential customer's business needs.
And once in a meeting, they exhibit empathy by listening to the other person and recognizing when and when not to purchase your goods, as well as how to continue.
If cost is a concern, you might recommend a payment plan or an alternate arrangement. To complete the purchase, empathetic salespeople are also patient in their follow-up efforts.
Identify an area of interest
There are several entry-level sales careers available, so take your time and choose an industry that interests you.
While you are enthusiastic about the items or services you wish to market, you might feel more driven and persuadable when speaking with leads.
Learn what you are selling
Learn all there is to know about the things you offer so you can educate your consumers effectively and utilize product characteristics as a selling factor.
Being informed about what you sell inspires consumer confidence and enables you to determine which types of clients would find your items most beneficial and hence be more inclined to purchase.
Observe your clients
Form a personal connection with your sales prospects by identifying their requirements through active listening.
This can help you establish a relationship with your consumers, putting them at ease and providing them with a reason to listen to your sales presentation.
Listening to your consumers enables you to propose the appropriate items and customize your sales pitch.
Set and measure objectives
During each sales season, set aggressive targets and track your progress towards achieving them. Examine the sales figures of other team members to determine a reasonable sales target, and consult top salespeople for assistance on how to achieve high sales numbers.
Keep track of your sales figures and make note of how various sales methods and other adjustments may have affected your success.
How to study Sales Course?
Online courses
Online education accelerates the learning process. Before going on to sophisticated processes, they give pupils a firm basis for grasping fundamental concepts.
Get details
In recent years, the certificate's popularity has grown because of its increasing application across all industries and its capacity to aid businesses of all kinds, from tiny startups to multinational corporations.
A certification in this sector has several benefits
These include improved salaries and work prospects, as well as greater employment options for those who have obtained certification.
YouTube videos
YouTube videos are a fantastic source of skill improvement and intellectual growth. Everything demonstrated by the action is simply comprehended.
Due to YouTube's vast audience, instructional information is readily accessible and abundant.
Where can one learn Sales course?
Regarding this issue, LearnVern is a credible source of information. Extensive video training is offered by seasoned specialists in the industry.
You will begin with the fundamentals and progress to more complex concepts. Everything is meticulously organized and provides a comprehensive comprehension of the subject. In addition, you are granted lifetime access to the forum's supplementary training resources.
Thousands of students have attended online courses provided by LearnVern to rapidly comprehend this topic! The most common planning language may be mastered in a matter of minutes with daily LearnVern instruction.
Conclusion
A sales-focused function will always be useful to your career path or business, regardless of your specialty. Instead of questioning a profession in sales, draw inspiration from successful salespeople with a track record of achievement.
Consider the important skill set and personality attributes you'll acquire, which will stay applicable as long as there are things, services, brands, or ideas to market.
The high earning potential of sales positions is also a huge advantage. Those with the right perspective and attitude can enjoy many benefits along this rewarding and exciting career path.
If you are interested in establishing a career in sales, there are many strategies you may take to acquire a meaningful job and hone your sales skills.