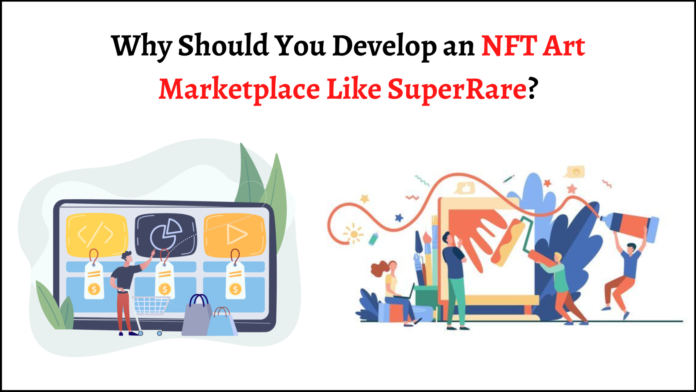 SuperRare has become one of the most popular NFT marketplaces. It is gaining recognition for its art-oriented NFT marketplace infrastructure backed by traders, investors, and NFT enthusiasts using it.
NFT marketplaces have gained a large customer acquisition rate through independent NFT transactions. This platform aims to bring artists closer to the Web3 process architecture.
Technology leaders use decentralization as a core characteristic of Blockchain technology in the Web3 space.
Businesses are investing in creating NFT marketplaces that enable independent transactions, storage, and sharing of NFTs.
Platforms like SuperRare allow artists to tokenize their work and earn what they deserve.
This blog post discusses how you can turn your raw NFT marketplace development idea into a successful platform like SuperRare.
1. Business Model
To make your efforts in designing and developing an NFT art marketplace worthwhile, you need an effective business model that syncs with the idea of a democratized product design.
From the listing, selling, and buying of NFTs, an NFT marketplace acts as a primary medium between a platform and customers or artists at the other end.
SuperRare has introduced this one revolutionary way of how people would earn from an art-based NFT marketplace.
2. Social-Like UI
SuperRare provides a social-like experience to its customers. Users engage with interactive buttons on the platform interface to create listings, initiate transactions, and manage orders through information and a graphically rich interface.
With such an interactive UI, you can navigate your users easily across different screens and pages.
3. Integrate Smart Contracts
You can hire an NFT marketplace development company to help you code extensible, flexible, and secure Smart Contracts. You can incorporate Smart Contracts in your decentralized applications to engage in a strong technological foundation.
Smart Contracts are self-executing sets of codes that allow streamlined management of operations.
4. Power Your Process With Right Blockchain
Choosing the right Blockchain platform provides the right decentralization capabilities to your NFT marketplace. You can ensure that your team of NFT marketplace developers holds the experience and expertise to work on highly complex Blockchain needs.
Availing of Blockchain development services is a crucial decision that defines many important components of your NFT marketplace.
5. Niche-Based
SuperRare is an art NFT marketplace that only allows artwork to be sold and bought in tokenized form.
And this is how it became one of the world's first and most popular niche-based NFT marketplaces.
You can study the market trends and insights to finalize which niche you want to focus on before designing and developing your SuperRare-like NFT marketplace.
6. Build Interactive Trading Interface
A feature-packed, UX-rich, interactive trading interface takes your users to their favorite artists in the fastest and simplest way.
You can strengthen your code development and deployment process with agile development techniques.
It begins by exploring opportunities where you can incorporate compatible code into NFT marketplace development projects.
7. Easy Transfer of Royalties
By integrating extended functionalities in a stable NFT marketplace architecture, artists can easily exchange royalties from one end to another.
A fraction of every resell provides the artists a royalty amount near to 10%. The code of execution is written within a Smart Contract, leading to a smooth, flawless, and effective sales execution.
8. Effective Tracking and Authentication
Since NFT marketplaces deal with various audiences, monitoring and analyzing the transactions becomes evident.
NFT marketplace developers integrate tools and functionalities that allow platform owners to monitor their sales effectively.
SuperRare only allows verified artists to list and sell their NFTs.
The platform has not only set high standards in the space of art NFTs but also set up a large community of artists.
The platform has adopted tools to manage the authentication of individual user accounts.
9. Network of Artists
Since SuperRare is an art-focused NFT marketplace, you get an opportunity to interact and view the work of a vast number of artists.
These artists join the platform through a strong account authentication process.
The team of moderators on SuperRare thoroughly checks through the artwork submissions of artists and comprehends their eligibility to join the platform.
10. User Community
An increasing number of users prove how fast SuperRare is growing as an NFT marketplace.
From the personalization of features to customizable interfaces, the platform is setting new standards in the NFT marketplace development market.
You can utilize a vibrant open community of SuperRare to comprehend the elements that you can inherit from the art marketplace to your product.
Conclusion
SuperRare is growing further and fast with its dynamic capabilities.
Not only has the platform expanded its user base, but also the business in terms of revenues.
It takes more than just an idea to take your NFT marketplace to extreme heights.
You can discuss your NFT marketplace plans with developers and business professionals to ensure smooth delivery of the product.
From consulting the service provider to working with their professionals to turn your vision into a reality, creating an NFT marketplace like SuperRare would require in-depth clarity of your project goals and requirements.
Author Bio
Tom Hardy is a Sr Blockchain developer, working with a leading NFT marketplace development company for more than 5 years. He likes sharing his knowledge through blogs.