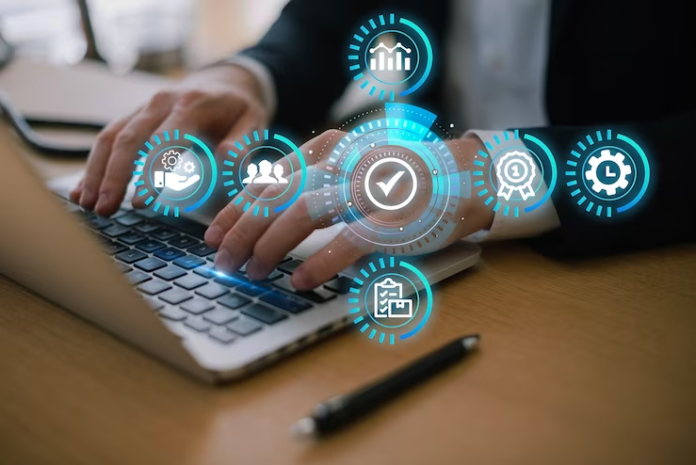 It's challenging to market products and services.
The days of businesses expecting their phones to start ringing after placing an advertisement on the top page of a newspaper or plastering their logo over a billboard are long gone. Consumers of today require more than flashy marketing gizmos to capture their interest. They must feel heard and seen.
In other words, you must be able to control the entire buyer journey, regardless of where it starts, if you want to succeed as a marketer in the modern era. You must comprehend everything, from email marketing to augmented reality social filters.
But how can you control every element of a complex marketing effort? That's right, Marketing Automation Programs.
Nearly 56% of businesses now utilize marketing automation technologies to organize their processes and control several facets of their campaigns.
It's time for you to utilize the immense potential of marketing automation programs if you aren't already familiar with them. Marketing automation programs are specialized pieces of software that assist in automating monotonous marketing operations. How do they perform in actual use, then?
Say your objective is to improve your skills in client relationship management. One major issue is that your contact list is a complete mess. Using a marketing automation platform could help you acquire valuable information about your consumers' habits and clean up your contact list.
You may significantly improve your marketing efforts by utilizing these versatile tools. For instance, you might develop a sophisticated email drip system using an automation platform to nurture leads and teach them more about your products and services of your company and the benefits of using your products or services. To acquire the best rate of open and click-through for your emails, you can start experimenting by developing A/B testing.
Benefits of Marketing Automation Programs That We Love
It Facilitates Things.
By automating repetitive processes like sending cold emails, planning social media posts, and handling your advertising campaigns, marketing automation solutions can assist you in optimizing and streamlining your marketing efforts. Using these tools, you may save time and concentrate on other crucial duties like developing a compelling content strategy and marketing strategy. By automating your marketing initiatives, you may also guarantee uniformity in your messaging throughout all media.
It Helps You Have A Thorough Grasp Of Your Client.
By giving you insightful information about your audience's behavior, marketing automation technologies can help you strengthen your lead-generating efforts. You can gain a deeper knowledge and understanding of your audience's requirements and preferences by monitoring how they engage with your website, email messages, and social media profiles. With the help of this data, you can develop customized marketing initiatives that connect with your target market, improving your chances of turning leads into paying clients.
It Greatly Increases Your Income.
By maximizing your marketing efforts, marketing automation technologies can assist you in increasing your ROI. These tools can give you invaluable insights into what's working and what isn't by evaluating the data from your campaign. With this knowledge, you can make data-driven choices regarding how to spend your marketing budget, which channels to prioritize, and how to optimize your efforts best.
Your Customers Will Adore Your Commitment To Them.
The only two things every customer looks for are a decent offer and a simple shopping experience. Marketing automation technologies can help you improve the customer experience by sending targeted and timely communications. Using tools like these, you may divide your audience into groups according to their interests and behavior and then give them communications specifically tailored to meet their needs. By offering your audience pertinent and worthwhile material, you can increase their perception of your trustworthiness and build a long-lasting customer relationship of trust and loyalty.
Additionally, it prevents your customers from becoming stuck in your marketing funnel while they wait for an incorrect email or discount code.
We adore marketing automation solutions because they help you save time and money. Additionally, they are frequently quite scalable, enabling you to build up automation from day one and leave it to nurture your leads regardless of how quickly your business grows.
Furthermore, by saving that much money, you can lower the price of your goods and services, which will benefit your clients.
Customers want to experience being understood by you. The easiest approach to achieve this is to make their experience on your website unique. Thanks to marketing automation, you'll have the information you need to accomplish this. For instance, tailor recommendations depending on their interest in a certain good or service. Without clients, your business would ultimately be worthless. Thanks to marketing automation, numerous opportunities exist to manage leads and develop customer connections.
Marketing Automation Programs Are, Without A Doubt, Here To Stay.
You can't afford to overlook this potent tool for lead creation and client relationship management as more firms get on the automation bandwagon. You can now depend on marketing automation solutions to handle your campaign demands, from social media to email marketing.
Understanding how cutting-edge technologies influence the future of online marketing initiatives can greatly assist you in outperforming your rivals, whether you're an experienced marketer or just getting started in the digital realm.