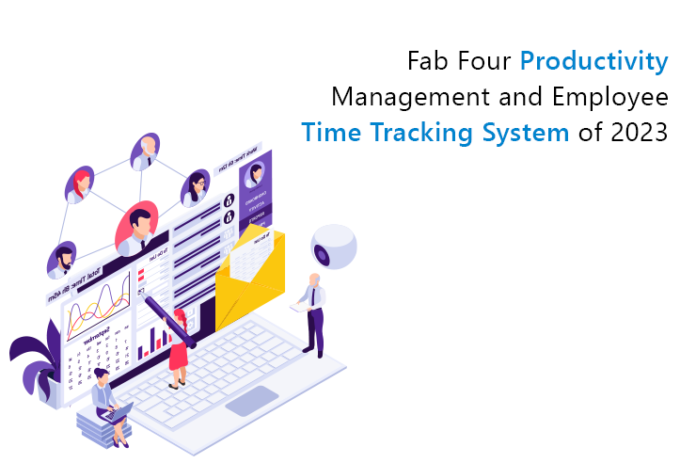 Will you be able to quantify the weight of a person standing beside you, or will you be able to measure his height by just eyeing this altitude and personage without a tool? – Your answer might be yes in some capacity, but I am sure you would not be able to measure his height and weight precisely.
To measure height and weight, you need a tool that helps you with the exact numbers. Similarly, to track the precise task completion period, the project programming process, wages of employees, and the project's baseline, the productivity management principle and employee time tracking tool works.
The time management tool principal is to deliver precise and flexible Time tracking of work done that helps the organization with cost-savings, making decisions, and providing an overview of the time taken for completion of the task.
What are the crucial features of Time-tracking and productivity management tools?
Deliver Real-time Data – 
Days are gone when employees' wages are calculated on employee cards or timeclock. The organization can track, monitor, and analyze real-time employee performance with the innovative time-tracking tool.
Moreover, organizations also perceive a complete outline of task completion time and productivity of employees with real-time data. Such an agile feature unlocks the hidden benefits and offers the organization a seamless opportunity in decision-making.
Enhance Automation –
With productivity management and time tracking system blended across your organization, your organization is transforming towards automation.
Employees who use time-tracking software automatically receive weekly or monthly emails with detailed information on the work they have completed, the number of hours they have worked, and the hours they still must work.
Additionally, firms receive data on the total work completed by employees each week or month. These data are used to automatically alert organizations when an employee's productivity is below average or above average.
Task Alert –
Employees can even use product management tools to examine the most critical tasks. When faced with an extensive task list, employees occasionally struggle to decide which duty to tackle first.
However, with productivity management solutions, employees can quickly extract the previous task and effortlessly assist organizations with profitable productivity.
Seamless Approvals – 
Using time-tracking software, employees may easily acquire approvals for their leaves, half days, or even working hours. Employees can also update their tasks for a specific hour, day, or month thanks to a smooth approval procedure included in the platform.
Additionally, managers can easily transmit employee work schedule approvals to the HR staff for payment of wages. Employees, managers, and HR can watch productivity progress and receive email notifications of approvals and rejections.
Which are the Best Time Tracking Systems in the Market?
Many software development companies claim they manufacture the best time-tracking system; however, I have made a list that will help you choose the time-tracking system tool. Let's drive in straight through.
1.) Teamwork – 
At its core, Teamwork is a complete project management tool with a time-tracking feature that enables you to monitor, analyze, and examine staff productivity.
You can gain helpful insights to see how long anything takes and monitor how much time people spend on their duties. This means that in the future, your team will have the resources it needs to plan projects more effectively.
Features of Teamwork – 
Time Tracking
Messages
Notification
Detail reporting
Templates
Calendar
Automation
Gantt Charts
  2) Timesheet System – 
The real-time tracking facility integrated time tracking solution is agile software that helps the organization plan, track, analyze, and monitor the employee's productivity.
Organizations that use timesheet systems gain many benefits, including speedy job completion, real-time tracking, reports, and section-by-section work breakdown.
A timesheet integrated with the ERP software connects team members online, and real-time tracking aids in the department's evaluation of the team's performance. Organizations can combine the timetable with their email systems to receive reminders and alerts about deadlines.
The timesheet management system offers an agile dashboard that helps organizations visualize time-wise performance through graphs and numbers. Such features help organizations in decision-making and enhance productivity.
Features of Timesheet system –
Modern Digital System
Multiple-Management Approvals
Task Alert
Automation
Performance Monitoring
Notification
Templates
Cost-Effective
3) Clockify – 
The most basic form of a time-tracking app is Clockify. Simply write down each team member's task, then click "start" to start the timer.
Until a stop button is pressed, the counter behaves like a stopwatch. A team member can later add manual time if they make the widespread error of forgetting to monitor their time on a task.
Features of Clockify–
Time Tracker
Visual Calendar
Project-level Overview
Granular Reports
4) DeskTime – 
Simple-to-use time tracking solution DeskTime offers various features; however, the three best features that make DeskTime stand out are project management, employee monitoring, and productivity analysis.
DeskTime keeps track of your time and analyses your daily efficiency and productivity depending on how you classify URLs, programs, and apps. This implies that your daily productivity increases as you spend more time using productive software.
Features of DeskTime – 
Daily Productivity Timeline
Pomodoro Time
Calendar
Automation
Auto Screenshot
Final Words
Harnessing technology at all levels is the only way to advance in this competitive world. Hence, choose one of the software mentioned above partners to wield the technology across your organization that delivers agility and scalability to move the business forward.
Author Bio:
Carlotta Krajcik is a Technical Consultant at USA-based leading SharePoint development firm BITSCAPE. She has hands-on experience in delivering consulting services. Apart from technical things, she enjoys playing soccer with friends.