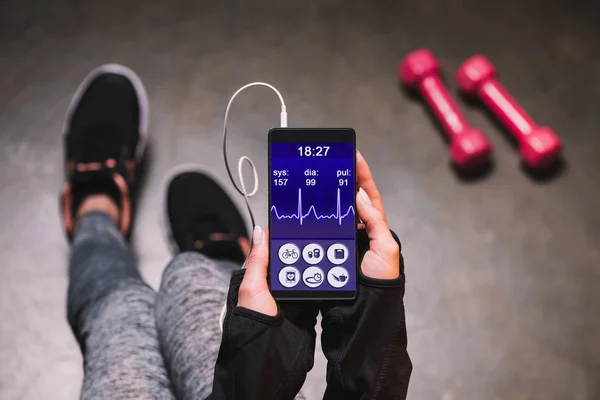 Today, fitness plays an important role in our life. It creates a good life balance to help you get up and perform your duties. People are turning fitness conscious because they think fitness can change their life. It is the most important aspect of the lives of the people. Whether one practices yoga or aerobics or goes to the gym, taking care of health becomes the top priority.
Therefore, people invest their time and energy to stay fit and healthy. But the workload and other commitments sometimes hinder investing in fitness routines. But this should be an excuse to avoid a healthy lifestyle. Therefore, many fitness apps are coming up in the market. These apps are magic and create the best wonder for you.
All about Fitness App
Fitness is an umbrella project under which physical activity, mental activity, motivation, diet, health checkups and fitness parameters. Under one fitness app, one can get many things, offering a personalized experience without any hassles. The fitness app offers various functionalities and features, including tracking workouts, setting goals, storing detailed information, monitoring progress, and offering customized fitness and diet plans. Online, in-call support with a fitness coach. The coach tracks the progress and keeps the fitness enthusiast happy and motivated.
These fitness apps come in handy, and it does not take up much space. You can install, download and register and instantly make the best use of it. The app is a life-changing thing for you and your overall health. For most people, it gives the best result if one follows diligently in keeping their health in check.
What is there in the HEVY app?
Heavy is a fitness application that tracks all your fitness-related details, queries and problems to offer the best solutions. This app has good features like workout plans, pre-built workouts, custom exercises, and tracking progress. Both experienced and beginners can use this app easily to make fitness progress.
It has an in-built workout library to watch and include in your fitness routine. The workouts are designed as per fitness level and goals. Users have the option to choose from HIIT, cardio, and Strength. There is a progress track where users can track their fitness progress easily, and accordingly, they can improve their fitness goals and activities. The app also allows sharing with friends and getting each other support to feel motivated. It also offers nutrition support and the proper guidance on how to live a life with fitness as a blessing. With the help of a food log in the app, the users can track their meals and get guidance from the fitness coaches.
Features of the fitness apps
If you plan to introduce your fitness app, certain features like step counters, GPS tracking, and heart rate monitors are there to keep a good track of your overall health. Social media share is also available to show your achievement and connect with friends.
Some apps also introduce regular fitness magazines, videos, workout libraries, and articles on fitness to keep the app engaging. It helps the fitness freak stay connected with their fitness goals and even uses AI's help to make fitness progress.
Fitness is an integral part of life; therefore, one must download a fitness app to stay healthy and fit. Understanding this requirement, fitness people or organizations are developing handy apps to make fitness easy for them and even accessible from anywhere at any time.
The following features you can include are:
Easy integration and login from social media
Customed fitness and diet plans
Fitness monitoring on the real-time basis
Access to premium features
Development of a fitness app
Hire a development team- you must research the best app development team and company in the market. Accordingly, you must hire the team, and before taking the contract, you must clear all the requirements and doubts, which gives a better understanding of how things will progress.
UI/UX finalize- Working with the team helps you understand what will be the UI/UX of the app. You have to work with developers to choose the best UI to make you and your users comfortable using the app.
App Testing- After the development, it is time for testing. You must ensure that the app runs well, and if there is any bug, then remove the same so the app runs greatly without much difficulty.
Launch of the app- it is obvious to launch the app in both Android and iOS app stores so that both users can easily access the app.
Cost of app development like HEVY
The cost of designing and developing depends on many factors. The developer must consider Android and iOS and then design the app. Consider the functionality, features like the HEVY and then determine its cost. If the app is more complex, then the cost will be high. The app's platform is also important in determining the app building cost.
Design, testing, and development are the various other factors that decide the cost of the app's development. Post-launch maintenance cost; quality assurance testing is the thing that the development team and the app owner must consider before they finalize to go on board with app development. So, if you want to develop a fitness app like HEVY, it will range from $50,000 to $250,000 approx. Or even more.
Conclusion
Therefore, if you are developing a fitness app in the future, it is better to do complete market research and then come. Look out for the gaps in the fitness industry and fitness app development. Consider those as your plus point, and then you can design the app beautifully. HEVY fitness app has a good fan following base, and before you can reach that position, it is important that you have your full knowledge and awareness of the fitness app, and then you can design the app the way you want. Give a stipulated time to the development team, and then create the best app for yourself.
Author Bio:
Prashant Pujara is the CEO of MultiQoS Technologies., The Best Wellness & Fitness App Development Company in USA where you can hire App developer for your business. He is in charge of the company's commercial and delivery operations and strategic planning and strategy.