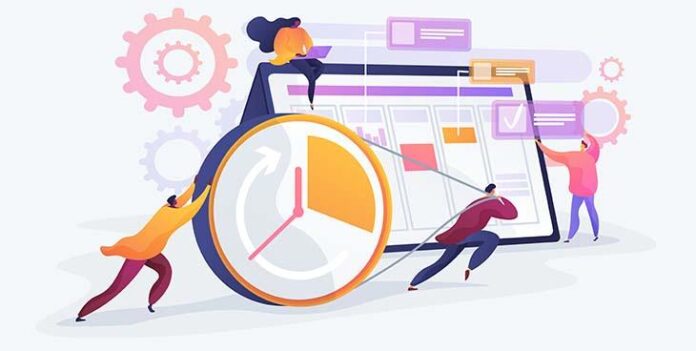 Managing a big enterprise is hard, but with an ERP system, it becomes a lot easier. A centralized system that automates processes can make a big difference and can boost productivity. 
How? 
Let's find out in this article, but first, let's see what an ERP system is all about! 
What is ERP?
ERP stands for Enterprise Resource Planning and it's basically a software that helps big enterprises manage their everyday tasks. 
ERP solutions carry out tasks like accounting, project management, procurement, risk management, compliance, supply chain operations, etc. 
7 Ways ERP Boosts Productivity
Below are 7 ways an ERP solution can greatly boost the productivity of a business setup: 
Save Money

Improve Collaboration

Streamline Your Business

Get Better Analytics

Boost Customer Satisfaction

Become More Competitive

Enjoy Simpler Risk Management
Now let's go through each benefit of ERP and why it makes a huge difference! 
1. Save Money
ERP systems are costly and there is a lot of work that goes into making such efficient and useful systems. Even then, they can save you money while offering improved productivity. 
The ERP system is centralized meaning you can avoid having multiple systems that are fragmented and working individually. 
From supply chain management to product development and from IT support to management and marketing, you get the best services, all in one place to benefit from. 
That saves you money in the long run and you don't even need to hire different people to work on different tasks. 
If you are looking for such a system for your company, you can outsource to a company to handle it for you. 
There are certain countries which are great sources of IT products and are also economical. You can try out ERP solutions in Dubai, Pakistan, Malaysia, India, Philippines as these are some popular hubs. 
2. Improve Collaborations
Collaborations are an essential part of any big enterprise. Big companies have multiple departments working together and through a centralized system, it's easier to work on data in a huge setup. 
You can easily share, edit, and access data without any security concerns. Plus, you don't even need to merge data as its' already present in a centralized and safe location. 
The data is available in real-time, ready to be used, edited, and shared across the board. A significant advantage of using ERP is that the system promotes transparency, improving mutual understanding and trust within the company. 
3. Streamline Your Business
Running a business isn't a smooth journey. There are tons of tasks to perform and it can get complicated as the company grows. 
Through ERP, one can get real-time access to data and info on the company's performance making it easier to analyze tasks and make changes as needed. 
Many tasks are carried out automatically, which means your time is saved and there are no redundancies and errors that occur when steps are done manually. 
As explained above, ERP systems help in collaborations making the overall work culture more efficient and faster. 
4. Get Better Analytics 
Analyzing performance with time is key to problem-solving and mitigating issues. With an ERP system, teams can easily generate reports in less time. 
The reports include expense and income statements, customized reports based on metrics and trends, etc. 
Having access to timely reports makes it easy to spot issues and immediately resolve them. You will become more independent as well because ERP will minimize your reliance on your IT team for reports.  
Also, ERP systems help managers track performance and check if goals are being met or not. 
5. Boost Customer Satisfaction
You might think that ERP is related to internet management and that it has nothing to do with customers, but that's not exactly true. ERP systems can help with marketing-related tasks. From lead generation to customer acquisition a strong ERP system can greatly help with these tasks. 
With one centralized system, one can prevent delays, and coordinate better. Customer data can easily be retrieved in real-time across various departments. 
That helps with late-phase customer service and also retains customers. You can better communicate with clients and customers alike, so, therefore, to maintain efficient customer service, ERP is very important. 
6. Become More Competitive 
Competition has become tougher than ever, and to stay afloat, being at the top of your game is important. One way to do that is through an ERP system. It gives you a competitive edge by lowering costs that are spent on manual tasks and time taking processes. 
Your inventory and manufacturing costs are also reduced because of an efficient ERP system.  That makes you a prominent entity in the market. 
Another way ERP keeps you competitive is through strong customer service as explained before. 
Plus, you can better handle issues, and fluctuations and still offer competitive service at great prices. That not only satisfies existing customers but also brings in new ones. 
7. Enjoy Simpler Risk Management 
Risk management is an important part of business management and with ERP, you can easily minimize them. Through automatic steps, the errors caused by manual processes are minimized. 
By reducing human involvement in steps like inventory, supply chain, sales, and order management, one can easily work with the least risk. 
Another way ERP reduces risk is through compliance management. Whenever compliance violations occur, you get alerted and thus can take action.
The centralized system also helps make better decisions by offering real-time access to accurate and complete data, minimizing the risk of analyzing wrong or incorrect data. 
Final Words 
In this article, we explored 7 ways your company's productivity increases through ERP. From saving costs to mitigating risks, ERP systems are an all-in-one solution to all your worries. 
ERP systems make collaborations easy while enhancing customer service. They make it easier for you to analyze performance, streamline tasks and become competitive in the market, all at the same time. 
Do consider an ERP system for your business as it can greatly help your company get ahead of the curve! 
For more info, on business management, eCommerce, and more, stay tuned! 
Author Bio
Here is the author bio : Ali Zeshan is a professional Seo expert with 3 years of industry experience. And is currently working as a marketing executive for Go-Globe and currenlty managing ERP Solutions Dubai project. Ali's other interests include reading history and studying the latest marketing trends.