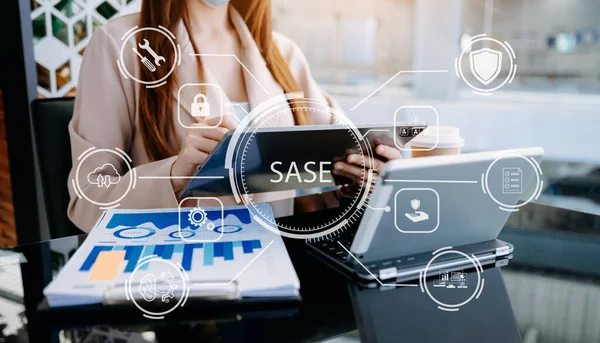 Traditional networks are becoming increasingly complex as organizations undergo digital transformations. Unfortunately, most companies fail to successfully complete their digital transformations, with a 70 percent failure rate.
To solve this problem, the Secure Access Services Edge (SASE) framework has emerged as one of the most effective solutions for getting firms back on track.
SASE combines Network as a Service (NaaS) and Security as a Service (SaaS) into a unified, cohesive solution. This helps limit the number of security and network point solutions an organization needs to simplify its network and security architecture.
Understanding SASE
Traditional networks have long been the backbone of corporate resources and have played a crucial role in enabling secure communication across the enterprise's network.
However, as more and more organizations are rapidly embracing digital transformation, traditional networks are struggling to keep up with increasing network traffic. Legacy network infrastructure is not only slow and inefficient but also not optimized for the cloud. To address these ever-increasing organizational requirements, a new network security technology is emerging – SASE.
SASE (Secure Access Service Edge) is a cloud-native security framework that integrates network security and connectivity into a single platform, resulting in network optimization, improved security, and an enhanced user experience.
It is composed of several elements, including software-defined wide-area networks (SD-WAN), security software and services, and cloud-based security systems. Each of these components contributes to building a cohesive SASE solution, providing security and performance benefits beyond traditional networks. The architecture of SASE is designed to provide users with secure access to cloud-based applications and services, regardless of their location or device.
It can secure access to the entire network infrastructure through a single-agent deployment, therefore, delivering operational and security efficiencies. With SASE, the IT team does not have to manage individual tools or deployments, thereby simplifying IT operations and improving performance.
Why SASE is the future?
As traditional networks become larger and more complex, many organizations are finding it challenging to complete their digital transformation successfully. With approximately 70% of companies failing to complete their digital transformation successfully, it's clear that a new solution is needed.
This is where the Secure Access Services Edge (SASE) framework comes in. SASE combines the Network as a Service (NaaS) component and the Security as a Service (SaaS) component into a single cohesive solution.
By continuously connecting and securing millions of access points in and out of corporate resources from any location through the cloud, SASE simplifies the convergence and adoption of many security and network point solutions that organizations have implemented to combat issues as their network scales up. Unified SASE provides a comprehensive and consolidated SASE solution within a single software stack.
Combining the networking benefits of SD-WAN (optimized network and application performance) and the security benefits of Service Edge (network visibility), results in an optimal user experience by utilizing the high-speed, low-latency, and secure SASE backbone. Adopting SASE brings several benefits, including a more granular approach to authentication and application/user access control, allowing security teams to gain complete visibility into their network and detect and respond to security events more effectively.
Implementing SASE
Implementing SASE might seem like a complex task, but it can be made simpler by following certain steps.
Firstly, assess the current network and security architecture to understand how SASE can be incorporated into it. The next step is deciding what applications need to be accessed and how users will be authenticated.
Once these requirements are identified, enterprises need to evaluate the solutions offered by various vendors and choose the one that meets their requirements. Implementing SASE can pose a few challenges too, including breaking down silos and integrating different services.
However, these can be overcome by involving all stakeholders in the implementation process and building a comprehensive plan. Enterprises can also leverage the expertise of technology partners or invest in hiring SASE specialists to ensure the process is seamless.
It's also important to ensure that the chosen vendor provides ongoing support and maintenance to keep the system up to date. Enterprises should regularly conduct security audits and network assessments to identify any vulnerabilities and take appropriate action. Implementing SASE may seem daunting, but with careful planning, it can be an effective way to future-proof your network and improve its security.
Real life examples
Real-life examples: Various industries have embraced SASE with ease.  Healthcare organizations have implemented SASE to secure patient data, while retail companies prioritize deploying solutions that enable secure remote working.
With the help of a unified SASE, the education sector can provide seamless services to students and faculty, ensuring a quick response to their needs. In finance, SASE enables secure remote access to sensitive data. Successful implementation is critical, and companies such as Uber have implemented SASE Solutions to increase the security of their networks and improve the performance of their applications.
Conclusion
Unified SASE simplifies the architecture, reduces implementation time, cost, and effort, and ultimately delivers better ROI. Unified SASE provides a comprehensive and consolidated solution within a single software stack.
Security is embedded into the solution which results in better security hygiene, true access authenticity, and only one point of decryption, ensuring that all corporate resources are protected. Future-proofing your network with a unified SASE is essential since it provides benefits for all parties within an organization, the security team, employees, and the business itself. So, embrace it before it's too late.