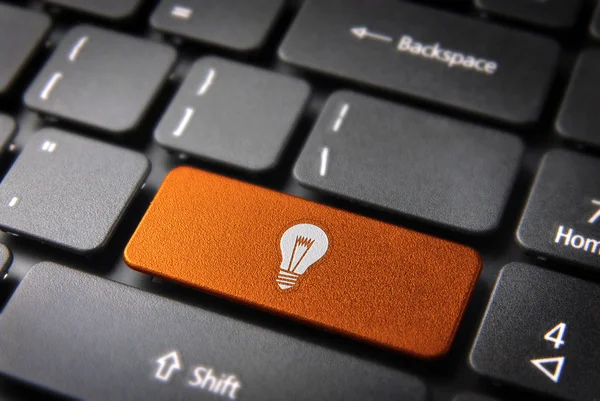 Nowadays, there is an increasing preference for coworking spaces. There are multiple reasons for their increasing popularity, including cost-effectiveness and networking opportunities. As compared to traditional office space, the rent for a coworking space is up to 65 percent less.
Apart from the cost, coworking spaces provide access to shared resources such as meeting rooms, waiting areas, kitchens, Wi-Fi, and printing services as part of the rent. In other words, you don't need to pay additional fees for such services. Undoubtedly, it is why we are seeing an increase in shared office spaces in Islamabad and globally.
The figure below shows the number of coworking spaces worldwide is set to double in 2024 as compared to 2019.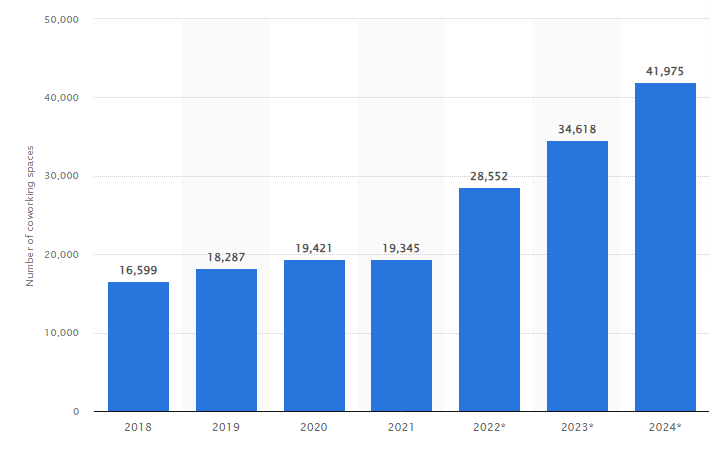 A lot of entrepreneurs and freelancers are using coworking spaces to set up their businesses. Their primary motivation in setting up offices in coworking spaces is the benefits they provide. This article will explore ten business ideas that are perfectly suited for coworking spaces.
The modern economy can be described as a gig economy. In simpler terms, businesses are tilting towards freelancers. There are numerous benefits of using freelancers, including the ability to utilize expert services without paying the costs of a full-time employee. Secondly, freelancers allow flexibility.
Instead of investing in employee training, a business can engage a freelancer with the relevant skills. The 'Freelance Services Hub' business idea involves different freelancers joining together to provide freelance services across different niches. The services can range from web development to full-time virtual assistants.
By offering different services, you can expand your reach. A potential client need not engage different businesses for the required services. You can provide them with relevant services through a single platform. By using the coworking space, you can engage other freelancers or entrepreneurs to become a part of your business.
They can provide their services under your banner, while you can opt to charge a small fee in return. The coworking space will also provide access to shared resources, thereby reducing your operating costs. As a new business, managing costs is the key to long-term success.
The real estate market is thriving globally. If you wish to go into real estate, you need a professional office environment from where you can engage with potential clients. After all, the last thing you want is to invite a client over to your house or to a café for a meeting.
Suppose a client has two options when it comes to real estate agents. One has a professional office which shows that the agent is making money. The second agent offers to hold a meeting in a café as they have no office space. 9 times out of 10, the client will prefer the agent with an office.
A shared space is a perfect place to set up your real estate business. The rent will be considerably lower while allowing you to have more benefits as compared with a traditional office space. You can invite clients over to hold meetings in a professional setting and even try to sell to others within the coworking space.
If you visit any coworking space in Islamabad or any other area with a thriving property market, you will find multiple real estate companies there.
Another business that you can easily set up in a coworking space is a digital marketing agency. The startup costs will be low. Secondly, you can avail the services of others within the coworking space to refine your own offerings. Third, you can provide an official address for clients to hold meetings.
That's not all. A coworking space can be beneficial in landing your very first clients. Nowadays, everyone requires digital marketing services. When other businesses find out about your business, they would likely engage you as they would prefer an agency with whom they can interact daily. In-person meetings can enhance collaboration.
E-Commerce Store Management
Many coworking spaces offer dedicated warehouses. You can use the warehouse for inventory management. The coworking space can be used for order management. For example, they can manage customer inquiries, handle return processing, and act as the face of your business.
Wellness and Fitness Studios
Of course, you will need to rent out a completely private space for this business. As there are no long-term rental commitments nor huge up-front costs, opening such a business in a coworking space is a smart decision. Secondly, you can find clients from among the coworking space.
After working the entire day, they can come to your fitness or wellness class to de-stress. It can greatly enhance your word-of-mouth marketing. Eventually, you will find clients from outside the coworking space. Ensure that you inform the coworking space about this business before signing the agreement.
Event Management and Planning
With so many coworking spaces opening up, they are continuously finding new ways to differentiate themselves. One such strategy is to hold events to build a sense of community. By opening an event management and planning business, you can take over the responsibility of holding events within the coworking space.
Secondly, you can provide individual services to the people and businesses already opening there. Third, by using the coworking space, you are benefiting from free promotion. When people walk into the shared space, they will see your business. These people can be potential leads.
A coworking space provides a thriving environment to start a café or small restaurant. You would already have access to a large target audience without investing in any type of marketing. There is no need to even target outsiders if you meet the needs of the coworking space community.
 The café must be styled in a way that helps individuals relax and make them forget that they are in a coworking space. Secondly, there is a need to offer different types of cuisines to make the café attractive to a greater number of people. For example, there must be options for people that prefer a vegan diet or dairy-free products. 
You can offer consultation services to freelancers and entrepreneurs. The services can be based on the idea of providing professional guidance. For instance, how to bring clients, improve service quality, or scale the business. The coworking space provides access to businesses and individuals who require such services.
As part of your consultation services, you can offer one-to-one personalized services or arrange seminars/events for the entire coworking space community. You can use these clients as evidence of your expertise to target others. It certainly saves you the hassle of finding the 'first' client.
Sustainable Product Store
A coworking space is much more sustainable compared to a traditional office space. By using shared resources, you are effectively cutting down your carbon emissions. Therefore, a coworking space is a perfect place to set up a sustainable product store. You are communicating your vision of a better planet through your office space.
The sustainable product store can be about anything, including recycled electronics, plants, and more. You can even engage other businesses and individuals in the coworking space to market your product. Talk about the importance of sustainability and how your products can help them cut their emissions.
By using a coworking space with a dedicated warehouse, you can set up a drop shipping business quite easily. It is quite likely that there will be an eCommerce development company operating from within the coworking space. You can partner with them to offer your services under their service package.
For example, the company will first develop the eCommerce website and then recommend your name for drop shipping. Another benefit of opening such a business in a coworking space is the cost. The cost of renting a dedicated warehouse compared to one operating by a coworking space is quite low.
There is a likelihood that there are eCommerce stores operating from within the shared space. You can approach them directly rather than invest considerable money in marketing and promotional activities. Access to shared resources will further help you reduce your operating costs.
Conclusion
Coworking spaces are the future of work. If you are contemplating starting a business, check out the above ideas. Not only do they have high chances of success, but they can also ensure reduced operating costs. In other words, you can start your very own business without a substantial upfront investment.
                                                       Author Bio
Humza has spent the past seven years building a successful career in the coworking industry. With a deep understanding of the needs of modern entrepreneurs, startups, and small businesses, Humza has helped established productive and inspiring workspaces. Humza's most recent project in this field is CocoSpace, a coworking space in Islamabad.