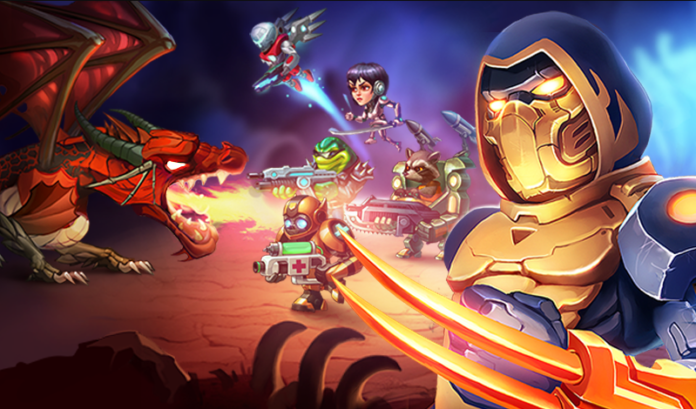 RPG games have come a long way since old-school RPGs on Nintendo consoles. Older RPG titles, like the Final Fantasy and the Dragon Age series, first started out in the late 1980s.
Since then, RPG games have become one of the most popular genres for gamers worldwide. It's all due to their character-building system and the great stories contained within each game.
Battle Arena: RPG Online is one such game where you get to create your own party of heroes for battle. Available on the Google Play Store, it has pretty decent ratings for an android game. However, is this game any good, given the fact that there are so many RPG games on the market?
The answer to that question is exactly what we are going to find out today. After reading this review, you will be able to decide for yourself whether you find this gamer to be worth your time or not.
What Is Battle Arena: RPG Online?
As the name suggests, Battle Arena: Online RPG is a role-playing game developed by Red Brix Wall. This game was first released for Android smartphones in December 2017, followed by iPhones a year later.
This game presents a good mix of role-playing elements and multiplayer factors as well. In this game, you get to control a set of characters and take them into battle. There are more than 50 heroes in this game, with more than 60 different levels to play and conquer.
There are two different game modes to choose from. You can either go for the single-player mode, where you get top play against the AI in real-time battles.
On the other hand, you can also play multiplayer, where you can face off against enemies in 1v1 battles. There is another multiplayer mode where you can team up with your friends in battle and take on either AI-controlled enemy raid bosses or even other players in real-time PvP action.
How To Download And Play Battle Arena: RPG Online?
You can play Battle Arena: RPG Online in three ways. They are:
Google PlayStore
If you have an android smartphone, then you can download this game directly from the Google PlayStore. However, its name is a bit different there.
To download this game from the Google PlayStore for Android devices, you need to:
Open Google PlayStore.
Search for Battle Arena: RPG Adventure
Click on Install
Apple App Store
To download this game from the Apple App Store for iOS devices like iPhones and iPads, you need to:
Open Apple App Store
Search for Battle Arena: RPG Adventure
Click on Install
Yandex Games
Yandex Games is a website from which you can play many Android and iOS mobile games for free. This website hosts many such games, which you can play on your browser directly from the browser.
This is the best way to play this game since you do not need to download the game if you decide to play from Yandex Games.
To play this game here, you simply need to go to the Yandex games website. There, simply search for Battle Arena: Online and hit the search button. You will find the game on the top of their search results. Simply click on it to play.
Battle Arena: RPG Online Gameplay Review
The primary gameplay elements of Battle Arena: RPG Online are:
Real-Time PVP Battles
This game places a big emphasis on real time PVP battles. Here you get to take your team of characters and directly face other online players head-on. There is a ranked system where your rank increases the more you win. In addition, you can challenge other players directly if they are in your friends list.
Team Creation
Creating a proper team that has abilities that synergize with each other is the way to win in this game. Therefore, when you create your team of heroes, you have to ensure that several abilities and character classes are covered.
When it comes to classes, you have your tanky melee characters, mages, healers, long range damagers, and even sneaky rogue assassins. Make the best combination of each of their skills and gbeat the opposition with brute force or cunning tactics.
One of the best tips that one can give you for this game is to try and get the newest characters first. This is because the newly released heroes on each update are typically the m,opst strongest ones with the most broken abilities.
Final Verdict
Battle Arena: RPG Online is a great game for casual RPG gamer lovers. It is free to play, ith easy to understand gameplay mechanics.; The best thing is that itsb application is so small that you canṣ download it on your mobile in a couple of minutes. Alternatively, you can also play it on PC without an emulator by simply playing it from a website called Yandex games.