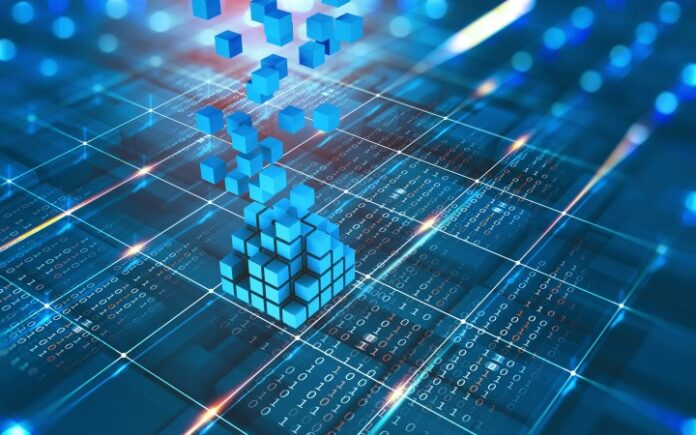 The technology buzzword "blockchain" is present in a variety of areas of our lives, including gaming, real estate, the energy industry, healthcare, social media, and more.
In essence, blockchain technology was created to facilitate Bitcoin and cryptocurrency transactions, but it now permeates practically every industry. Businesses benefit from increased production and job efficiency, better client experiences, and lower operating expenses.
What Exactly Is Blockchain?
One of the most rapidly expanding immersive technologies is blockchain, which records and stores transactions to a digital ledger where they can't be easily changed or reformed. These kinds of data are connected utilizing cryptocurrencies. A blockchain's data is accessible to everyone and verifiable.
Another name for blockchain is a digital database that connects to digital ledger technology (DLT), which typically lacks administrative features and a central data repository.
Blockchain technology may be summed up as a type of algorithm and data distribution system for controlling digital currency without the use of a centralized authority.
Blockchain is decentralized, making it simple to share with all of the machines connected to a network.
So why is it advantageous for a business?
Additionally, it enables transparency and information to everyone connected to the same network, enabling them to examine all stored data, track important data, and guarantee data security.
Let's Understand The Concept Of Enterprise Blockchain!
Having spent a year at the top of Gartner's 2017 Hype Cycle for Emerging Trends, businesses may now finally see how blockchain may help them. 
Solutions For Encrypted Cloud Storage
Businesses could profit from this coming technology if they are adaptable. Blockchain-based end-to-end cloud storage solutions are currently being offered by startups like Sia and Storj in the market. In the end, these services guarantee not just limitless storage options at reasonable prices, but also strong standards of security.
Smart Contracts
Smart contracts are another blockchain use that are likely to be very important in the future. All business contracts created on blockchains are referred to as smart contracts. These agreements will allow businesses to handle high-value transactions transparently and at a fraction of the cost. All organizations, small and large, can cut costs on bill paying, inventory management, and invoicing.
Private Blockchain
Blockchains come in two varieties: public and private. Many anonymous players can participate on public blockchains (like those used by Bitcoin and Ethereum), which also offer a verifiable consensus for proof of work. The use of private blockchains is restricted to a single enterprise. Businesses can employ specialized enterprise blockchain development ledgers (like Ethereum Enterprise, Ripper, and Hyperledger) where users can share their digital identities and grant or reject permissions for both reading and writing. For businesses, private or consortium blockchains would be better.
How Enterprise Blockchain Is Powering Business?
A new type of internet space called blockchain has arisen. It functions as a platform that allows businesses to transmit digital information and digital money without the risk of a copy thanks to its solid foundation and technological innovation.
Originally developed to support Bitcoin, Blockchain has now demonstrated tremendous potential in a variety of technical fields and enterprises. This technology has significant applications in the modern corporate sector, according to technologists around the world. Consequently, you should hire a Blockchain developer to gain a competitive advantage.
Numerous advantages of blockchain technology have been established. Learn here how a blockchain system helps businesses:
Supply Chain Management
Do you not believe that one of an organization's most vulnerable areas is its supply chain management? Still, it is accurate. Those involved in this procedure typically don't communicate with one another face-to-face and collect requirements and information using a paper-based approach.
In this situation, Blockchain offers a completely paperless system, automates the document workflow, and certifies documents digitally. This makes it simple for everyone involved in supply chain management to monitor product information and development. Additionally, it provides a transparent method and stops the distribution of fake goods.
Numerous American retail behemoths who experienced problems with their conventional food supply chain have adopted blockchain technology to enhance their operations.
As a result, tracking food used to take at least 7 days before the deployment of blockchain, but now it only takes a few seconds.
We can say that the supply chain process is now quicker, more affordable, and more effective thanks to this immersive technology. It helps businesses, but it also enhances customer service.
Customers in Walmart's Chinese stores, for instance, may scan QR codes to view comprehensive product details, including information on the product's farm and certifications.
Healthcare
It is one of the main industries where blockchain technology has had a lot of beneficial effects. Blockchain-based solutions have provided enormous advantages to businesses by providing an open and highly secure method of storing electronic health records (EHR).
With the authorization codes, records are accessible to both doctors and patients. On the other hand, blockchain-based systems with smart contracts guarantee data security. Healthcare equipment and clinical research data are encrypted, and insurance and safety can be saved and applied as well.
Prescription drugs and equipment supply chain management are two more aspects of healthcare. Engage the best blockchain developer to enhance your company's supply chain and concurrently benefit patients and medical professionals.
E-commerce
The e-commerce sector of the economy is enormous. It is a $1 trillion market that is fast embracing blockchain technology. The eCommerce sector faces numerous issues, including managing suppliers and keeping an eye on the items.
But Blockchain is coming to step up and handle the inventory more skillfully. Customers can trust eCommerce businesses as a result. Blockchain provides increased data security and transparency for the eCommerce businesses.
Additionally, the system is unaffected by small changes to transactions, and tracking is no longer a significant problem. It permits cryptocurrency payments in your eCommerce store as well.
Business benefits from ML include monitoring IT threats, producing reports, analyzing data, conducting internal audits, preventing fraud, etc. However, there are countless opportunities connected to ML.
Education
The use of blockchain in education can help identify which pupils qualify for financial aid and which ones cannot. It aids in the elimination of pupils who evade the system in order to receive financial rewards. As a result, the qualified individuals who genuinely require scholarships are not overlooked.
Social Media
Today, there are several social media platforms available. Many of them have already started utilizing blockchain advantages. Social media is still not totally secure against identity theft, account hacking, and copyright infringement despite its global popularity and user base.
Blockchain is your greatest option for handling all of these problems safely; it provides unbiased licensing, author rights protection, and digital identity verification.
Although many businesses have already used blockchain technology to enhance their operational procedures, this technology still has a ton of untapped potential.
It will spread more swiftly among all businesses in the future in order to give them more freedom and improve their productivity. Therefore, businesses must adopt blockchain technology as quickly as possible and take advantage of its enormous advantages.
Bottom Line
Some of the top businesses in the world are using blockchain technology to solve complex business process entanglements, improve data efficiency in novel ways, create high-value digital assets that customers can trust, and reduce third party costs as more and more opportunities for collaboration take over enterprise blockchain applications. Do your research and join the future.