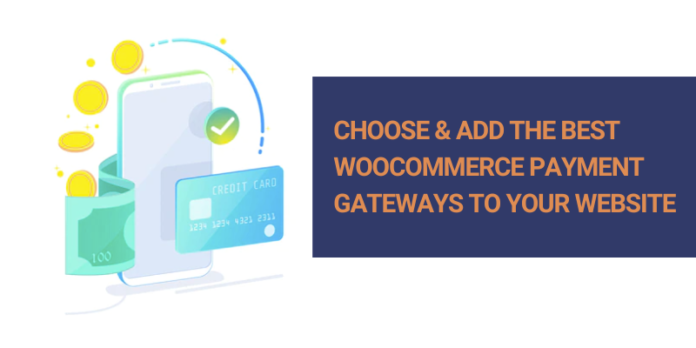 With the rising hike in online shopping in the last few years especially with the outbreak of the Covid-19 pandemic, eCommerce has become popular among the people over traditional retail stores. Here comes the name of WooCommerce which is one of the most sought-after eCommerce platforms today. This is an open-source and captivating eCommerce platform that helps businesses whether small, mid-scale, or large grow their business on the digital platform. But, when you are looking to sell your products or services by utilizing the WooCommerce platform, it is important to pay attention while choosing the Best WooCommerce Payment Gateways for your store. It is because payment gateway plays a vital role in eCommerce business that helps customers make payments for their purchases. Luckily, you can find tons of free and premium WooCommerce payment gateways plugins to offer your customers new checkout options.
So, if you want your customers to offer a seamless payment process in your WooCommerce store, make sure you integrate the right WooCommerce payment gateway plugins for your customers.
A Brief Overview of WooCommerce Payment Gateways:
When it comes to WooCommerce there is no single robust payment gateway, instead, there are more than hundreds of WooCommerce payment gateway plugins on the WooCommerce marketplace to choose from. But it is obvious that not every plugin will match your specific business requirements and needs. So, it is important to pick a plugin that will offer you access to several secure payment gateways along with a seamless user experience.
The basic role of a payment gateway is to provide an easy transaction process between businesses and their customers. So, there is always raises the question of its transaction security. No one ever wants to deal with an eCommerce site that does not offer fundamental data and transaction protection. This is the reason why eCommerce business needs to integrate reputed as well as secure payment gateways into their online store.
9 Top WooCommerce Payment Gateways in 2022:
Now, look at the list of the 9 top payment gateways specially designed for the WooCommerce platform among numerous options available in the market that can help you grow your WooCommerce business seamlessly.
Stripe: Stripe is the most popular payment gateway that can be used on various eCommerce platforms including WooCommerce. The best thing about Stripe is that it allows the processing of credit cards and debit cards on your websites with different integrations to help your customers pay with their cards and connect securely with your account.
Striking Features:
It is designed with easy-to-use APIs for the developers.
It offers tools for every stack and pre-built integrations.
It offers scalability with the help of the certified operating system to the highest compliance standards.
It provides secure integration with numerous improving payment features.
2. PayPal Pro: Being an all-in-one payment processing solution, PayPal will let you accept credit and debit cards directly on your WooCommerce store enabling you to avoid the hassle and expense of multiple payment providers.
Striking Features:
It offers top-level security with fraud protection tools.
It accepts payments in multiple currencies that will help you reach your business worldwide.
It provides robust and easy integration with hundreds of shopping cart solutions.
It only demands a low monthly fee and conversion rate on transactions.
3. Square: If you are looking to create a custom system with everything ranging from invoicing, and email marketing to in-app payments, Square can offer you almost limitless possibilities. If you integrate Square into your WooCommerce store by opting for the best WooCommerce Development Services.
Striking Features:
It offers various APIs and integrations.
It enables merchants to accept a host of additional payments with more than 135 currencies.
It allows business owners to generate a link embedded in their websites, emails, texts, and even social media posts.
It helps businesses sell online, and in-store and track inventory in one place.
It offers zero monthly or set up fees.
 4. Amazon Pay: If you are already selling your products or services on Amazon, you can connect your Amazon store with WooCommerce through Amazon Pay. Thus you can offer a better user experience to your customers.
Striking Features:
It accepts online payments and on mobile with the eCommerce platform system from Amazon.
It offers straightforward, one-click purchases without customer details.
It comes with a high-grade support team operating 24/7.
It can support multiple devices and backgrounds such as Windows, Linux, Android, Mac, etc.
5. Alipay: With over 700 million users, this particular WooCommerce payment gateway is considered the most popular payment gateway in China. By integrating Alipay, you will be able to accept payments from customers residing in the mainland of China through your WooCommerce website.
     Striking Features:
It is an approved WooCommerce standard payment gateway.
It can greatly integrate with WooCommerce plugins and extensions.
It provides multiple currencies adaptability.
It offers a quick and straightforward payment process in multiple languages.
6. Apple Pay: If you are looking to integrate a secure and private payment method via iOS apps, make sure you choose Apple Pay for your WooCommerce store. It allows users to make secure payments by eliminating the need for cash and cards at the checkout.
       Striking Features
It enables iPhone users to buy online products with just a single touch on their Apple device.
Increases shopping experience by offing a fast, simple, and secure payment process.
It enables a speedy checkout process.
It offers high protection and privacy with Face ID and Touch ID.
7. Braintree: Being a PayPal-owned company, Braintree effectively supports all the standard online payment methods such as PayPal, Venmo, Apple Pay, and other credit and debit cards. Most importantly, Braintree offers more reasonable fees as compared to Stripe or Paypal.
        Striking Features:
It offers customized payment methods.
It enables great integration and compatibility with PayPal.
It reduces risk by protecting payment data with the help of a highly secured payment system.
It offers a limitless checkout experience for both web and mobile devices.
8. Skrill: Being available in 200 countries and 40 currencies, Skrill becomes an excellent WooCommerce platform that allows customers to purchase products and services without authorization.
      Striking Features:
It allows both Wallet and Hosted payment processing services.
It can support over 20 local payment methods by connecting to more than 80 banks.
It provides good customer support with the help of a responsive and well-qualified team always available through Twitter.
It offers seamless and quick checkout transactions at reasonable fees.
9. 2Checkout: If you are looking for a simplified payment gateway for your WooCommerce store, you can integrate the 2Checkout payment gateway. It allows businesses to customize the look and feel of their checkout pages by offering a checkout editor.
     Striking Features:
It enables businesses to accept payment from customers based on all over the world in different currencies.
It offers innovative security measures with significant protection protocols.
It can track the details of the visitors and adjusts payment capabilities accordingly.
Wrapping Up:
WooCommerce is considered one of the most result-driven WordPress CMS eCommerce solutions for modern business mainly because of its capabilities to integrate with several robust payment gateways. It also enables businesses to build their custom WooCommerce plugins for any specific purpose. For instance, Net-D 30 WooCommerce Plugin is a custom-made WooCommerce plugin that will allow your WooCommerce store to take full advantage of your store.