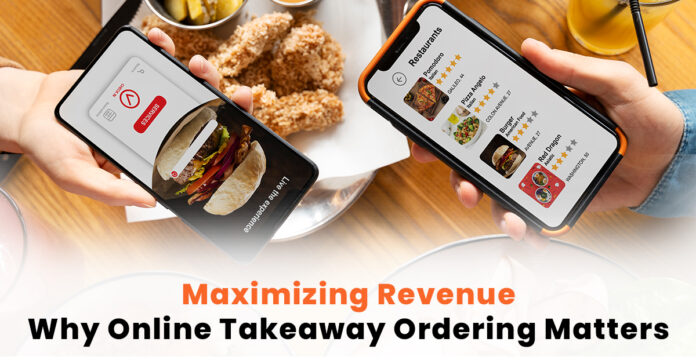 Introduction
The COVID-19 pandemic made people more conscious of hygiene and safety. Many restaurants have adopted online and contactless deliveries, allowing them to serve their customers following social distancing. Takeaways also help customers collect their favourite restaurant food properly, safely, and hygienically. Many people prefer to order online and collect their food parcels on their own.
Food Delivery System has now become a fundamental need for every large or small business. The blog will discuss why every restaurant needs a takeout ordering system.
Top 8 Reasons Why Every Restaurant Requires Online Takeaway Ordering System
Every eatery needs a convenient takeaway ordering system since that's what consumers want. People are more conscious of the hygiene and safety of their food. A takeaway ordering system enables them to order food online conveniently and collect the parcels from the restaurant. Thus, they enjoy the convenience with the safety. The online ordering system for restaurants helps them expand their customer reach to serve the needs of all customers.
To expand your customer base
You can attract more customers who might not usually come in if you do not provide takeout. Some prospective customers may be physically unable to reach your restaurant, but they can still enjoy your excellent cuisine by placing takeaway orders. With an online ordering system for restaurants, you may reach a broader audience and hence boost sales.
Provide an edge over the competition.
Being one step ahead of the competition is essential in the restaurant business. You could expect many of your rivals to provide food delivery services already. Customers may go elsewhere if you don't provide a convenient option to buy takeout. Keeping up with shifting customer preferences is crucial to stay ahead in business.
Your restaurant's bottom line will benefit significantly from catering to takeaway customers. Takeaway orders are often larger than dine-in ones since consumers want to stock up on their favourites or feed their whole family.
Having a food Delivery System is one method to reduce the high expenses of running a restaurant. You can save costs on things like waitstaff and housekeeping if more clients choose for takeaway. Setting up a takeout system may incur extra expenses, but the long-term benefits of higher income and decreased expenses may compensate for the initial outlay.
Improved customer experience
The takeout ordering process may be improved with thoughtful design. Easy-to-navigate online ordering website, purchase customization options, and delivery updates in real time are highly valued by consumers. Customers will have a better overall experience and be more likely to return and promote your business if you provide these amenities.
Adapting to the future online world, including Covid-19
The recent COVID-19 epidemic has highlighted the need for a reliable takeout ordering mechanism. Restaurants with strong takeout and delivery systems fared better when forced to reduce dine-in services or shut down temporarily. Despite the epidemic's end, demand for takeout and delivery is projected to stay high. Thus, businesses must adjust to meet this need.
Online ordering systems often allow consumers to submit reviews and comments. With this information, you can cater to customers' tastes, spot problem areas, and address their problems quickly. Positive reviews can also be used as recommendations to bring in new buyers.
Tips for Creating a Successful Online Takeaway System
Things that you should keep in mind while developing an online takeaway system are as follows:
Make sure your internet ordering system is simple to use. Your menu, shopping cart, and checkout processes should be clear for customers. Orders are less likely to be abandoned due to annoyance if the system is well-designed.
Provide accessible customer service channels, such as a hotline or online chat, for questions and concerns about orders. Respond quickly to consumer issues to keep a good reputation and increase repeat business.
Privacy and Data Protection
Ensure that all client information is maintained safely and per applicable privacy laws. The security of your customers' private information is paramount when they place an order with your restaurant.
Promote your business using your website's online ordering system. Use this to advertise your new menu items, loyalty programs, and special deals.
Conclusion
Restaurant online ordering systems are a must-have. It enables higher sales and customer satisfaction with convenience and efficiency of ordering and deliveries. A restaurant may better compete in today's market by adopting cutting-edge food preparation and serving methods, such as online ordering and delivery.
Restaurant owners can cater to the diverse needs of their customers, reduce operational errors, and deliver a seamless experience. Thus, it opens up streams for revenue allowing to attract new customers while serving the loyal customers.
Want to integrate a food ordering system for your restaurant? A SAAS-based ordering software can help you start immediately with zero upfront investments. Get all the essential features to run your restaurant business online by paying a minimal monthly subscription fee. Foodiv online ordering system is a great option to start serving takeaways services to your customers.