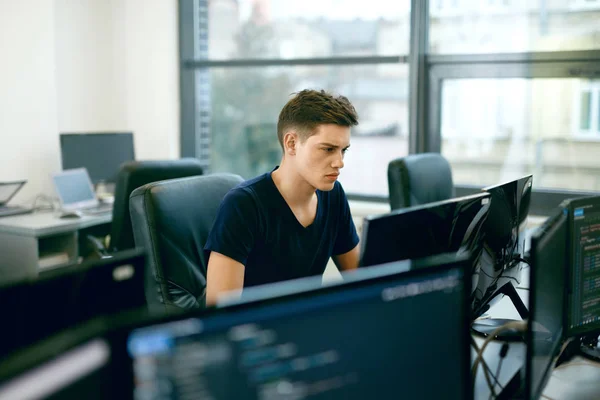 Office relocation can feel emotionally draining, but the relocation of systems, servers, and technology doesn't need to be stressful as long as advance planning for each detail is done far enough. Shifting your workplace along with the system setup will require Office IT Relocation Services.
Checklist for IT relocation
To keep up with the Office IT relocation Services, you must have a checklist. Your checklist should include-
Planning early- Scheduling a visit to the site of the new office location to review network cabling requirements should be done.
Contacting all the vendors of carriers, ISPs, and technology two months in advance and providing them with the likely move date.
Audit Equipment and Services before the move- If the network infrastructure of your office has not been updated in years, such as when a lot of offices discover that they are amidst a huge change like a relocation, now is a good time for updating your equipment.
With proper planning, your network can be up and running in the new space before the arrival of the moving day.
Here are a few tips to follow while reviewing your equipment-
Make a complete list of all the equipment to decide if it still meets your requirements and will be suitable in the new location.
List any equipment that requires upgrading, or replacing, and order any essential equipment.
Return any rented IT and phone equipment that is no longer required.
Old or broken equipment should be Eco-disposed
Evaluate the requirements of the server room
All Internet Service providers and Telecom Service Contracts that are active currently and serve notice to the services and providers you wish to discontinue must be documented.
Pro Tip
Ensure the move date is booked as early as possible with the Managed Service Provider (especially if you want to move over the weekend). Short notice can cause disruption and disappointment.
Review Your Communication Options- IT and telecommunications are the lifelines of any organization. If the systems are not functioning and the phones are not ringing in the new office, then you won't be able to operate. With the increasing deregulation of telecom, the constant availability of new offerings is taking place.
Ensure to select the right phone system service contract that best suits your requirements. Consider the type of growth and expansion you expect in the coming 3-5 years will help you in determining if you should consider having a new business phone system for the new office location with the help of the following points-
Review the line capacity to decide if you need to place an order for the new phone lines.
An office move is the ideal time for reviewing the requirements of telecommunication. If you are expanding the office setup, then consider shifting from the traditional phone line to Voice Over Internet protocols (VoIP). Ensuring the installation, testing and smooth functioning of phones and internet lines in advance helps in saving time.
Preparing the checklist for infrastructure requirements site visit- After assessing the communications requirements, you will sense what to keep track of during your site visit. A detailed site visit is important for planning a successful move. The new office may not have the installed cabling and infrastructure needed by your business.
You must review the new office's plan of configuration with the IT provider. In order to prioritize on your need and to add anything to the new office, ask yourself these questions-
How many phone lines do I need and how many I currently have?
Confirm if the minimum requirements for the server room are met (electrical, cooling, dimensions and security)
Check with your ISP (Internet Service Provider) about what internet service is being provided in your new office in advance because it can influence your selection of the new office location if the internet access is not good as once you have shifted, it's too late.
Protect your Data- It is necessary to be prepared for worst-case scenarios at all times, but most importantly, while the implementation of Office IT relocation services. Make sure the following tasks are done to protect your data while shifting-
Prepare for Move Day- Transporting the copies of the technology equipment of your office is not that easy. So, it needs a seasoned and prepared corporate relocation service provider to complete the moving portion for you.
Testing Plan for New Office- It's smart to have your IT and telecom solution provider be with you since day one so that the staff would get the required help with any questions or network connectivity issues.
Conclusion
After the move has been completed, do a walkthrough with the Office IT Relocation Services provider and check the following-
Ensure all cabling, IT requirements, and phones are placed right.
Check the incoming and outgoing mails