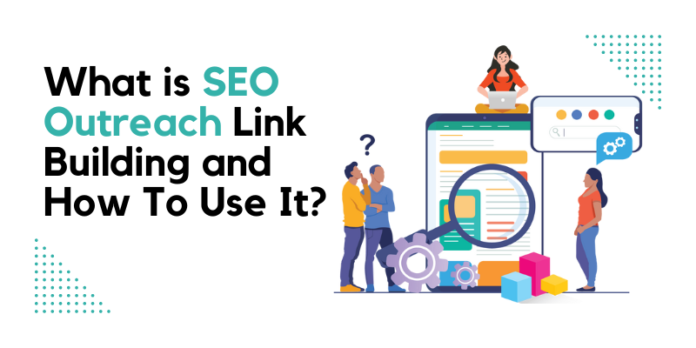 SEO outreach link building is a search engine optimization (SEO) technique used to enhance the amount of relevant, high-quality links pointing to a website. This is significant because search engines, such as Google, utilise the quantity and quality of inbound links as a ranking factor in their algorithms. The greater the number of high-quality links a website has, the more likely it is to score well in search engine results.
Define SEO Outreach & Why is it Important?
Outreach SEO is the process of reaching out to other websites, influencers, and online communities in order to create relationships and acquire backlinks. Backlinks are links from other websites that point to your website, and they play a significant role in determining a website's search engine rankings.
It is essential since it increases the quantity of relevant, high-quality backlinks pointing to your website. These backlinks act as a "vote of confidence" from other websites, indicating to search engines that your website is beneficial and useful to users. High-quality backlinks help websites rank better in search engine results, which can boost traffic, visibility, and conversions.
Also, it is also effective for building relationships with other websites and industry influencers. Offering exclusive information or resources to others can lead to future collaborations and backlinks.
The value of a single connection from a trustworthy source is significantly greater than the value of a handful of low-quality linkages. Your contribution should be equivalent to others'. You could provide:
Useful adjustments that boost credibility

Unique news and information and content that helps them communicate with their target audience or sell their product.
When it comes to building an efficient SEO outreach plan, there are a number of critical bases that it should cover, and it's in your best interest to ensure that the SEO Agency in Singapore you're working with can cover all of them. This includes practising ethical link building by ensuring that the links created are of high quality, identifying the type of buyers that your client is most interested in and ensuring that the outreach plan appeals to them, creating engaging content that is relevant to the target audience, and selecting credible and relevant publishers to assist with the outreach.
To Employ Link Building For SEO Outreach, You Will Normally Follow These Steps:
Find target websites by analysing business-related websites with high domain authority in your field. These websites will be the focus of your link-building efforts.
Create valuable, informative material that your target websites and their viewers will find interesting. This content may also consist of blog articles, infographics, videos, and other forms.
Once you have developed high-quality content, you should reach out to your target websites and offer to share it with their audience in exchange for a link back to your website. This is where the process' outreach component comes into play.
Establishing relationships with websites within your specialty or sector can be an integral component of the process of link-building. Also, continuous interaction and high-quality information can enhance the likelihood that these websites will connect to yours.
Acquire the Influencer's Email Address: Finding email addresses is a challenging and time-consuming endeavour. It may seem impossible, but with the appropriate applications, it can be a snap! All outreach tools for link building enable you to locate emails fast and easily. Start by conducting a LinkedIn search. Look up the individual's name and attempt to locate their profile. You may be able to discover an email address there. You can also get contact information on social media pages or websites. Typically, a personal email account will yield the greatest results.
What are the benefits and drawbacks of Outreach SEO?
Advantages of outreach SEO:
Outreach SEO assists in increasing the visibility of a website by acquiring high-quality, relevant backlinks. This can also enhance your search engine rankings and make it easier for potential clients to locate your website online.
Improved credibility: High-quality backlinks from relevant websites can assist in establishing your website as a reliable and trustworthy information source in your niche or sector.
Increased traffic: By boosting your search engine rankings and establishing partnerships with other websites, outreach SEO can assist to attract more visitors to your website, which could lead to a rise in conversions and sales.
Outreach SEO is an excellent strategy to create relationships with other websites and influencers in your business or field. You may establish yourself as a thought leader and form partnerships that can lead to future collaborations and backlinks if you consistently reach out to others and provide them with good material or resources.
Negatives of outreach SEO:
Outreach SEO requires time-consuming content creation, target website research, and partner outreach.
Not all websites will want to link to your website. And you may encounter rejection or apathy from some of the websites you approach.
Building relationships with other websites and influencers is challenging, and becoming a valuable resource takes time.
Difficulty in developing high-quality content: Creating high-quality material that is appealing to your target websites and their audiences can be tough and may involve a large time and resource investment.
Outreach SEO is an ongoing process, thus in order to be effective, you must be constant in your efforts. This also needs a commitment of time and resources over the long run.
Overall, outreach SEO may be a valuable component of a comprehensive plan which SEO services in Singapore can easily understand. However, it is essential to approach it with a thorough awareness of the time and work necessary, as well as the potential rewards and pitfalls. By focusing on relationship building and acquiring high-quality backlinks in a sustainable manner, an SEO consultant in Singapore may boost your website's search engine ranks and generate more traffic and conversions over time.
Summing Up:
With the right skills, creating a link-building programme for your company or as a freelancer is easier. Whether you're now the greatest SEO Agency in Singapore or just starting out, you must develop the necessary skills. Many of these skills can be readily acquired, and you may already possess some.
It is essential to highlight that SEO outreach link-building must be conducted in an ethical, white-hat manner. This means you should refrain from buying links or using link-building software. Focus instead on developing high-quality content and cultivating relationships with relevant websites to obtain natural, high-quality links over time.