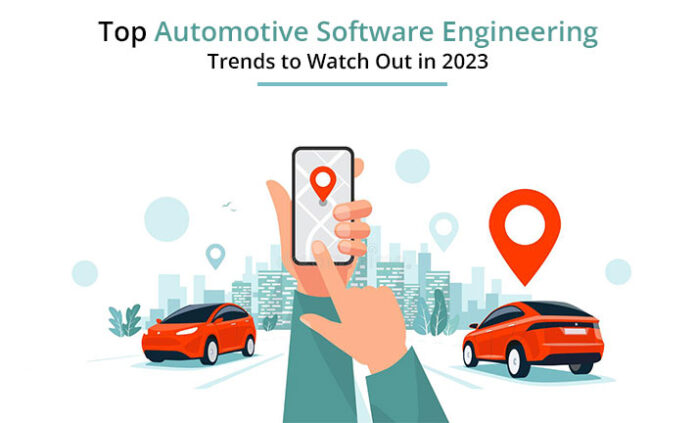 The global automotive industry is currently valued around 1.9 trillion dollars. It is expected to reach over 2.5 trillion dollars by the end of next year growing at a CAGR of over 14.50 %. This fast growth is expected because of a number of factors ranging from increase need for transportation, to heightened tourism activities post Covid-19, and an increase in commercial operations. In fact, all these factors in a post-coronavirus world are expected to drive the growth for the Automotive Market for many years to come.
Apart from the factors mentioned above, rising disposable income in the developing world, rise of AI and ML, increasing automation, technologies such as IoT, and changing consumer preferences are other important factors that are likely to contribute to rapid growth of the auto sector across the globe.
Emerging software trends in the automotive industry
For the time to come, the automotive industry will completely shift its focus from traditional tech use cases to wholeheartedly embrace innovations powered by cutting-edge technology and growing automation. It is already being witnessed that major auto players across the globe are leveraging sophisticated technology to anticipate the trends of tomorrow and innovate accordingly. Automotive software development is the current flavor helping the auto industry keep pace with the changing expectations and requirements of the consumers.
Some of the top emerging software trends in the Automotive Industry to watch out for in 2023 and beyond include:
Growth of Autonomous Vehicle
Top line automobile manufacturers across the globe are making heavy R&D investment in autonomous vehicles. This should not come as a surprise to anyone, anywhere as the global autonomous / self-driving cars market size is anticipated to jump to 62.4 million units by 2030 from the current 21 million units, a CAGR of 13.5%. The growth of the market will be driven by the growing demand for technologies such as lane departure warning (LDW) and automatic emergency braking (AEB), along with rigorous safety standards to ensure that no harm comes to the driver or the passengers in the car. Major automakers such as Ford (US), General Motors (US), Daimler (Germany), and Toyota (Japan) are working closely with top software development company to deliver an extensive range of advanced features in their vehicles such as Blind Spot Information System, Lane Keeping System, and Intelligent Adaptive Cruise Control.
Electric vehicles
In fact, we are in middle of the biggest revolution in automotive industry since Henry Ford revolutionized car manufacturing in 1913 with the introduction of assembly line manufacturing. Many industry observers firmly believe that the sale of electric vehicles is soon going to overtake the sale of petrol and diesel cars. Major automakers around the world think the same.
Jaguar says it will sell only electric cars from 2025. Volvo will completely abolish manufacturing gasoline cars by 2030, currently the British sportscar company Lotus said it plans to cease production of diesel and petrol vehicles by 2028. General Motors says it will only manufacture electric vehicles by 2035, and Ford says it plans to sell only electric vehicles in Europe by 2030.
The technology has made it possible to own and operate an electric vehicle. For example, a Tesla Model 3 can run almost 300 miles on a single charge and accelerates from 0-60 kmph in just over 3 seconds.
With the advancement in technology, the price of EV vehicles is falling considerably. Just a decade ago, it cost $1,000 per kilowatt hour of battery power, which now is just over $100.
That is reckoned to be the point at which they start to become cheaper to buy than equivalent internal combustion vehicles. Batteries are becoming more powerful too. Last year the world's first battery capable of running a million miles on a single charge was unveiled by the Chinese battery maker, CATL.
3D Printing
Automobile companies are increasingly making use of state-of-the-art 3D Printing to lower the overall cost of manufacturing a vehicle. 3D printing is also expected to lower the overall time to manufacture a vehicle by producing critical parts of an automobile. Automobile manufacturers are using this sophisticated and exciting technology for their business strategy to obtain competitive advantage in the marketplace by streamlining their processes right from product development to production.
A 3D modeling software is the first thing you need for your 3D printing project. In fact, you need an advanced automotive software to initiate the design process.
Car makers are increasingly using 3D software made for mechanical and engineering uses. The software comes equipped with advanced features such as simulation and visualization features that render realistic design features.
Conclusion
The automotive industry is increasingly leveraging the power of advanced automotive software development to develop next-gen autonomous and e-vehicles. The coming time for the auto industry is expected to be full of potential and new-age mobility marked by development of electric, connected and autonomous vehicles.