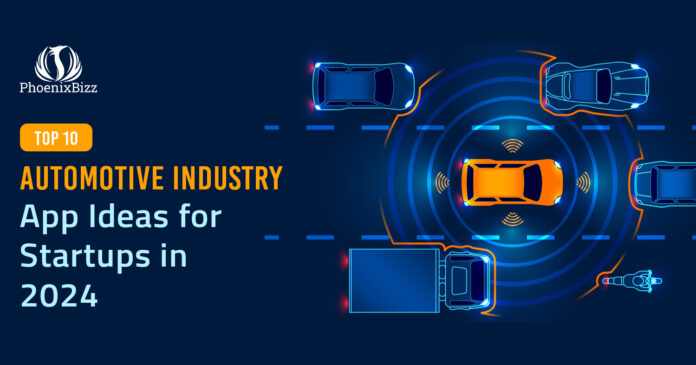 The rise of app development has turned the tables on how people interact with cars, ushering into an era of seamless connectivity, convenience, and efficiency in the automotive industry. The realm of automotive mobile application development is virtually boundless, paving the way for the rise of app development has concepts on an annual basis. Join us as we explore the top 10 automotive app development ideas for startup concepts with the potential to revolutionize the automotive industry. Get ready to buckle up and witness the game-changing impact of automotive app development ideas for startups.
Automotive Industry: Statistics
The automotive sector is a thriving and ever-evolving worldwide market that covers the manufacturing, distribution, and maintenance of motor vehicles. Automotive app development ideas have a pivotal role in shaping the future of transportation and mobility by analyzing market dynamics and technological advancements.
The automotive industry is poised for exponential growth, thanks to the rapid development of automotive apps and the surge in automobile sales. The automotive sector in America contributes 3% to the country's Gross Domestic Product (GDP). In 2023, the US car and automobile manufacturing market is projected to reach a staggering value of $104.1 billion. The global automotive software and electronics market is projected to achieve a remarkable growth rate of 5.5 percent CAGR from 2019 to 2030, culminating in a tremendous $462 billion valuation by the end of the decade.
Importance of App Development in the Automotive Industry
In the ever-changing automotive industry, it is essential to remain ahead of the competition and drive corporate growth. Automotive app development ideas for startups have revolutionized how businesses function and interact with their target audience. By maximizing app development's potential, automotive companies can expand their reach, improve consumer experiences, and generate more revenue.
● Expanded Customer Base and Reach
The automotive industry can expand its consumer base and influence thanks to its partnership with an app development company. By providing a mobile application that is easily accessible on smartphones and tablets, businesses can connect with prospective consumers at any time and in any location.
● Improved Sales and Conversions
App development allows users to compare models and configurations and facilitates seamless appointment scheduling for test drives or consultations. This accessibility and convenience result in higher conversion rates and greater revenue for automotive companies.
● Upselling and Cross-selling Possibilities
By analyzing consumer data and behavior patterns, apps can provide customized recommendations for accessories, enhancements, or additional services. This targeted approach increases the likelihood of upselling and cross-selling, thereby increasing automotive businesses' revenue streams.
● Aftermarket Services and Maintenance
Apps can facilitate appointment scheduling with authorized service centers and provide vehicle maintenance reminders and personalized service recommendations. By providing convenience and valuable features, apps encourage customers to choose authorized service providers, thereby increasing revenue for automotive companies.
Top 9 Automotive App Development Ideas for Startups
1. Go Green with Sustainable Driving: Eco-Driving Coach App
Partnering with a professional app development company can help bring your idea of an Eco-Driving Coach app to life. Hire qualified mobile app developers to ensure that your app is of high quality and meets the needs of your target audience. Using smartphone sensors or integrating with the vehicle's integrated diagnostics system, the application can provide real-time feedback on driving behavior.
The app can include gamification elements to engage and motivate users. It may introduce obstacles, milestones, and accomplishments associated with eco-driving. Users can earn points or certificates for attaining specific objectives, such as consecutive eco-friendly journeys or sustaining a certain fuel efficiency level.
Must-Have Features
Real-time Driving Feedback
Cross-app Integration
Personalized Route Optimization
Fuel Efficiency Tips
Trip Report Analysis
2. Parking Management Assistant: Car Parking Apps
Imagine this: you are meeting your best friend, and you decide to go on a shopping spree and catch a movie later. However, after shopping, you were late for the movie because you could not find a parking spot. Having a mobile app developer address this problem would be perfect. The majority of malls and social places have sensor systems installed in the parking area. In addition, the buildings have software that helps them determine the availability of vacant parking spots. An app developed to compile this information from most of the parking spaces in town would be extremely useful.
Must-Have Features
Parking Space Locator
Reservation and Pre-Booking
Navigation to Parking Location
Payment Integration
Parking Time Reminders
Parking Garage Guidance
Parking History and Expense Tracking
Preferred Parking Locations
Parking Lot Reviews and Ratings
Accessibility Information
3. Fueling Made Effortless: On-Demand Fuel Delivery Apps
With this sort of mobile application development, the automotive industry can attain a new peak. The driver only needs to specify their location, select the desired product, and wait for it to arrive. Therefore, drivers do not need to search for gas stations along the route, linger in lines, or worry about running out of gas before refueling.
Must-Have Features
Nearby Fuel Station Locator
Fuel Price Comparison
Fuel Type Recommendations
Real-Time Fuel Availability
Fueling Station Ratings and Reviews
Fueling History and Expense Tracking
Mobile Payment Integration
Loyalty Programs and Rewards
Fuel Efficiency Tips and Insights
Notifications and Reminders
4. Redefining Auto-Part Shopping: Auto-Part Retail App
An automotive parts retail app development gives companies a new way to reach consumers and increase sales. At the same time, it also makes it easy for customers to shop for, buy, and keep track of their car parts. A robust search functionality with filters and categorizing options will assist users in rapidly locating the precise vehicle parts they require. Integration with a comprehensive database of auto parts will ensure that product information is accurate.
Must-Have Features
Part Identification
Extensive Parts Catalog
Compatibility Check
Detailed Product Information
User Reviews and Ratings
Price Comparison
Secure Online Purchasing
Order Tracking and Notifications
Warranty and Return Policies
Customer Support
5. Gateway to Automotive Deals: Vehicle Auction App
It is easier to buy and sell automobiles online, and a mobile application development idea for auctioning the vehicles online is very well-received. It allows users to assess prices on various websites and select the best option for them. Auction automobiles are significantly less expensive than vendor automobiles, which makes them a fantastic bargain.
Must-Have Features
Vehicle Purchase Deals
Service and Maintenance Discounts
Parts and Accessories Offers
Insurance and Warranty Offers
Financing and Lease Deals
Exclusive Promotions
Location-Based Offers
Deal Notifications
Deal Comparison and Reviews
Personalized Recommendations
6. Personalized Design Studio: Custom Car Design App
Many techies and car freaks like to customize their cars. A mobile application development idea that allows consumers to design their vehicles will quickly acquire popularity. Collaboration with premier automotive design software and applications will be a plus. Customization is possible in a real-time environment, allowing users to create more reliable and realistic designs.
Must-Have Features
Exterior Customization
Wheel and Rim Customization
Body Kit and Accessories
Interior Customization
Lighting Customization
Virtual Reality (VR) Visualization:
Augmented Reality (AR) Integration
Sharing and Social Interaction
Pricing and Configuration
Save and Compare Designs
7. On-demand Help: Emergency Assistance App
An emergency assistance app development necessitates the incorporation of multiple safety features to protect users during unforeseen circumstances. The app can utilize smartphone sensors and GPS capabilities to automatically detect accidents. Upon detecting an accident, the app can promptly send notifications to pre-set emergency contacts, such as family members, acquaintances, or emergency services.
Must-Have Features
Roadside Assistance
Emergency Services
Towing Services
Mechanic and Repair Shop Locator
Appointment Scheduling
Real-Time Assistance and Support
Service Provider Ratings and Reviews
Insurance and Documentation Assistance
Integration with Navigation Apps
Emergency Contacts and Safety Features
8. Spotless Car Anywhere: Carwash Center Finder Apps
Carwash app development can be a convenient solution for all your car cleaning needs. With this app, one can find the top-rated car wash centers. When it comes to car wash services, customers have the option to compare and contrast the offerings of various centers before making a decision on which services best suit their needs. Incorporating ratings and reviews can significantly enhance the comparison process. Getting instant access to location-based information on carwash facilities can turn out to be the most profitable idea.
Must-Have Features
On-Demand Car Cleaning
Exterior Cleaning
Interior Cleaning
Detailing Services
Customization and Preferences
Professional and Vetted Cleaners:
Real-Time Tracking
Secure Payment and Feedback
Subscription Plans and Discounts
Customer Support
9. Seamless Car Care: On-Demand Car Maintenance App
Booking car maintenance services through on-demand car maintenance app development is the ultimate convenience. To access the app's features, users must register and create profiles. This involves providing personal information, vehicle details, and preferred payment methods. Our app provides a comprehensive selection of car maintenance services for users to select from, such as oil changes, tire rotations, brake inspections, and additional options. Innovative mobile application development can seamlessly connect users with certified mechanics in their area based on their specific service requests and location.
Must-Have Features
Maintenance Reminders
Service History Tracking
Service Provider Locator
Appointment Scheduling
Service Recommendation
Cost Estimates and Comparisons
Service Progress Tracking
Service Ratings and Reviews
Warranty and Recall Notifications
Fuel and Mileage Tracking
Fuel the Future with the Mobile App Development Phoenix
Conducting a comprehensive market analysis is imperative in today's rapidly changing industry landscape. When it comes to bringing your dream automotive app development ideas to life, selecting the right platform, software, and expertise is crucial. Equally important is partnering with an ideal app development company that boasts a team of expert mobile app developers.
We, at Phoenix Bizz, are confident in our ability to fulfill all of your needs. We are a prominent app development company that has contributed diverse custom software to the global automotive market. Given that, our team would be pleased to assist you as well!