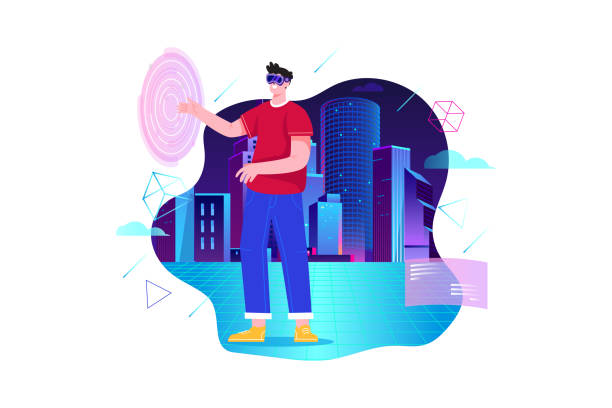 Internet technology is constantly evolving and presenting excellent user options. During the recent epidemic, when people sought to avoid in-person interaction, businesses created remote working practices, and people embraced digital ways of communication, the idea of the metaverse gained prominence.
Blockchain technology is crucial to creating the metaverse, the most recent innovation in the cryptocurrency world. Users can exchange land, buildings, and other digital goods just like in the real world in this 3D dynamic virtual world.
The metaverse has gathered pace since Facebook rebranded as Meta, and it is now on the verge of conquering the world. It is based on internal tokens that users can produce, sell, exchange, or even buy.
Tokens used for the metaverse are virtual money units that can be used to transact online. Some tokens are exclusively available on exchanges, while others can only be used in the metaverse.
Similar to cryptocurrencies like bitcoin or Ethereum, the value of metaverse tokens rises and falls. The metaverse tokens typically resemble other cryptocurrencies. Below is a list of some of the top metaverse tokens.
Decentraland
SAND
AXS (Axie Infinity)
ENJ (Enjin Coin)
Illuvium
Vulcan Forged PYR
ALICE
Mines of Darlania
Terra Virtua (TVK)
High street (HIGH)
THETA Coin
The advantages of multiverse tokens are numerous. The most significant benefits are covered here.
From their most recent high of one year ago, top metaverse tokens like the Sandbox, Enjin currency, and others have fallen between 55 and 75 percent. Users can thereby enhance the value of their tokens within a year.
The linked digital assets are stored in the metaverse using the metaverse tokens. Digital versions of the assets, such as objects, characters, and real estate, are also possible. Consequently, purchasing the virtual world assets you desire will be simple.
Tokens are produced on a blockchain network to verify ownership of assets. In the metaverse, all of your metaverse tokens will be safe.
The tokens are safe from external dangers in the virtual world and cannot be hacked. Therefore, in the virtual world, metaverse transactions are extremely secure.
You may purchase top metaverse tokens from any global location using cryptocurrencies. There isn't much of a challenge.
You can invest in the metaverse tokens like you would in equities or cryptocurrencies. Thus, it is always beneficial.
Using metaverse tokens, you can use numerous services and applications inside the virtual world.
Metaverse tokens have negligible to no transaction fees. There are no restrictions on when you can conduct transactions, day or night.
Access to metaverse tokens is simple. Tokens are available to anyone with a computer and an internet connection.
The top metaverse tokens give investors various virtual assets and real estate.
The metaverse is one of the fastest-growing markets these days. This internet technology will have a global market worth several trillions of dollars.
How can you buy metaverse tokens?
You can purchase metaverse tokens through any cryptocurrency exchange platform.
You should first make a fiat deposit in USD, either a bank transfer or an e-wallet transfer. You can look up the various metaverse tokens and select the one you want.
After selecting your preferred token, you may begin buying tokens using your wallet or a credit/debit card.
With the benefits listed here, you may have realized the value of metaverse tokens and how the technology would take over the world in a few years. Metaverse tokens, in contrast to traditional virtual world games, have value both inside and outside of the virtual world.