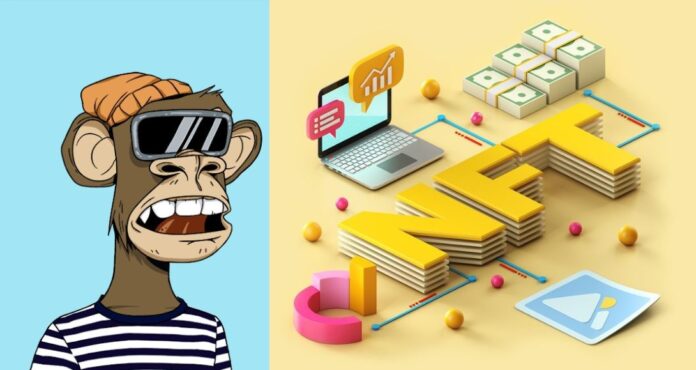 The financial and technological landscape has undergone one of the most significant changes currently.  It can only be attributed to the advancement of cryptocurrencies and blockchain technology. More people than ever before are searching for opportunities to launch their own enterprises, including cryptocurrencies. 
It has been evident over the past few years that NFTs are a game-changer in a number of industries. NFTs have generated a lot of interest and skepticism. Since they became well-known, there has been a good amount of debate, to be honest. 
The issue is that due to a lack of resources, many people have had trouble getting started. This article will teach you all you need to know about building an NFT marketplace and how to go about doing it if you're considering doing so.
Separate NFT Markets Are Required
Cryptocurrencies and NFTs are supported by blockchain technology. However, NFTs cannot be traded on cryptocurrency exchanges. The cryptocurrency exchange platform does, however, permit trading of some well-known digital currencies, including Bitcoin, Ethereum, and Ripple. Why? because direct fungibility rates for NFTs are not fixed. It is an emerging constraint. Therefore, no two NFTs are identical. As a result, the procedure of substituting one for another takes time. The NFT marketplace development industry will be essential in resolving this issue. They are able to design market-place applications that can use the NFT trading features.
How do NFT markets operate?
The idea of non-fungible tokens is rather recent. Non-fungible tokens can be used for a variety of purposes. They all do, however, in some way help to establish who is the rightful owner of a certain item. Some will be for collectors to enjoy, while others will be accessible for use as digital things and even currency! You need to understand why people would buy NFTs and how they operate in the blockchain context in order to create a successful NFT marketplace. 
The act of uploading and trading NFTs is known as "minting". You can exchange it or mint your own NFT in order to sell it. Every time an NFT is issued, though, a service charge is added. To pay these costs when purchasing and selling NFTs on the blockchain, you need bitcoin in your cryptocurrency wallet. 
The costs associated with minting one's own NFTs should be considered by artists. These costs could easily add up and wind up costing you more money than you would receive if you sold your NFT. As a result, you will require some upfront money to engage in the blockchain. 
Your NFTs are listed for sale at an NFT marketplace. In many aspects, they are similar to auction houses. NFTs are auctioned off, just like real art, with the winning bidder being the highest. More bids increase the likelihood of a higher price. The popularity of collections is due to this. They make things seem urgent. It increases the market value of the NFT.
Benefits of Establishing an NFT Market
Users can create their own marketplaces on your app by using android app development. Thus, users of your platform will have access to all the resources they require to begin conducting online business. You can reach a much wider audience by using an app or website to buy and sell items than you could otherwise. It might be challenging for buyers and sellers to communicate when they are spread out over several states or even other nations. 
An NFT marketplace program, however, might make the procedure simpler for all parties concerned. The blockchain-based NFT marketplaces may provide the following advantages: 
Blockchain functions as a distributed ledger, prohibiting centralized management and corruption. The same strategy will be used by the NFT market to disperse information among all network nodes.
Prevent Fraudulent Activity: Due to the immutability of blockchain transactions, fraudulent activity such as double spending is avoided. 
Multi-layered Security: The NFT Minting Website Development Company uses cryptography technology to put blockchain consensus rules into practice. It guarantees safe and open transactions.
Important Elements of the NFT Market
User Interface That Is Clear and Excellent
Non-fungible tokens share many characteristics with an online store. They want a straightforward user interface with all the necessary functions. Non-fungible tokens cannot be bought directly from their original owners. However, the same creator may sell you a variety of goods using their intellectual property. After the launch, a tag is applied to each object.
Easy NFT Search
Instead of browsing through a big list of options, you should be able to quickly find the items you're looking for by typing them into the search bar. 
Numerous Filtering Options
Using the filter features, buyers can arrange items according to a variety of criteria, including price, artist, rarity, payment method, listing status, and more. The purchase process is greatly improved by it.  
Simple List Making
The marketplace should provide a simple procedure for customers to follow in order to make listing of files easier. There should be clear upload instructions and forms available on the marketplace. This functionality will be really helpful to the users. 
Song Listings
Sellers can monitor who has looked at their files and placed bids on the NFT marketplace. It would be excellent to be informed when an offer is made.  Potential clients should check the file's authenticity before making a purchase. 
Shop, Bid, and Auction
The platform must let users to buy and bid on the NFT. The bidding tool should allow users to view the status of their bids right now as well as the date that they will expire. 
Give Scores
ln order to prevent fraud, such as making false claims or walking away from a purchase before it is finished. Both the marketplace's buyer and seller should provide the option of ratings.
Advice for the Development of the NFT Market
When you start working on the NFT marketplace development, keep these three things in mind: 
How much you intend to charge users.

How will the two parties' revenue be calculated?

The method used to manage real-time trading and transactions.
You can launch the work right away after you get the answers to these queries. The development framework you choose must first be the one best suited to the project you're working on. Compared to apps that can be created from scratch, those that require multiplayer gaming or some sort of tokenization technique are more likely to need a framework. In the virtual world, NFTs are used to confirm ownership of purchased digital assets. Similar to how our laws protect property ownership, so too. 
Conclusion
The most popular platform for NFTs is Ethereum. This century's "gold rush" has started. With the release of the new ones, the public will be made more aware of the NFTs, increasing competitiveness. NFT marketing will be crucial if collectibles are to experience a rise in sales in the near future. In order to boost sales, specialized NFT Marketing Agency will offer services to expanding communities. The change has already started to take place.
An NFT platform is designed and deployed over the course of multiple processes. Developing an NFT marketplace app is essential for every business, whether it be a shop or another kind. Choose the best NFT marketplace development company to get a well-coded, easy-to-implement, and bug-free program. If you wish to benefit from the growth of NFT and succeed in this industry, get in touch with Suffescom Solutions right away. To help you capitalize on this trend, they will use their years of experience.