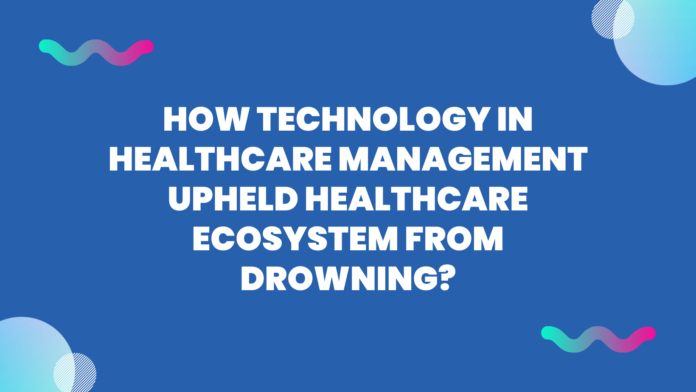 Hold on. . .
We know that you are surprised by the word drowning!
Yes. It's the bitter truth that no one has dared to speak.
But we have guts, passion, and understanding!
The COVID-19 pandemic showed us the reality of our so-called modern-age healthcare ecosystem.
Millions of people have lost their lives due to our inadequate and time-consuming healthcare management.
It was on the verge of sinking just like the Titanic.
Thanks to the technology in healthcare management. It saved the healthcare ecosystem from collapsing.
Here is how.
Technology in healthcare management is a blessing for the entire humanity
Yes. It is a blessing.
As it lets the healthcare professionals in focusing on the most important aspect – a patient care outcome!
Here are a few technologies that help healthcare management to work in a faster, efficient, and effective manner.
1. RPA (Robotic Process Automation)
Healthcare management means tons of clinical and administrative repetitive tasks.
It is the major barrier that restricts the medical staff to spend more time in understanding the real need for patient care.
In fact, it is also a prior reason behind the burnout of healthcare workers and the rising cost of healthcare.
This is where RPA comes into the picture!
RPA is a robust and result-driven technology that allows healthcare managers to automate computer-based repetitive tasks just like Tesla!
As a result, it saves operational time and costs for the organization along with bringing peace of mind into the lives of the medical staff.
Let's understand it with a real-world case study. (Source)
RPA saved Ireland's entire health system during the pandemic!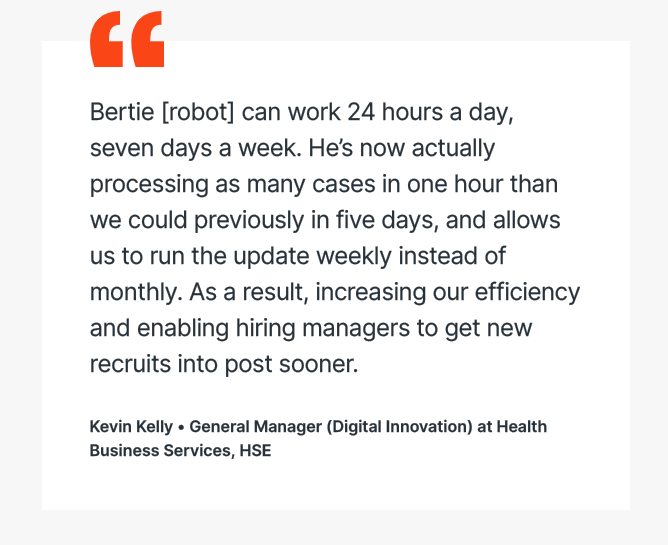 Saved 22k hours between September and December 2022
5 days of work in just 1 hour
Saved 38 hours per 100 COVID-19 cases
This is how RPA technology in healthcare management is elevating the care efforts in the true sense.
2. Patient management system
The patient is a top priority in healthcare.
However, due to the old-age and time-consuming processes, it's not easy for healthcare workers to keep a complete eye on patients' needs, care experience, and outcomes.
On a crucial note, patients are also demanding more personalized care solutions after the pandemic.
But, patient management software has the potential to break all the obstacles single-handedly.
Here is how.
Its features:
Online and offline patient intake forms
Appointment booking
Automated medical billing processes and reminders
Easy access to patient health records
Streamlines scheduling process
Offers benefits in all sense:
Enhanced clinical and administrative workflows
Boost revenue
Speeds up the care delivery process
Saves time and costs
Better patient care experience
Means, a patient management solution or software allows healthcare organizations to provide an effective and patient-centric care approach without any hassle.
3. IoT technology
IoT (Internet of Things) is elevating healthcare management!
And the rising demand speaks for itself.
"The global Internet of Things in the healthcare market is projected to grow from $89.07 billion in 2021 to $446.52 billion in 2028". (Source)
IoT helps healthcare management in two scenarios.
● First, for better care outcomes and organizational decision
It collects the patient's health condition data which assists healthcare workers in creating a more appropriate care plan.
As a result, it improves the patient care experience, outcomes, engagement, and saves time in care delivery.
Moreover, this data enables the healthcare organization to make patient-centric and profitable decisions.
● Second, drug management and asset tracking that improves patient safety
IoT reminds patients to take medicine as per the guidance. In case a patient forgot, it instantly notifies their family members.
On the other hand, it analyzes the drug reaction and shares the data with other health tech systems in order to let the medical professional keep an eye on patient health conditions more effectively and efficiently in real-time.
But it is transforming the way asset management works in healthcare.
IoT allows healthcare professionals to track the real-time location of the medical asset along with its lifespan.
As a result, it accelerates the response time, lowers the care delay, reduces costs, and improves overall patient care.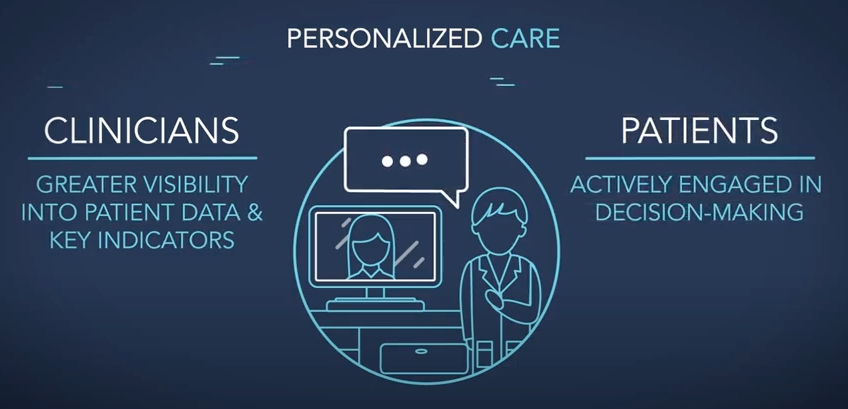 4. CRM (Customer Relationship Management)
CRM isn't rocket science but it can make you a competitive superstar!
Its robust technology in healthcare management opens endless possibilities for healthcare organizations to thrive.
The ultimate goal of the CRM is to help healthcare entities to enhance their patient care experience and attract or retain new patients without adding any costlier barricades.
Here is how.
Values:
Patient management
Healthcare staff management
Medication management
Communication methods
Appointment and scheduling management
All-in-one marketing
Comprehensive and insightful reporting
Referral and recruitment management
Payer management
Its true benefits:
Improves communication
Lowers the medical errors
Reduces the administrative work burden
Enables to provide a personalized care plan
Automation that reduces the burnout of healthcare workers
Enhanced security
Saves operational costs
So, these are some of the top examples of technology in healthcare management.
But how to choose the right technology for effective and efficient healthcare management?
In order to get the desired results in healthcare management, it's essential to pick immaculate technologies to avoid all the obstacles.
Here are the key points for you.
Identify your needs
Create a list of the features you want
Define your capital
Search for the software or application and create a list of it
Analyze software that suits your needs
First try then purchase it
In case you have a healthcare organization or clinic, we highly recommend developing a custom solution rather than using third-party software.
But why?
Third-party software is made for everyone.
Custom is built as per your business needs.
The choice is yours!