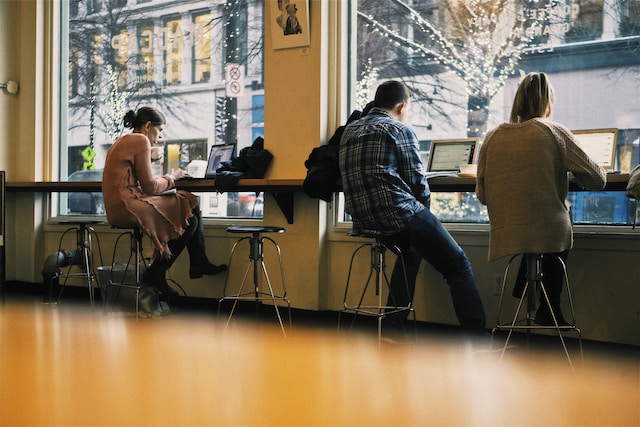 Digital nomads are on the rise, looking for places that provide the ideal balance of employment prospects, a high standard of living, and a dynamic culture in a world where remote work has become the new norm. With its varied scenery and strong infrastructure, the United States is a haven for digital nomads. We'll look at five of the greatest American locations for digital nomads in 2023, each of which will provide a distinctive experience for people seeking to balance work and adventure.
New York City – The Urban Oasis
For digital nomads, New York City continues to be their favorite destination. The city that never sleeps has a thriving tech ecosystem that provides a wide range of remote employment options in many industries. The work market in NYC includes opportunities for everyone, whether they are software engineers, marketers, or creative professionals. Working in the Big Apple is simple thanks to its top-notch coworking facilities, like WeWork and The Wing, and super-fast internet. Beyond work, NYC offers a diverse cultural experience, including Central Park's tranquility, museums, and Broadway performances.
The city's various communities may accommodate a range of tastes and price ranges. NYC's housing options are as varied as its culture, whether you choose a quaint flat in Brooklyn or a modern penthouse.
San Francisco – The Tech Haven
Digital nomads in the tech sector flock to San Francisco, the city that is recognized as the "tech capital of the world." A hotspot for remote work in the tech industry, Silicon Valley is located just south of the city and is home to various startups and tech behemoths. You may network and work with like-minded professionals in the city's thriving areas like SoMa (South of Market), which offers a range of coworking spaces, such as Galvanize and The Vault.
The notoriously competitive real estate market in San Francisco makes it difficult to find adequate housing. The benefits of residing and working at the center of the tech industry are well worth the effort it may take to find the ideal location. Outside of work, San Francisco offers a diverse array of experiences, from the iconic Golden Gate Bridge to the historic Alcatraz Island.
Chicago – The Windy City Retreat
Digital nomads can live a balanced lifestyle in Chicago, sometimes known as the Windy City. It's a great place for remote work thanks to a booming IT sector, and coworking spaces like 1871 and Industrious offer first-rate amenities and networking opportunities. Chicago is a flexible location for remote professionals because of its diverse job market, which includes businesses like banking, healthcare, and the creative sector.
Digital nomads in Chicago have many possibilities while looking for an apartment. There are a variety of living conditions available in locations like River North, Wicker Park, and Lakeview, from busy metropolitan centers to more laid-back residential districts. You can easily find apartments for rent in the city and enjoy this vibrant place. Beyond work, Chicago offers a plethora of cultural experiences, including world-class architecture, renowned museums like the Art Institute of Chicago, and an unbeatable food scene. Don't forget to try the famous deep-dish pizza!
Austin – The Live Music Hub
A growing number of digital nomads are choosing Austin, Texas because of its thriving tech sector and music culture. Austin, also referred to as the "Live Music Capital of the World," offers a distinctive fusion of work and play. The city's tech community is still expanding and offers a wide variety of remote job opportunities, particularly in the fields of software development, marketing, and design. There are many coworking places where you can meet other entrepreneurs and remote workers, such as Capital Factory and TechSpace.
The neighborhoods of Austin provide a variety of possibilities for those looking for a place to call home. Digital nomads frequently hang out in Downtown, South Congress, and East Austin, each of which has its own distinct personality and vibe.
Miami – The Sunshine Paradise
Miami appeals to digital nomads because of its pleasant weather, gorgeous beaches, and thriving tech environment. With programs like "Miami Tech Week" and co-living spaces created for professionals looking for a vibrant community, the city has made significant expenditures in fostering a friendly atmosphere for remote workers. The LAB Miami and fashionable WeWork locations are just two of the high-end coworking spaces in Miami that offer the ideal environment for productive workdays.
Miami has a wide variety of housing alternatives, making it quite easy to choose a place to stay. Miami's neighborhoods, from the high-rises of Brickell to the artistic haven of Wynwood, provide a variety of living situations. When you're not working, you can soak up the sun on Miami Beach, explore the vibrant art scene in Wynwood, or savor Latin cuisine in the colorful streets of Little Havana.
The United States continues to be a top choice for people looking for a dynamic work-life balance as digital nomadism expands. There is a perfect city for every remote worker in the USA, whether you enjoy the hectic streets of New York City, the innovation hub of San Francisco, the dynamic culture of Austin, the beachy vibes of Miami, or the balanced lifestyle of Chicago. These cities are prepared to welcome you on your adventure as a digital nomad, with cutting-edge infrastructure, different neighborhoods, and a wealth of services for locating residences. So get ready to experience these amazing locations in 2023, where business and adventure smoothly converge, by packing your bags, setting up your remote office, and traveling.