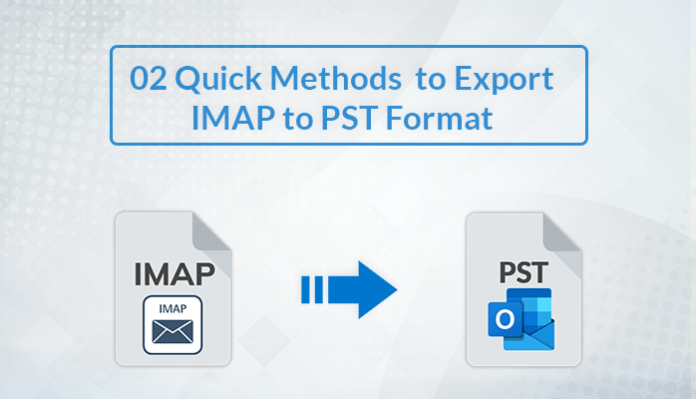 User Query: "I work in an IT company as a chat support head, and my daily responsibilities involve holding important conversations with clients. As a result, I need to send and receive lots of emails on a daily basis. But there are many old emails that I don't check regularly. Therefore I am looking for a reliable way to backup all my emails to PST files to free up my storage space. Can you please suggest a reliable and secure way to export IMAP to PST?"
If you have a similar query, then you are on the right page. This article shares the different methods to save IMAP data to PST. We will discuss the manual as well as the professional methods in brief that will help users perform IMAP to PST migration easily. Choose the method wisely by going through the instructions carefully.
IMAP or Internet Message Access Protocol is used by various prominent email clients like Gmail, Outlook, HotMail, Yahoo, Zoho Mail, etc. It helps this email client to fetch the data from the server. PST or Personal Storage Table, on the other hand, is an Outlook data file that helps to save complete Outlook mailbox data in a single file format. Users want to backup their IMAP emails in Outlook PST as the data in a server are easily prone to corruption. Users also cannot access the data without any data connection.
Before we move further and discuss the solutions, let's explore some common advantages of using PST files to backup IMAP emails.
Possible Reasons to Export IMAP to PST
Now, you may wonder why users tend to backup IMAP emails into PST file format. Here are some common advantages of saving the data in PST format.
To create the backup of data in PST format.

PST files provide better security of data.

Users can password-protect the PST files to avoid any unauthorized access to important data.

By saving the data in PST format, users can avoid network connectivity issues.

Users can access the data at any time.
These are the possible reasons why users want to save IMAP data to PST format. Now, let's explore the possible solutions to perform this migration process easily.
How Do I Export IMAP Emails to Outlook PST?
In this section, we will discuss the best two methods to export IMAP to PST. We will discuss both the manual as well as the professional method to perform the IMAP to PST migration process. Let's begin with the manual approach.
Native Solution to Convert IMAP to PST
To perform the manual approach to save IMAP emails to PST format, users first need to install the Outlook application. After installing configure IMAP to the Outlook account. Then use the Import/Export option to perform the migration process. Follow the below steps carefully.
Launch the

MS Outlook

Application and configure your Outlook account. Enable IMAP.

Now,  go to the

File

menu.

After that, navigate to the

Open&Export

option and then tap on

Import/Export

.

From the import/Export window, select the

Export to a File

option.

After that, opt for

Outlook data file(.pst).

Hit

Next

.

Choose the

desired mailbox

you want to export and then click on

Next

.

Tap on the

Browse

option and select the

desired location

to save the file.

Lastly, click on the

Finish

button to export IMAP mailbox into PST.
Reasons Why Users Avoid the Native Solution
The manual method is free and easy to perform. However, many professionals still do not recommend using this method because of the below-mentioned reasons.
This is a lengthy and time-consuming process.

Users need to be technically sound to perform this method.

There are high risk of data loss using this approach.

The method needs to be performed again and again if you want to migrate multiple mailbox data.

Exporting large mailbox data using this method can be a hassle.
To overcome these drawbacks, many professional experts prefer using the professional IMAP Mail Backup Tool. This method provides 100%  accurate results and prevents any data loss.
Expert Recommended Solution to Export IMAP to PST
To export mailboxes from IMAP to Outlook PST quickly and precisely, many tech experts suggest using the professional IMAP Mail Backup Tool. This method allows the migration of multiple IMAP emails to PST format in just a few clicks. It does not disrupt the data structure and data integrity during the process. This tool provides 100% accurate results in less time. This tool also enables users to migrate IMAP emails to other distinct file formats and email clients like MSG, EML, MBOX, Gmail, Office 365, G Suite, etc.
Procedure to Perform the IMAP to PST Migration Using the Professional Tool
Install

the

IMAP Mail Backup Tool

on your device and

Run

it as administrator.

Enter the credentials of the desired IMAP-enabled email client.

Provide the IMAP server

Host

name and

Port

to retrieve the emails.

Now, choose the

desired mailbox

data from the displayed tree structure.

After that, click on the drop-down arrow and choose

PST

as the resultant file format.

Lastly, hit the

Convert

button to export IMAP to PST format.
Conclusion
In this article, we have explored the possible reasons to export IMAP to PST. We have also discussed the various possible reasons to perform this migration process easily. The manual approach requires good technical knowledge to perform the process. Therefore, many experts recommend using the professional IMAP Backup Tool as it provides quick results with zero data alteration.