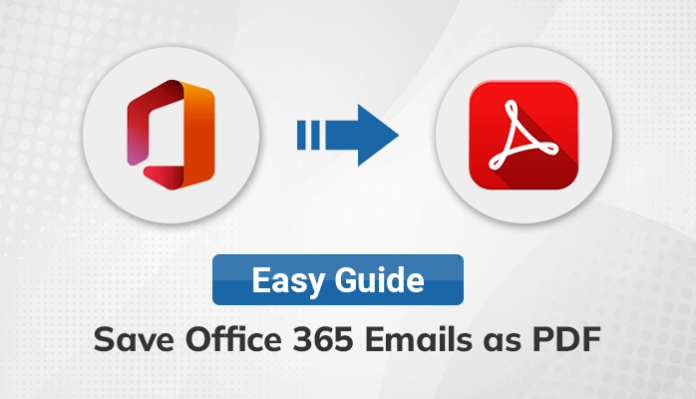 Summary: Recently, I met my friend and he asked me how can I save my all emails from O365 to a secured and easily shareable format. I said, wait I will share some techniques using a manual method and an automated tool. After some time, he thanked me a lot for completing his task easily and quickly. If you have the same query, go with this guide, and we hope you will find the best effective solutions to save Office 365 emails as PDFs effortlessly.
Introduction
Office 365 is a paid email platform launched by Microsoft, including many services and dominant applications. Apart from that, it provides a powerful cloud platform to store huge data with unlimited storage. On the other hand, PDF is a Portable Document Format, used to store vast elements such as Media contents, links, images, etc. It eases our presentation task and helps us to understand the content file easily. Suppose, a situation arrives and you need to keep all your important and crucial O365 email messages in a format that can store any of the element types, is easily readable, and can share quickly, then save Office 365 emails as PDF.
To accomplish the task, you can either use manual or software solutions. But for error-free results, use the Office 365 Migration Tool that will save your precious time and unnecessary hard labor. Yet, if you want to take into practice the manual process for completing the given task, let's jump to the next part.
Native Method: Convert Office 365 to PDF
With the help of this manual technique, we will finish the task with two methods, using Outlook's Microsoft Print to PDF option and Microsoft 365 online. However, there are some methods available also but we want to provide only those which you can easily explore. Now, in the upcoming part, we will mention the methods and their connected steps.
Method 1. Save Outlook 365 Emails as PDF
To embrace this method, download and install Microsoft Outlook then configure it with an Outlook account (Microsoft Account). After that, follow the below steps to convert Microsoft 365 emails to a .pdf format.
Launch MS

Outlook

on your system and go to

File

Menu.

Here, go with the

Print

button.

Under the

Printer

menu, select

Microsoft Print to PDF

option.

After that, hit the

Print

button and choose a destination where you want to store the output file.

At last, change the file name if you want and click the

Save

button.
Method 2. Save Office 365 Emails as PDF
Office 365 online allows you to save emails to a PDF format using its inbuilt Export function. Now, consider the steps correctly which are mentioned here.
Go to

Outlook.com

and

log in

here with your credentials.

After that, click the email to save as a

PDF

format.

Here, click on Three Dots

(…)

on top and select

Print

.

Now, again click on

Print

to move forward.

Here, ensure that in the Destination selected

Save as PDF

.

Hit the

Save

button and set a

location

to save the resultant file.

Finally, hit the

Save

button to save the file to a .pdf format.
The above manual methods can accomplish your task but it's not an easy task for normal users or those who do not have technical skills. Moreover, it looks like a time taking and tedious task, and if a user has a number of hundred emails, he needs to perform the steps again 100 times, if he wants all the emails in PDF. To overcome these loopholes, only one solution is to go with an advanced tool that solves all your queries on how to export emails from Office 365 to PDF proficiently.
Advanced Solution to Save Office 365 Emails as PDF
Office 365 Migration Tool provides a prominent way to back up and save your O365 mailbox in different file formats like PDF, PST, HTML, etc. By using this utility, users can also migrate Office 365 email to Gmail,  Thunderbird, Yahoo Mail, and many others. In addition, the utility is compatible with all Windows versions and runs flawlessly. 
Conclusion
Throughout this informative guide, we tried to save Office 365 emails as PDF with two manual methods. First, we used Outlook to save an email as PDF, and the second method we went with Outlook.com online to do the same. Hence, the manual methods caries many restrictions which make the task tedious and frustrating. Therefore, experts advise users to opt for an advanced utility that makes the same task easier and executes with no time.