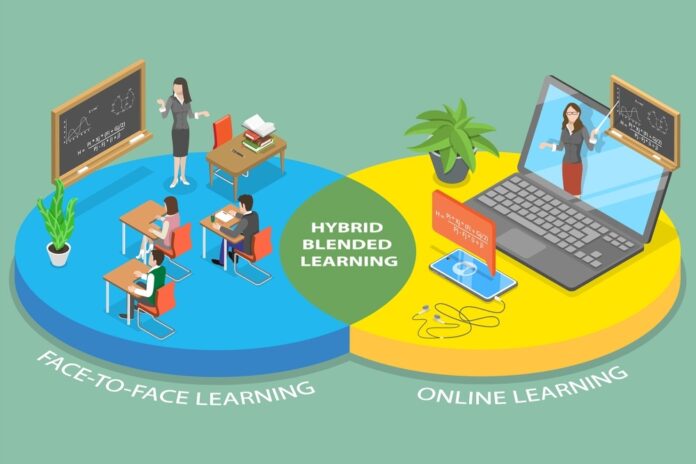 IMPORTANCE OF BLENDED LEARNING IN THE DIGITAL AGE
Education is the cornerstone of humanity and bedrock of a prosperous community, in contrast to the common belief that education is much more than reading and writing. At the same time, the conventional education system of delivering training was adequate in the pre-digital era. But the spurt of technology has transformed the education sector significantly.
As a result, there is a surging demand for new technology-based learning. Since the pandemic has caused havoc in almost every industry sector, it forces the social distancing norm that affects every vertical of business, including education.
Students and teachers have faced one of the worst crises and a simmering challenge in this difficult time. It requires a system that can maintain social distancing while the scope for continuing education.
Students and educational establishments must focus on distance learning like online, eLearning, etc.
Blending Learning, the new learning mantra, comes of age now. Many opine that blended learning can replace the teacher. But, in reality, this is not true. How does it affect teachers discharging their duty? It shifts the focus for teaching from knowledge provider to mentor and coach.
It does not imply that teachers have a less critical role in the direction of students' learning, but it has a more significant and profound role in nurturing students' learning.
Reasons to Adopt Blended Learning Approach in the Education Sector
Enhanced Student Engagement
Online learning provides an opportunity for students to engage with the material. Using a blended learning approach, effectively, students are in a position to complete their assessments, test, or presentation before going to the next level of course.
For example, using checkpoints, long answer questions, or multiple choices is used in the video that helps students to continue watching the video and significantly engages with their course content.
Successful Assessments
In a conventional learning approach, it takes time to examine each student in face-to-face classroom training to print tests and analyse the grades of each individual manually.
On the other hand, in the Blended learning approach, all these processes mentioned above become very easy and convenient. There are many Learning Management systems does conduct tests automatically for students. That is based on the student's input and subsequently recorded in their grade book.
Improve Communication
This kind of learning helps students' direct interaction with the teachers lively whenever they are stuck solving particular problems. Such interaction is a rare commodity in conventional learning.
It does not only communicate face-to-face but also through automated email notifications and in-built bulletins for students whenever they log in to the system.
Apart from these is a community or discussion board, where students can get in touch with other students.
Convenient to Access
One of the striking aspects of online Learning is that you can continue learning anywhere and anytime. You can also access rich materials from the net; rather than the stipulated time fixed in the traditional classroom or official time hours, the teachers and students access the material whenever they want.
Collaboration
Blended Learning can provide ample scope for students to connect with others through the forum, online community, discussion boards, etc. Consequently, it dramatically encourages students' collaboration. Simply put, in the blended learning approach, you can have both the worlds- online and offline the scope of teamwork opportunities.
Customized Learning
No two students' requirement is the same. But, the new learning paradigm can effectively fulfil every learner's needs. The same cannot say in the case of conventional Learning.
For example, allow students to read about different current events and how the perception of each student about the article given to them.
Enhanced Efficiency
Many teachers find their efficiency improves remarkably in the blended learning classroom. If you execute your lesson correctly, the learners can watch the lecture, and students can go through any assignment on their time and get enough leeway to discuss during class. In this process, teachers get enough time to bolster the material.
Tracking and Reporting
One of the excellent features of online Learning is the help of the Learning Management System tracking and reporting the learners' progress.
The option through an LMS can track each step that the learners take in the journey of learning; time taking, login, and grading. In this process, online help learners to be more focused on learning.
Budget-Friendly
Finance is always a constraint for quality training programs, which is one of the main predicaments for small organizations to provide training to their staff. Nevertheless, the professional agency provides affordable quality training.
It is no doubt a prudent step to enhance productive learning. Regardless of the organization's size, Blended learning solutions work in both realms.
Final Takeaways
More and more companies are embracing Blended learning because it is cost-effective and empowers learners to enhance their performance.
Therefore, the business should adopt Blended Learning Services to meet the growing demands earliest.
Author Bio
Hope James is a renowned writer, with vast knowledge and experience in the realm of eLearning and digital marketing for a long time. We at Acadecraft provide best Blended Learning Services .