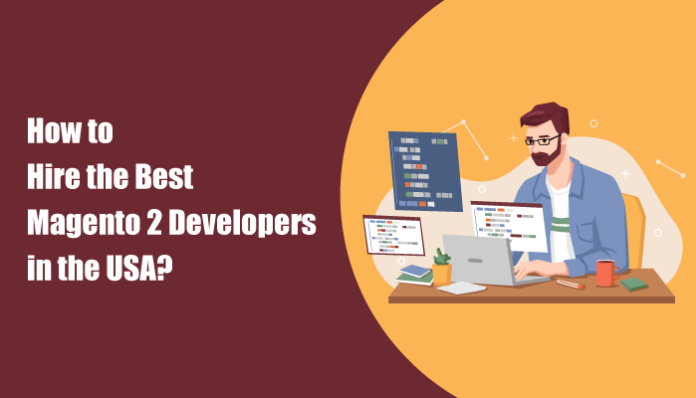 If you want to build your e-commerce store. You can easily build an e-commerce website with the help of Magento.
Magento is a popular e-commerce platform that is used by many high-profile brands like Nike, and Ford for their online stores. They choose Magento because of its flexibility and features which are unique rather to other websites.
In 2015, the version of Magento 2 is released with better modifications and features.
However, Magento2 solves issues related to Magento 1. Many merchants switched from Magento 1 to Magento 2 because of an upgrade. In 2020 Magento no more officially release the update of Magento 1.
If you are reading this blog probably you know about Magento 1 and want to know more about Magento website developer in USA. It is the right place for you to get insight into Magento 2 so let's dive in.
What is Magento 2?
The first thing is why Magento 2 is better than Magento 1. Magento is popular because of its flexibility so can Magento 2 ease all the pain points of Magento 1?
Magento 2 is an open source also called the free community edition and anyone can download it from the Magento website. The user can install Magento but is responsible for hosting and support. It is the future of Magento and the future of e-commerce too.
In addition, Magento 2 addresses many issues related to Magento1 are mentioned below.
It supports the latest PHP version which directly affects the speed of the website.
Non-confusing interface, and user-friendly.
It supports CSS3, MySQL and HTML5
It reduces the six checkout stages of Magento1 to two in Magento 2
Also, mobile friendly
By reading the above now you know which is better. Switching to Magento 2 becomes mandatory as Magento 1 is no longer supported.
However, switching to Magento 2 will not be simple data migration. All the design and development-related work have to be recreated in Magento 2.
Read the next section to know more about the features of Magento 2
Features of Magento 2
Magento 1 is quite good with the functionality but constant upgradation is necessary to overcome problems so that merchants can easily build e-commerce website. Here we have discussed the features of Magento 2 mentioned below.
One person at a time. If one person logged in per admin user account the other user will be logged out. This is quite helpful for security purposes.
However, websites are prone to hacking this is the best safety measure that ensures your website security.
The new simplified navigation of tools and unique designs is completely different. Admin can easily customize the admin panel so that business information can be quickly accessed.
In addition, each panel can be customized that help in improving the productivity of managing products and customer data.
In Magento 2 you will find that framework is quite improved from Magento 1.
Hence, Magento has carefully modified the platform according to the community recommendations.
Now users can easily add product data by mass action and product variation can be managed through a wizard or manually by adding or removing attributes.
Although in many cases it helps in saving admin time and products can be transformed into a streamlined experience.
In Magento 1 checkout stage is quite painful now you will notice a streamlined flow in the process of checkout. Thanks to Magento for removing complicated steps.
The improved checkout experience helps customers to clear the checkout process easier and increased the conversion rates for the store owners.
Magento 2 has added safer payment gateways like PayPal and Braintree that gives stores better functionality.
However, this new update has fewer steps and stores customer information and buyers have more flexible when making payments.
Third-party extensions are an important part of Magento sites. As they add more flexibility that shop owners need to enhance their websites.
Moreover, the Magento marketplace has many headaches which are now improved to give users better quality plug-ins.
In the next section, we shall be discussing How to Hire the Best Magento 2 Developers in the USA.
How to Hire the Best Magento 2 Developers in the USA.
If you are thinking to launch your e-commerce site hire an eCommerce web developer. But before hiring here are some steps that help you in finding the best Magento 2 developers in the USA.
Goals and objective
The first and foremost important step is to be clear about the goals and objectives of your business model. The clearly communicated goals help everyone with the project and help in reaching the objective of the company.
However, this step will make it easier for you to communicate with the development team you are looking to hire.
Freelance platform
Popular freelancing platforms like Toptal and Upwork can do the work. You hire talented developers by reviewing their working profiles.
However, Upwork allows you to explore files for free. You can easily hire one as the pricing is available on their profile that fits your budget.
Linkedin
This platform is the easiest way to search web developers you can directly search people who have mentioned Magento in their skills and go through their profiles.
LinkedIn is the most trustworthy professional platform that connects people globally.
Contact Magento development agencies
It is the easiest step in hiring the Magento developer as you can easily hire them by contacting the Magento development agencies and build Magento web.
However, they have the data of the best Magento development companies which they provide to Magento developer seekers.
Find them by research firms
You can hire from the most renowned data-driven guide that helps you in hiring decisions. They help in identifying the best software development firms all around the globe.
In addition, helps service seekers with the best development partners. Their main task is to reduce the time and effort of people in searching for the best development companies.
Social media
You can easily post the requirement on the social media apps like Facebook, Twitter, LinkedIn, and many more.
Well, Facebook is quite a helpful site to find talented developers who are experts in building Magento sites. All you have to join Facebook groups that are dedicated to developers and post your requirement and visit various web developers' profiles and text them to ask if they are available to do your project.
Conclusion
By going through the above steps you can easily hire Magento developers in the USA. But the cost can vary as Magento development is quite a complex task.
However expert Magento developers can do the difficult coding and develop professional Magento sites. So finding Magento developers is not an easy task.
This blog will help you best in finding the best Magento website development Comapny in the USA.
Author Bio- Jermaine Trotman is the co-founder of Nimble AppGenie, a market leading, Magento Website Development Company but not limited to that. Firm is renowned for it's PHP, WordPress, and Nodejs development solutions.