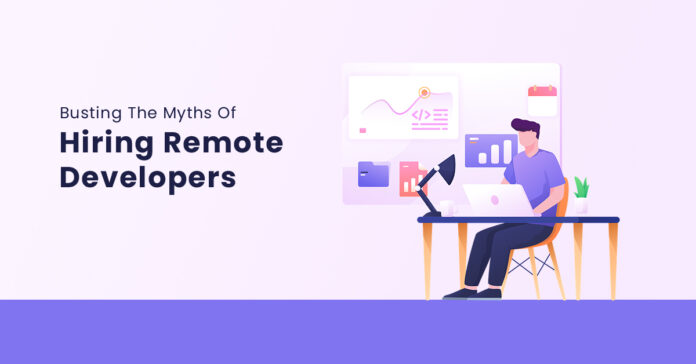 Recently, hiring remote developers across the globe is on a huge spurt. The new normal has brought a shift in the staffing and recruiting patterns of every software development company and businesses. As the demand for remote developers spikes up, we are here to tell you some of the important known facts about hiring the right developers for your company.
There are a lot of myths that surround remote developers and entrepreneurs who find themselves confused and haywire after listening to the baseless unauthentic stories about hiring remote developers.
We are keen to share our experiences and learning because as you know, remote working has become the most lucrative alternative for developers who wish to work full-time or part-time.
Even clients prefer to hire remote developers for developing mobile, web or software solutions as it proves to be the most suitable option for running time-bound projects.
So before busting the myths, let us quickly find out some important details about why should you choose to hire remote developers.
Why Should You Hire Remote Developers?
Hiring remote developers enable work continuity round the clock. Even though they are located in a different time zone, they help you get the work done faster.
Keeping intact a stable team of remote workers in good numbers will always keep your boat sailing and help you achieve optimum staff capacity.
If you hire dedicated remote developers they come with unique skill-sets and know the latest technologies and trends.
Hiring remote developers can lessen the excessive burden of in-house developers from their shoulders.
You can make them work smart and fetch productive results in the lowest recruitment costs as they are not appointed on the payrolls of your company.
Despite these benefits, there are a handful of worries and flaws around hiring remote developers that are addressed by several development companies. Rests are misconceptions leading to disbelief into the entire idea of hiring dedicated developers or remote developers.
Cracking The Major Myths of Hiring Remote Developers
Myth No. 1: It is tough to manage remote developers with efficiency.
The fact is – it is all about what quality of remote developers you hire. Well-qualified and proficient remote developers have remarkable skills to manage their working hours and projects with effectiveness and productivity.
They may not require the project manager to monitor their working pattern. However, they are a part of your team and you should make them feel the importance of their presence. You can keep them socially connected and make regular check-ins.
Myth No. 2: Team productivity gets hampered by hiring remote developers.
The fact is – A software development company must hire a remote development team that shows commitment to working diligently. Studies reveal that over 23% of remote workers show higher productivity as compared to those working on-site.
Dedicated remote Developers who are ready to bend over backward and offer the highest value to the company are the best choices. Moreover, there are studies that also reveal that majority of remote workers feel less stressed out due to the work patterns chosen according to their convenience.
Myth No. 3: Challenges in finding well-qualified remote developers.
The fact is – You must start looking in the right direction then. The source matters if you wish to have a quality remote development team for your business.
The easiest and most convenient way is to hire a software development company that has a team of remote development experts who are well-trained, highly proficient, and experienced in their domains. This group of experts can handle your project efficiently and can provide on-time delivery of results that match completely with your expectations.
Myth No. 4: Remote developers take advantage of their flexibility.
The fact is – All they have is a comfortable environment to perform the same work within the stipulated timeline. Employers who have a similar misconception need to understand that it is a matter of choice for the developer. Even without the dress code, ID card, and stressful working hours they do things right and as per the client's expectations. Highly proficient remote developers will never find it a challenge to meet up with the deadlines.
Myth No. 5: Data security at risk when hiring remote developers.
The fact is – Remote developers can make your data safe with abundant security solutions and relevant tools. With the rising number of security breaches and data theft, the safety of your data always remains a top priority. To enable high security of your offsite data, you can take several precautionary steps. Some of the examples are stated such as:
Sign a non-disclosure agreement between you and the source of the remote development team.
Remote developers need to set up their location with secured cloud-based applications. Nowadays, cloud security solutions are the latest trend due to their incredible advantages to various businesses.
You must address your security concerns to your remote team during the beginning of your project with a two-factor authorization, virtual private networks, etc.
Myth No. 6: Communication issues with remote developers due to diverse time zones, language, and culture.
The fact is – When hiring remote developers a few communication challenges take place because of different time zones and adopting a stringent hiring process.
There are several cultural and language barriers when working with a remote development team. Think twice before you decide to hire remote developers. Relook several factors such as no. of languages known, identifying common languages, and how to use them for various crucial communications. With regards to the time zone, there is no such barrier in the present times.
Examples of When to Hire Remote Developers
The most suitable solution is to hire remote developers via a software development company. These offshore outsourcing companies leverage several developers' skills for quick project completion.
Also, the developers of such firms are well-qualified with the necessary certificates and credentials that will save a lot of time from screening and interviewing developers individually. Take a quick read on the below scenarios to build more insights on when to hire remote developers.
Innovative Projects
Remote developers have proven skills to incorporate software development trends into their ongoing projects. With their technical expertise, they thrive by developing innovative software solutions and making your project a grand success.
High Development Cost Management
You need sufficient resources, attention, and adequate time to hire, maintain and foster an in-house development team. The SMEs and startups that work with lower budgets always look up to hiring a remote development team from an experienced offshore outsourcing company. This further leads to focusing on the major tasks of the project.
Time-to-market as a priority
With the experienced remote development team taking your side, you would not have to worry about the efficiency of the software performance when it gets launched in the market. The entire remote developers' team is ready to take care of all the milestones that you plan to achieve until the project gets delivered on time.
Final Thoughts
There may be misconceptions taking place while hiring remote developers for your software development project. These temporary roadblocks must be removed to reduce the risks of hiring them.