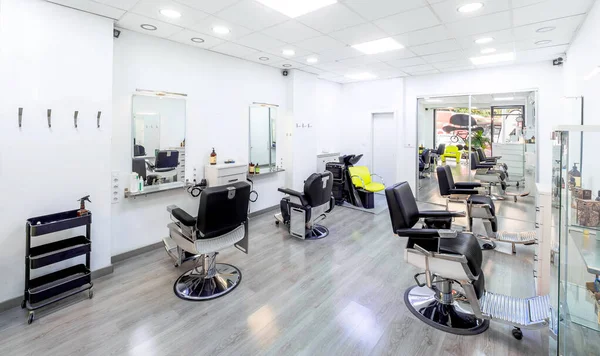 Running a successful salon business requires hard work and a deep understanding of the beauty salon and wellness industry. It takes more than a passion and love for beauty to succeed in this highly competitive industry. The salon owner needs to have a strategic plan, exceptional customer service, & a strong understanding of the advanced technologies in the industry. From building a solid brand image to providing quality services, there are many important factors that contribute to the success of a salon business.
However, it's essential for the salon owner to consider these factors, whether their business is just a startup or at the developing stage. So they can form a reputable and profitable business.
In this article, we'll explore some of the most crucial elements of running a successful salon business & that will help achieve goals & objectives.
How To Ensure Success In Running Your Beauty Salon Business: Considered Factors
Running a successful salon requires careful business planning in every aspect, efficient organization, and attention to detail. The following are some important factors to consider that meet the needs of your customers and stand out in a competitive industry.
Accessibility And Location
It is very important for salon owners to make a wise decision when selecting a salon location. As it plays a major role in the success of their business. The salon should be located where it is easily and effortlessly accessible to the target market. If the salon is located in an area with high customer traffic, it increases the chances of customers walking in & making an appointment. On the other hand, if the salon is situated too far away from potential customers, it may struggle to attract a clientele. Additionally, the visibility of the salon is also important. It should be easily visible and inviting, so customers want to avail of the services.
Latest Trends And Techniques
Nowadays, customers have high expectations when it comes to their beauty salon experience. They want the latest haircuts, hairstyles, beauty treatments, and makeup. By keeping up with the latest trends, salon owners provide their customers with the services they want, which helps to attract & retain customers.
Additionally, new technology can help salons run more efficiently. For example, a salon online booking system can automate appointments and allow customers to book their beauty treatments 24/7 from any location. Conclusively, by following and integrating the latest trends and technology, salon owners can improve customer satisfaction and gain a competitive edge.
Atmosphere
A salon owner must create a welcoming environment so that customers can feel more relaxed and valued. Staff members can greet them by saying "Hi, mam/sir" with their name, which shows respect for their business. Also, it indicates that quality services will be provided to their customers. The ambiance of the salon should be soothing, with proper lighting and a music system. Eventually, it leads to improving overall customer experience & maximizes the customer retention rate. Additionally, creating a welcoming atmosphere helps establish a positive brand image for the salon. This can differentiate the business from competitors and attract new customers to the salon.
Hire Professional Team
It is essential to know the exact job roles and responsibilities before starting the hiring and recruitment process. Salon management should have a thorough understanding of the skills, experience, and qualifications required for each role. When reviewing resumes, look for candidates who have relevant experience in the beauty industry. Hire and recruit experienced & skilled professionals who have the expertise to provide high-quality services to customers and fit into the salon's culture & values. They should also be knowledgeable about the latest techniques and technology to improve the overall customer experience.
Excellent Customer Service
Salons must provide exceptional customer service so they tend to come back to the salon to avail of beauty services. Staff members should actively listen to customers' needs and preferences and respond efficiently by utilizing their expertise. Also, salons should integrate the feedback system to gather customers' reviews, which will help to improve their business and elevate the customer experience. Additionally, consider offering personalized services based on your customer's preferences, which make them feel more valued.
Marketing And Promotion
Running a successful salon business requires effective marketing and promotion strategies. It's important for the salon owner to identify their ideal customers on the basis of age, sex, lifestyle, and interests. Significantly, it will help to tailor the marketing efforts to reach the right audience.
Additionally, salon owners can use social media handles to advertise and promote their beauty business to develop a strong brand image. They can showcase their work and offer special discounts to their loyal customers.
Efficient Financial Management
The most important factor for running a successful salon business is effective financial management. This can be achieved by developing a detailed business plan that specifies financial goals, revenue estimates and targets, and operational costs. Additionally, the salon should create a budget that includes all expenses such as rent, supplies, salaries, marketing, and taxes. It's essential to stick to the budget and regularly review it to ensure that the salon is on track. Also, salon owners can deploy the best salon booking system to streamline the financial management process. The software automatically generates financial reports, helping salon owners make sound decisions that reduce costs and increase revenue.
The Wrapping Up
Running a successful beauty salon in today's highly competitive market can be quite challenging. As there are numerous wellness businesses constantly emerging, it can be difficult to stand out and become the preferred choice of customers. Therefore, it is crucial to consider several components that help the salon business to attain goals and objectives. For example- establishing a reputable brand, hiring and training skilled staff, and creating a welcoming atmosphere. Also, they can use effective marketing strategies, invest in the latest technologies, and manage finances effectively. By prioritizing these factors, the salon can attract and retain customers and build a thriving beauty salon business.
Author Bio:
Julia Ching is an accomplished manager and writer, currently working at Salonist, a leading provider of salon management software. With over a decade of experience in the industry, Julia has established herself as a knowledgeable and skilled professional with a passion for helping businesses succeed.