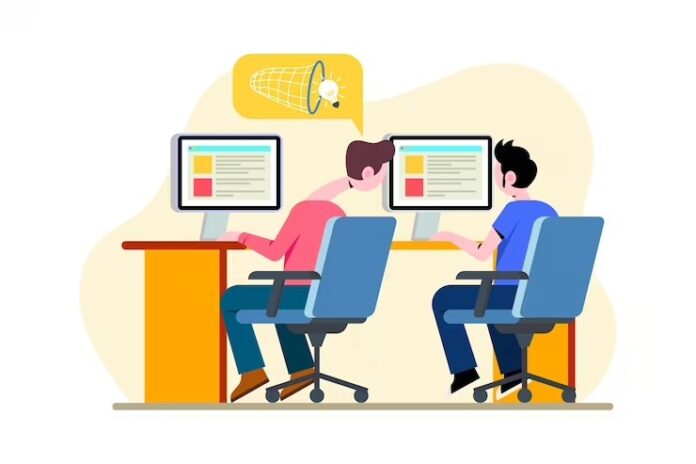 Do you find it difficult to choose between hiring angular developers in-house or contracting it out regarding your projects? This is a challenge that many proprietors of businesses face regularly.
In this piece, we will discuss the benefits and drawbacks of both options, considering factors such as the cost, the degree of talent required, and the complexity of the project.
Currently, approximately sixty percent of firms outsource the development of their mobile applications. In recent years, there has been a rise in the popularity of outsourcing to reduce costs and enhance efficiency.
On the other hand, firms that need continuing project assistance and cooperation tend to choose in-house developers since they give more control and flexibility than external developers.
Your organization's specific needs and goals should guide your decision on whether to build its internal development team or hire angular developers from outsourcing.
By analyzing the advantages and disadvantages of each possibility, you will be able to make a well-informed decision that considers both your financial constraints and the requirements of your project. Therefore, let's dive in and better understand this vital subject!
In-house Developers
An "in-house developer" is a software developer who works directly for a company and is referred to by that title. These computer programmers are part of a group that operates inside the company and is responsible for developing, maintaining, and improving the software applications used by the organization.
Advantages
The following is a list of important advantages that come with having an internal development team:
1.  Culture fit
When you have developers working in-house, you can build a team that is congruent with your firm's culture. As a consequence, your team could develop a strong feeling of community and a culture congruent with the culture of your angular development company as a whole.
2. No communication concerns
Working with a team from inside your organization gives you quick and direct contact. It is unnecessary to use middlemen or wait for any delays to have a straightforward conversation about the project's goals, timetable, and any possible issues.
3. Immediate support
Developers working inside the company can provide prompt help to the business. This may be relevant in industries such as e-commerce, banking, and healthcare, all of which place a premium on promptly providing solutions.
Disadvantages
You should be aware of a few disadvantages when hiring angular developers inside your company.
1. Cost
When considering factors such as compensation, benefits, equipment, and resources, maintaining an in-house staff may be extremely costly.
2. A high rate of employee turnover
You will need to invest time and money into recruiting and educating new team members if your in-house developers often depart the company.
3. It is necessary to improve one's skills
It is the company's responsibility to ensure that the workforce is always up to date with any new abilities, which may be both time demanding and costly.
4.  An insufficient level of technical competence
The in-house team may lack understanding in some disciplines if it does not have a qualified technical leader. This might result in complications and delays.
5. The need to hold on to
There is always the possibility that in-house developers may depart, which may need further time and money to keep the team morale high.
When Should an In-house Developer Be Used?
When faced with the decision between outsourcing development work or doing it in-house, the following are some situations in which the latter option is preferable. An in-house development team is a great option when you need dedicated individuals to work on long projects. This kind of team may be found in many companies.
If you have a special project requiring continuous attention and close cooperation from a small group, an in-house team can be the best option for you. In addition, if your project requires a high degree of security or secrecy, an internal team can be the ideal option for you to go with.
Outsource developers
A specialist or group in the software development field brought in from outside the company is referred to as an outsourced developer. It is possible to have access to a bigger talent pool, which often results in cost savings.
Advantages
The following is a list of important advantages that come with having an outsourcing development team:
1.  A larger pool of potential candidates
Developers may have access to a larger talent pool via outsourcing, usually composed of individuals with diverse skills and experiences.
2. Capable from a technological standpoint
Because the technological boundaries of your business do not constrain the developers who work for an outsourced company, they can frequently offer creative solutions and ideas.
3. Lower potential dangers
You may reduce the risks associated with employing new personnel and providing them with training if you depend on the expertise and experience of the outsourced workforce.
4.  Able to engage workers temporarily
When hire angular developers on a contract basis for short-term projects allows you to avoid making long-term financial or time commitments: If you outsource some duties, you may have the flexibility to engage developers for projects that will only take a few weeks or months to complete.
Disadvantages
1. An inability to effectively communicate
When working with an outsourced staff, you may experience difficulty communicating due to time zone differences, language barriers, and cultural differences.
2. The team is not entirely under their command
When a project requires a particular level of control, outsourcing might be problematic since it results in losing some degree of control over the development process.
3. An absence of a distinct business culture
An outsourced team can't completely understand your company's culture, beliefs, and goals; as a result, there is a risk of misunderstanding and misalignment occurring throughout the development process.
When should you make use of an outsourcing team?
Due to the various benefits, many businesses in recent years have opted to outsource their angular development. Suppose your company does not have the internal competence to complete a certain project or activity. In that case, you may want to consider outsourcing so that you may have access to specialized skills and knowledge.
ISG Research found that 59% of Forbes Global 2000 firms outsource their business processes and that 92% of these businesses outsource their IT. When you outsource, you pay for the services you demand, so you don't have to worry about other costs like paying for benefits or equipment.
This makes it a potentially cost-effective alternative. By enabling you to engage developers for short-term projects without needing long-term commitments or expenditures, outsourcing may provide you with flexibility regarding the project's scope and the timing for its completion.
Conclusion
Ultimately, everything is determined by the kind of company you run. If you want to use outsourcing, there are several considerations that you need to give careful attention to before choosing a partner to work with.
If you want to hire an employee from inside your company, you should take the same precautions and ensure you have the financial means to pay for their recruiting, training, and infrastructure. In the end, your choice about the path you take should be based on your requirements, budget, skills gap, long-term objectives, and the culture of your firm.